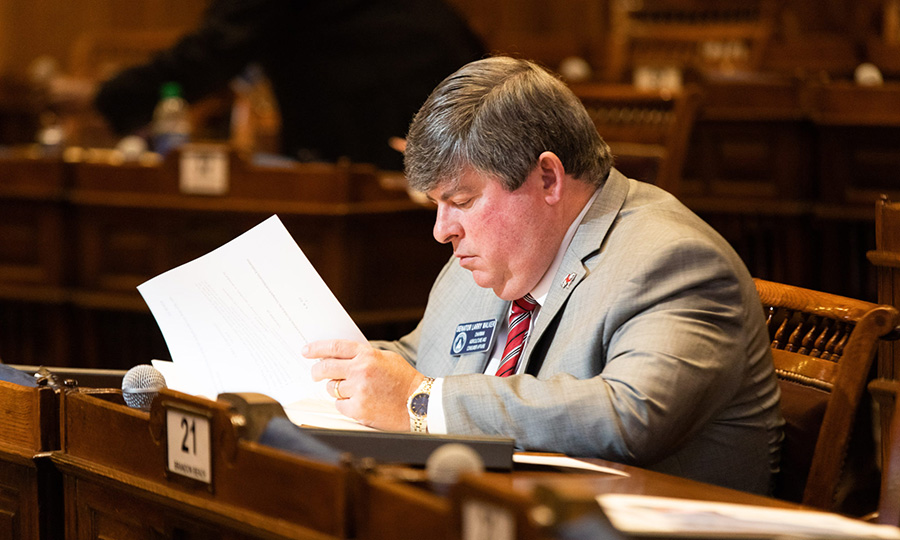 By: Sen. Larry Walker (R – Perry)

As Crossover Day continues to inch closer, our days debating legislation in the Chamber have grown longer and more urgent and committees have worked long into the night to bring additional improvements to the legislation before their consideration. With many bills still available for action in the Senate, it will be nigh impossible to reach all of them before our Tuesday deadline. However, we are working to ensure we are prioritizing legislation of the most importance to our constituents statewide.
This week, we passed a critically important piece of legislation to protect our students from being exposed to divisive concepts in our schools. Senate Bill 377 would prohibit local school systems or government agencies from teaching such concepts, which include ideas such as the Unites States being inherently racist or that one race or ethnicity is inherently superior to another. This bill would in no way inhibit a teacher from tackling difficult subjects of our nation's history, such as slavery or the Civil Rights movement. Rather, it very clearly seeks to unite us and not divide our children and indoctrinate them with the idea they should feel less-than another, simply because of the color of their skin. This is another example of a pro-student measure to ensure our kids can continue to receive an unbiased, quality education.
As the number one state in the nation in which to do business for eight consecutive years, Georgia has done an incredible job in attracting and growing business across all corners of the state. In order to maintain our competitive edge, however, we must continue to find innovative ways to grow our workforce and, specifically, target the growing need of workers in select high-demand career fields. SB 379 would create the High-Demand Career Initiatives program, to be administered through the Office of Workforce Development of the Technical College System of Georgia. This program would provide monetary awards to employers who have apprentices successfully complete their high-demand job program, granting students much needed on the job training and certification opportunities, while creating an efficient pipeline to connect these students with careers in in-demand industries.
This week, progress was also made on both of our state's budgets. On Friday, the Senate sent its final agreement of the language of House Bill 910, the amended budget for the 2022 fiscal year, back to the House, marking the formal completion of the AFY22 budget. The same day, the House passed their version of the general budget for the 2023 fiscal year, meaning much of our time early next week will be spent reviewing the House's proposal and begin the process all over again on making any needed changes or alterations.
Over the past year, the average price of a gallon of gasoline has skyrocketed. This week, Governor Kemp in conjunction with Lieutenant Governor Geoff Duncan and House Speaker David Ralston, announced legislation to address this burden that has been placed on so many Georgians in the form on House Bill 304. HB 304 will temporaily halt the collection of the state excise tax of roughly $0.29 per gallon on gas for consumers until May 31, 2022. This is a great step to help and provide financial to all Georgians and I am eager to keep you updated on the progression of this much needed legislation.
Next week will mark an important milestone in our legislative session, with Crossover Day falling on Tuesday, March 15. If legislation is to have an opportunity to make final passage this year, this is the final chance the Senate will have to pass legislation on the floor and send it across the hall to the House for consideration, and vice versa. That being the case, you can expect a lengthy day on Tuesday, as we will debate our Senate legislation, likely late into the evening, in an effort to meet this deadline. More information on the budget will be provided in a later article, but if you have any questions on the budget or any of the other bills currently before the Senate, please do not hesitate to reach out to my office.