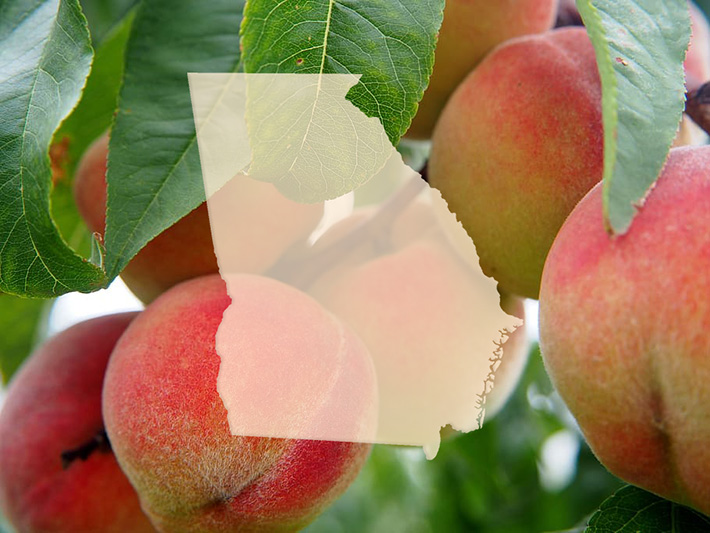 United States Department of Agriculture Secretary Tom Vilsack recently issued a natural disaster declaration for numerous Georgia counties following the untimely March freezes that caused significant damage to Georgia's peach crop as well as other commodities. This declaration allows USDA's Farm Service Agency to extend essential emergency credit to Georgia farmers and follows a months' long lobbying effort on behalf of Georgia farmers and producers by Agriculture Commissioner Tyler Harper, House and Senate Agriculture Committee Chairmen Robert Dickey and Russ Goodman, Georgia Agribusiness Council, Georgia Farm Bureau, and Georgia Fruit & Vegetable Growers Association as well as many others.

"I'm grateful to USDA Secretary Vilsack for recognizing the importance of delivering much-needed relief to Georgia farmers following the untimely freezes in March," said Agriculture Commissioner Tyler Harper. "Since the freeze, we've worked with our farmers and producers to ensure USDA clearly understood the severity of the situation and the needs of those impacted by the freeze. Georgia peaches are a symbol of the success of our state's number one industry, and this much-needed relief will help farmers and producers across the state bounce back better than before."
USDA FSA loans can be used to meet a variety of recovery requirements including replacing essential items such as farm equipment or livestock, reorganization of a farming operation, or to refinance specific loans. FSA reviews all loans based on the extent of losses, security available, and repayment ability, and Georgia farmers and producers in the below counties are eligible to apply.
Application Deadline: February 26, 2024
Primary Counties Eligible:
Banks, Crawford, Fannin, Gilmer, Habersham, Hall, Jackson, Johnson, Macon, Madison, Meriwether, Monroe, Peach, Pike, Taylor, Towns, Union, Upson
Contiguous Counties Also Eligible:
Barrow, Bibb, Butts, Clarke, Coweta, Dawson, Dooly, Elbert, Emanuel, Forsyth, Franklin, Gordon, Gwinnett, Harris, Hart, Houston, Jasper, Jefferson, Jones, Lamar, Laurens, Lumpkin, Marion, Murray, Oconee, Oglethorpe, Pickens, Rabun, Schley, Spalding, Stephens, Sumter, Talbot, Treutlen, Troup, Washington, White, Wilkinson
More USDA Resources
On farmers.gov, the Disaster Assistance Discovery Tool, Disaster Assistance-at-a-Glance fact sheet, and Loan Assistance Tool can help you determine program or loan options. To file a Notice of Loss or to ask questions about available programs, contact your local USDA Service Center.
---
GDA