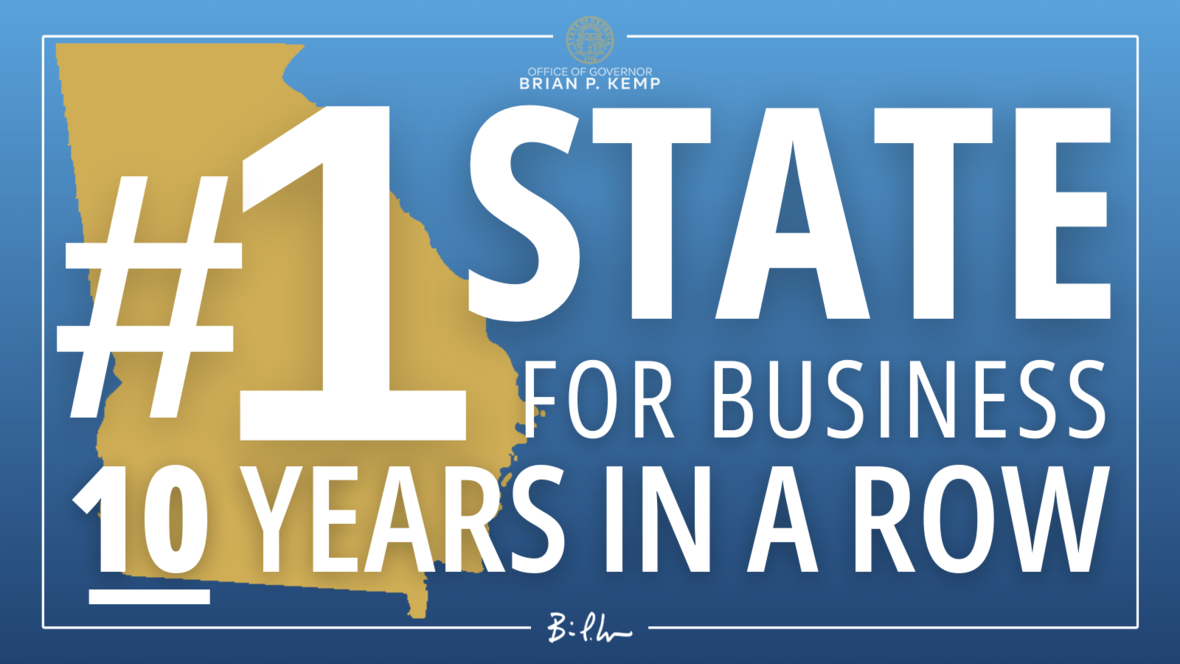 Governor Brian P. Kemp, in conjunction with the Georgia Department of Economic Development (GDEcD), today announced that the state achieved an unprecedented milestone: a full decade of business excellence, earning the rank of No. 1 state for business from Area Development magazine for 10 consecutive years. No other state in the nation has achieved this benchmark.

Governor and First Lady Kemp were joined by constitutional officers, former Governor Nathan Deal, GDEcD Commissioner Pat Wilson, former GDEcD commissioners, members of the General Assembly, state and local economic developers, state agency heads, and community leaders from around the state to celebrate this milestone. Area Development's 2023 Top States for Doing Business rankings are based on scores from approximately 50 leading site consulting firms from across the U.S. in 14 categories. Georgia placed in the top 10 for all 14 categories, earning the No. 1 spot in seven classifications and claiming the overall No. 1 ranking. The Top States for Doing Business Survey is the 14th in the annual series.
"For 10 straight years, the people who help businesses choose where to make long-term investments have repeatedly said Georgia is the best state in the nation for opportunity," said Governor Brian Kemp. "Despite the unprecedented challenges we've seen in recent years, men and women across Georgia continued putting in countless hours of hard work for their communities. Thanks to their efforts, we've brought record-breaking jobs and investments to all four corners of the state, especially to rural Georgia."
"It is my pleasure once again to congratulate Governor Kemp, the Georgia Legislature, Commissioner Pat Wilson, and the GDEcD team for earning the No. 1 ranking in this year's Top States for Doing Business Survey for an impressive and unprecedented 10th consecutive year," said Dennis Shea, Publisher and President of Area Development.
"As you look through the individual lists of what makes a state a great place to do business, you will find Georgia uniformly at or near the top of most of them," said Area Development Staff Editor Steve Kaelble. "The state has carefully assembled most of the building blocks that location decision-makers are looking for, and that work translates into success on this ranking."
Notably, Georgia earned a No. 1 ranking for the 14th year in a row for its nationally recognized workforce development program — Georgia Quick Start — in addition to a No. 1 ranking for competitive labor market.
"Georgia sits atop the list of states with the best workforce training opportunities," noted Area Development. "At the heart is the state's Quick Start program. It's offered through the Technical College System of Georgia and delivers customized training targeted at new and expanding businesses. Companies in manufacturing, biotechnology, information technology, and other sectors need tech-savvy workers with specific skills, and this program has helped attract those businesses to Georgia."
"Georgia's recognition as the No. 1 State for Business for the 10th consecutive year is a testament of the administration, the Georgia General Assembly, and our small and large business communities working together," said Lt. Governor Burt Jones. "These partnerships, Georgia's affordable cost of doing business, lower rates through a versatile energy mix, and support from hardworking Georgians will continue to keep us moving in the right direction."
"Thanks to our competitive advantage in logistics, with the nation's fastest growing container port, the world's busiest airport, and a robust road and rail network, Georgia leads in moving people and goods across the state and around the globe," said Speaker of the House Jon Burns. "We will continue to invest strategically in our infrastructure to support our economy and keep our state the envy of the nation."
"I appreciate Governor Brian Kemp's commitment to working with the legislature to keep Georgia the best state in the nation for business," added Speaker Burns. "This distinction speaks directly to our continuing efforts to expand economic opportunity to every corner of our great state."
"Excellence is intentional, and a decade of excellence requires planning and implementation by many people over a number of years to achieve the same goal. That doesn't happen by chance," said GDEcD Commissioner Pat Wilson. "Successive Governors, local and community elected leadership, and the Georgia General Assembly have consistently supported our partnership approach to economic development, allowing our state and local teams to be responsive to business. Our University System and Technical College System of Georgia have been ahead of the curve in working with us to prepare Georgians for the workforce needs of tomorrow, giving Georgia a competitive advantage. A special thanks to Governor Kemp, and congratulations to everyone past and present who have been part of this decade of excellence!"