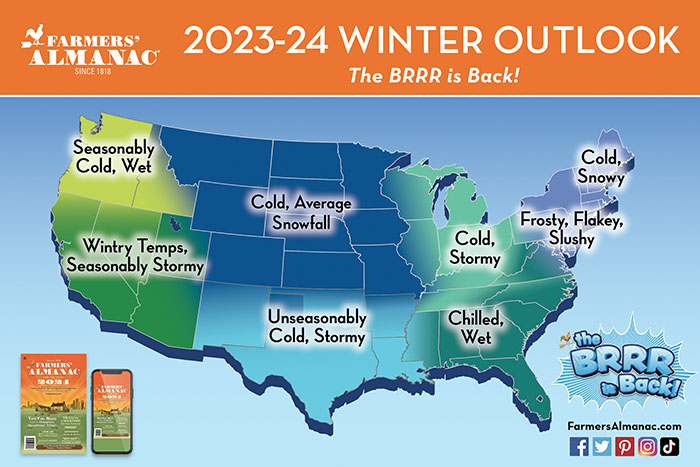 Each year, the Farmers' Almanac shares their predictions about what we should expect for each season's weather. The Almanac's famous extended weather forecast heralds a return of traditional weather for winter 2023-2024.

Predictions show the Southeast will see a wetter-than-normal winter, with average winter temperatures overall, but a few frosts may send many shivers to snowbirds trying to avoid the cold and snow back home.
Winter officially starts on December 21, but according to the Almanac, winter weather will begin before then. The meteorological winter starts on December 1.
According to the winter weather advisory, unseasonably cold temperatures will blow into the Southeast States mid-February. Then March's extended forecast calls for wild swings in the thermometer, especially in the East, ending with stormy conditions nationwide.
"After a weird and warm winter season last year, this winter should make cold weather fans rejoice—especially those in the Great Lakes, Midwest, and northern New England areas," shares editor Pete Geiger, adding " the 'brrr' is coming back! We expect more snow and low temperatures nationwide."
As for now, these are the predictions through the end of October for the Southeast*:
8th – 11th

Hurricane threat Southeast Coast.

12th – 15th

Showery, then fair, blustery weather.

16th – 19th

A pleasant spell of early fall weather.

20th – 23rd

Rain moves in, then quickly clears away, then fair, cold conditions.

24th – 27th

Showers, then turning fair, chilly.

28th – 31st

Unseasonably chilly weather arrives in time for Halloween.
*Includes Alabama, Florida, Georgia, Mississippi, North Carolina, South Carolina, Tennessee, Virginia, West Virginia
How Farmers' Almanac Forecasts are Made
"The Farmers' Almanac uses a proprietary formula that considers a variety of factors including sunspot activity and tidal action of the Moon. However atmospheric phenomena such as El Niño also affect our predictions," shares managing editor Sandi Duncan, adding "the fade out of La Niña is one of the reasons we believe winter last year turned out warmer than normal." The outlook for winter 2023-2024 includes a nod to El Niño strengthening, which should result in more moisture and storms in the southern areas of the country.
See more on farmersalmanac.com