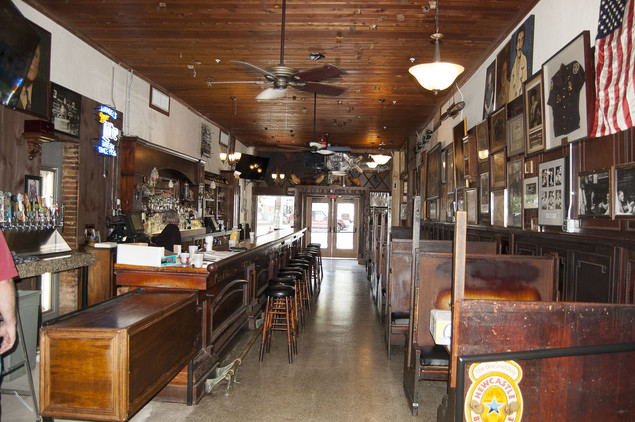 The National Register of Historic Places is our country's official list of historic buildings, structures, sites, objects, and districts worthy of preservation. The National Register provides formal recognition of a property's architectural, historical, or archaeological significance. It also identifies historic properties for planning purposes and ensures that these properties will be considered in the planning of state or federally assisted projects. National Register listing encourages preservation of historic properties through public awareness, federal and state tax incentives, and grants. Listing in the National Register does not place obligations or restrictions on the use, treatment, transfer, or disposition of private property.
First Presbyterian Church of Atlanta was listed in the National Register of Historic Places on May 29, 2020. The property is located at 1328 Peachtree Street, NE in midtown Atlanta (Fulton County). First Presbyterian Church of Atlanta sponsored the nomination and prepared the nomination materials.
Founded in 1848, the congregation of First Presbyterian Church of Atlanta (originally Presbyterian Church of Atlanta) acquired a lot at the corner of Peachtree and 16th Streets in 1914 to build a larger church in a then more residential area of Atlanta than their original Marietta Street location. Walter T. Downing was selected to design the first phase of the church in 1915 in the Late Gothic Revival style, and the church continued to expand throughout the 20th century with additions designed by other prominent Atlanta architects, including A. Ten Eyck Brown, employing elements of the style.
First Presbyterian Church is significant under Criterion C in the area of architecture as an excellent, intact example of a Late Gothic Revival-style church and for its association with prominent Atlanta architects Walter T. Downing and A. Ten Eyck Brown. The Late Gothic Revival style, popular in ecclesiastical, educational, and commercial architecture during the early twentieth century, is demonstrated in the church's repeated use of the pointed arch, emphasis on verticality, utilization of stone as the primary building material, and detailing such as window tracery and crenellation.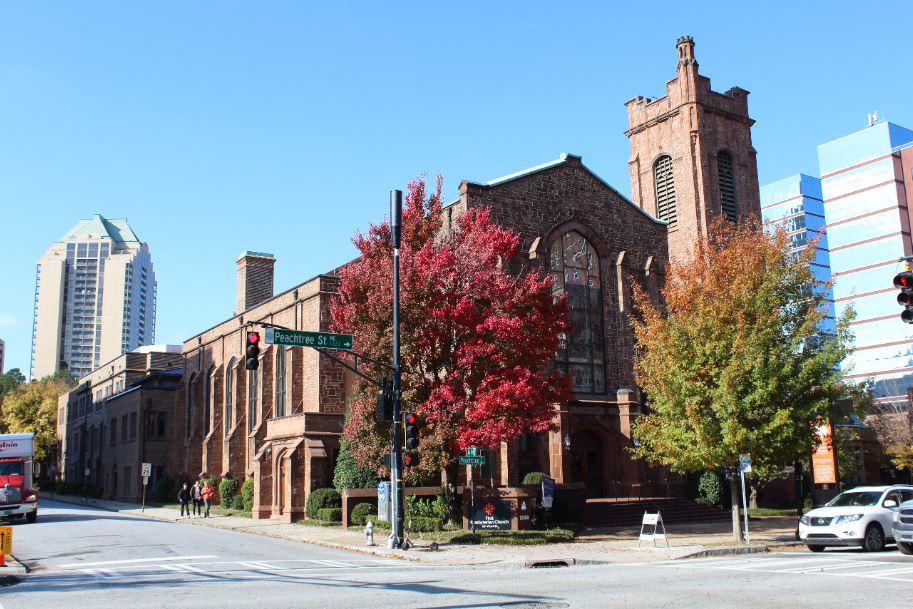 The church's Late Gothic Revival-style design showcases the work of architect Walter T. Downing, who designed the initial 1915-1919 church complex, which included the primarily sandstone narthex, sanctuary, parlor, chapel, initial meeting room, and lower portion of the bell tower, and A. Ten Eyck Brown, who completed the bell tower and designed the 1928-1929 addition southwest of the sanctuary, composed of brick in American bond with sandstone window and door surrounds and quoining. Downing and Brown were prolific in Georgia, designing many public buildings in the popular styles of the day.
First Presbyterian Church of Atlanta is also significant under Criterion C in the area of art due to its collection of exceptional stained-glass windows by three master stained-glass designers and studios: Louis C. Tiffany of Tiffany Studios, Nicola D'Ascenzo of D'Ascenzo Studios, and the Willet Studio. The Tiffany and D'Ascenzo windows, also known as the ten history windows in the church's sanctuary, were installed between 1919 and 1940. The windows by Tiffany showcase his innovative use of opalescent glass, and his creation of many new, rich colors in varying degrees of translucency. Following Tiffany's death in 1933, D'Ascenzo completed the final four designs, emulating Tiffany's methods. Later windows designed by the Willet Studio and installed in the sanctuary, chapel, and narthex represent a revival in interest in more traditional Gothic-style windows typical of 13th-century France, favoring deep red and blue hues and stylized figures in contrast to Tiffany's expanded palette and more representational, realistic-looking figures.
Manuel's Tavern was listed in the National Register of Historic Places on May 29, 2020. The property is located at the corner of North Highland and North Avenues at 602 North Highland Avenue NE in Atlanta (Fulton County). The nomination was sponsored by the property owner, and the nomination materials were prepared by Ray, Ellis, & LaBrie Consulting.
Manuel's Tavern is locally significant under Criterion A in the area of social history as an Atlanta cultural institution and for its association with the undercurrent of Atlanta's political and social realm. The city's wide variety of social groups, including its "movers and shakers," interacted at Manuel's, and the tavern has long been recognized as a gathering spot engendering discussion and interaction amongst diverse clientele. Manuel's is recognized as a landmark by the city's citizens and has long been lauded as welcoming to all, regardless of race, sex, or social status. When Manuel Maloof opened Manuel's Tavern in 1956, it operated at the same location as Harry's Delicatessen, a longtime neighborhood deli that served beer following the end of Prohibition. However, Manuel's Tavern became more than just a neighborhood staple. It is located near the center of the largely residential Poncey-Highland neighborhood, and although self-defined as "Atlanta's quintessential neighborhood bar," it has long served a much wider clientele than its nearby Poncey-Highland residents.
Over two decades, as Maloof expanded the operation into every storefront of the building, the reputation of the tavern also grew. Journalists, politicians, police officers, members of the clergy, and people from all walks of life found a welcoming watering hole where discussions were open and debates were encouraged. Political campaigns were announced at Manuel's, debate and election results watch parties were hosted in its dining rooms, and the Atlanta Press Club held its monthly meetings here until the 1980s. Maloof himself had a successful local political career that was assuredly cultivated in the tavern's politically-inclined atmosphere. Atlantans knew they would find a welcoming face and interesting dialogue/debate at Manuel's, whether it was with colleagues, friends, wait-staff, or strangers. Its celebrated, yet "off the record" association with the personal histories of many influential Atlantans and the social interactions between local and national politicians, the local press, and everyday patrons differentiates it from other Atlanta bars. Prohibition proved that the reason to frequent a tavern or bar was not necessarily the need for a drink, but also the need for a place to gather with friends and socialize. Since 1956, Manuel's Tavern has filled this need in a very unique way for people throughout Atlanta and the surrounding area.
Manuel's Tavern occupies a trapezoidal-shaped, one-story, six-bay, masonry building that has served as a commercial resource in the Poncey-Highland neighborhood since its construction in 1922. Originally, storefronts occupied each of the bays, but over time many of these were infilled and modified to accommodate expansion of the popular neighborhood bar and restaurant, Manuel's Tavern. The North Highland Avenue façade is clad in board and batten siding with ashlar granite piers demarcating each bay and extending slightly above a high granite parapet wall. Both side elevations feature painted signs for Coca-Cola and the tavern itself. The tavern's main entrance opens into a long, narrow room that has served as Manuel's since the tavern was established in 1956. A dark wooden bar runs along the north wall, while booths occupy the south wall. Historic materials include plaster walls with wooden wainscoting and terrazzo floors. In addition (and a beloved feature of Manuel's), walls throughout the tavern are covered in local memorabilia, from paintings, autographed headshots, and countless political stickers to framed uniforms, team pennants, and even a propeller. During a 2017 rehabilitation project, several storefronts were re-constructed in the northern end of the building with large display windows and multi-light clear transoms, and these areas were converted from restaurant to retail space.