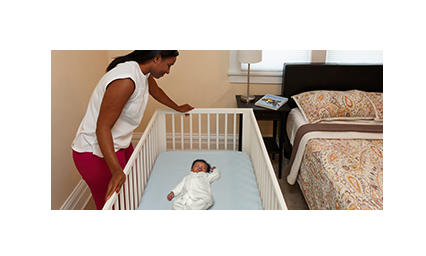 A new study conducted by researchers at the Health Resources and Services Administration (HRSA), the Centers for Disease Control and Prevention (CDC), and the National Institutes of Health (NIH) indicates that improvement in safe sleep practices, particularly those other than back sleep position, is needed.
The results suggest opportunities to improve messaging through health care providers and public awareness efforts. Published in Pediatrics, the analysis used data collected from 29 states in the 2016 Pregnancy Risk Assessment Monitoring System.
Approximately 3,500 infants die annually in the United States due to sleep-related deaths. This accounts for the largest share of infant deaths from 1 month up to 1 year of age. This risk can be reduced through improvements in the sleep environment and other factors, such as breastfeeding and smoking cessation.
"Sleep-related infant deaths declined significantly in the 1990s after the American Academy of Pediatrics recommended that infants be placed on their backs to sleep, but since then, we haven't seen much improvement," said lead author Ashley Hirai, PhD, of HRSA's Maternal and Child Health Bureau. "This new information provides state-specific data on additional safe sleep practices that can help drive improvement going forward."
The authors examined data on how mothers reported the following four recommended infant sleep practices: placing infants to sleep on their back, using a separate approved sleep surface (crib, bassinet, or pack and play only), room-sharing without bed-sharing (placing crib in parents' room), and not using soft bedding in the infant's crib, such as blankets or crib bumper pads. They also examined receipt of advice from a doctor, nurse or other healthcare worker corresponding to these four safe sleep practices.
The study found that 78% of mothers reported placing their infants to sleep on their backs, while 57% reported room-sharing without bed-sharing and less than half reported using separate approved sleep surfaces and avoiding soft bedding.
"Placing infants to sleep on their stomach is the most widely known risk factor for sleep-related deaths, but there are other sleep-related risks such as side sleeping, sleeping with blankets, pillows, or other soft objects, and sleeping on shared surfaces like adult beds and couches," said Katherine Kortsmit, PhD, MPH, of CDC's Division of Reproductive Health. "The safest place for babies to sleep is on their backs, on separate firm sleep surfaces without any soft bedding and in the same room as caregivers."
Receiving provider advice was associated with increased use of safe sleep practices, supporting the importance of safe sleep promotion within health care settings. While more than 90% of women reported that a health care provider had told them to place their infant on their backs to sleep, only about half received advice to room-share without bed-sharing.
Finally, the study found significant state variation in safe sleep practices, with estimates spanning 20 to 25 percentage points. These state differences were not explained by sociodemographic, behavioral or healthcare characteristics, which might instead reflect state or regional cultural norms or the influence of state-level educational campaigns to promote safe sleep practices.
"The findings from this study indicate that we need to redouble public awareness and provider training efforts on the safe sleep environment," said Lorena Kaplan, MPH, CHES of NIH's Eunice Kennedy Shriver National Institute of Child Health and Human Development. "Providers may need new resources like decision support tools and motivational interviewing to understand barriers and counsel parents more effectively."
HRSA and CDC are collaborators on the NICHD-led Safe to Sleep Campaign, which provides additional resources for caregivers and health care providers on reducing sleep-related infant death.