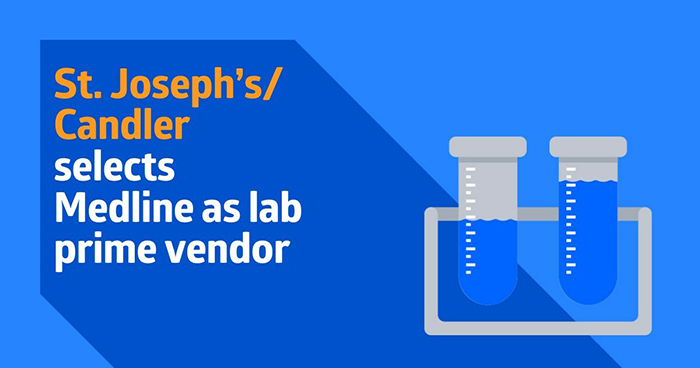 Medline announces a new laboratory prime vendor partnership with St. Joseph's/Candler Health System, Inc. (SJ/C), the largest and only not for profit health system in Southeast Georgia.

As the primary laboratory supplier, Medline provides an extensive portfolio of laboratory consumables and equipment to SJ/C's main hospital laboratories at St. Joseph's Hospital's Core Lab and Candler Hospital. Through Medline's advanced analytics platform, SJ/C can now more easily monitor key metrics, such as item utilization, contract compliance, price accuracy and spend by product categories.
Medline is also assisting in the coordination and delivery of supplies for the other 20+ SJ/C clinical and outreach laboratories serving Chatham, Bryan, Liberty, Candler, Effingham and Bulloch counties.
Staffed by registered medical technologists, SJ/C clinical laboratories provide life-saving diagnostic services and pathology services as well as outreach reference laboratory services to area physicians, clinics, long-term care facilities and other health centers.
"We at St. Joseph's/Candler see the growing need for patient care and related laboratory access in the communities we serve," said Olin Thomas, director of laboratory services, "And, as part of our new agreement, we have been able to leverage experienced and knowledgeable Medline resources — right in Savannah — who help identify improved laboratory inventory processes and product storage efficiencies as we scale up laboratory operations."
SJ/C also benefits from its proximity to one of Medline's newly expanded, LEED-certified transship center in Richmond Hill, Georgia – less than 30 miles from the Port of Savannah. The Medline facility provides more options to support SJ/C with future supply chain disruptions, disaster preparedness and other emergency inventory situations.
"St. Joseph's/Candler has long been synonymous with trusted care, compassion and medical expertise," said Tom Reynolds, senior vice president, national field sales at Medline, "And, we're honored to work side-by-side with its dedicated laboratory team on this central feature of patient care."
Learn how Medline tailors solutions across the entire continuum of care as a manufacturer and distributor by visiting www.medline.com/supply-chain.
---
About St. Joseph's/Candler:
St. Joseph's/Candler is a 714-bed health system with a focus on the latest technologies and research and has earned the national Magnet designation for nursing excellence. It is anchored by St. Joseph's Hospital, Candler Hospital plus the new Pooler and Bluffton campuses. Its comprehensive network includes centers of excellence for oncology, cardiovascular, neurosciences, women's and children's services, orthopedics, pulmonary medicine and a variety of other disease specialties. SJ/C's Nancy N. and J.C. Lewis Cancer & Research Pavilion has been selected to be part of the National Cancer Institute's Community Oncology Research Program. St. Joseph's/Candler is a not-for-profit health system serving 33 counties in southeast Georgia and three in the South Carolina Low Country and is the largest and only faith-based institution in the region. For more information, visit www.sjchs.org.
---
About Medline
Medline is a healthcare company – a medical supply manufacturer, distributor, and solutions provider focused on improving the overall operating performance of healthcare. Partnering across the continuum of care, Medline helps providers to activate the clinical and supply chain resources needed to deliver their best care. With the agility to solve problems quickly and the scale to partner with providers for their sustained success, Medline is able to invest in its customers for the future and rapidly respond to a dynamically changing market with customized solutions.
Medline was most recently named to the Forbes America's Best Large Employers and America's Best Employers for Women lists, and was recognized for the 12th year by Chicago Tribune as a Top Workplace. Headquartered in Northfield, Ill., Medline has 35,000+ employees worldwide and operates in over 125 countries and territories. Learn more at http://www.medline.com.
---
SOURCE Medline