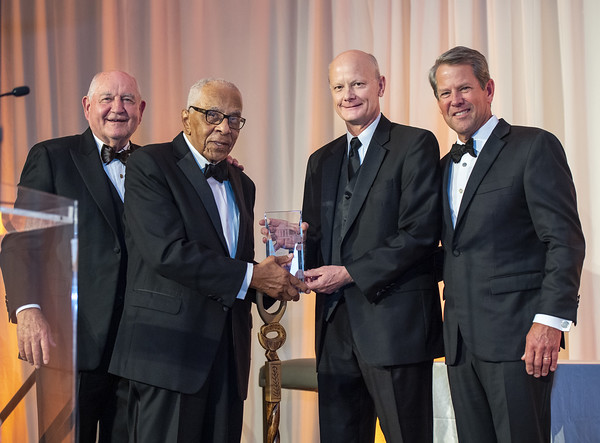 The 18th annual Regents' Scholarship Gala on Friday, Sept. 9, raised more than $600,000 from generous sponsors to support and provide need-based scholarships for University System of Georgia (USG) students across the state.
Hosted by the USG Foundation, the annual event included Governor Brian P. Kemp and First Lady Marty Kemp as well as supporters, donors, alumni, legislators, members of the Board of Regents and presidents from USG's 26 public colleges and universities.
The need-based scholarships funded through the gala will be awarded for the 2022-23 academic year. Each institution's president selects scholarship recipients at their respective campuses. Over the 18 years it has held this annual event, the USG Foundation has awarded more than $18 million to support scholarships, faculty recognition and key USG initiatives.
"Our donors' support through the University System of Georgia Foundation provides opportunities students would otherwise not have," USG Chancellor Sonny Perdue said. "It truly does mean the difference between our students wanting a college degree and being able to attain one."
The Regents' Scholarship Gala also honors faculty, alumni and an individual or couple who exemplify true leadership and support of higher education in Georgia.
Gov. Kemp presented the Elridge McMillan Lifetime Achievement Award to Dr. Steve W. Wrigley for his extraordinary leadership, dedication to public service and support of USG students, faculty, and staff as the university system's former chancellor. This is the highest honor the USG Foundation bestows.
"It is indeed an honor to recognize an outstanding Georgian, someone who spent 36 years in service to the state of Georgia – someone who was there at the creation of the HOPE Scholarship and who finished his career as the 13th chancellor of the University System of Georgia," Kemp said.
"The Elridge McMillan Lifetime Achievement Award is named for a man who shaped modern Georgia education and who has always put students first," said Wrigley, who retired from USG on July 1, 2021. "Receiving this award is a profound honor, and I am grateful to the board of the University System of Georgia Foundation. All those who worked with me and supported me during my career share in this award, as all achievements in life require leaning on others. I am grateful to them as well."
The Foundation recognized the following recipients of the Regents' Hall of Fame Alumni and Distinguished Friends Award. This award is presented to outstanding alumni and friends for their dedicated service and support to a USG institution:
Crystal Billingslea, nominated by Clayton State University
Robert Dixon, nominated by Georgia Institute of Technology
Charles Eames, nominated by South Georgia State College
Major General Robert Shannon, Valdosta State University
Mary Virginia Terry, nominated by University of Georgia
Six USG faculty members were honored as 2022 recipients of the Felton Jenkins Jr. Hall of Fame Faculty Award. This prestigious teaching award recognizes faculty's important contributions to their schools and fields of study and for their strong commitment to teaching and student success. The awardees were:
Dr. Brooke Conaway, associate professor, Department of Economics and Finance, Georgia College and State University
Dr. Nikki DiGregorio, associate professor, Department of Human Development and Family Science, Georgia Southern University
Dr. Antoinette Miller, chair and professor, Department of Psychology, Clayton State University
Dr. Jeannie Pridmore, director and associate professor, Management and Management Information Systems, University of West Georgia
Dr. J. Michael Rifenburg, associate professor, Department of English, University of North Georgia
Dr. Erin Shufro, division chair and assistant professor, Department of Physical Sciences and Mathematics, Georgia Highlands College
"What a grand celebration of public higher education as we recognize these extraordinary faculty, alumni and Lifetime Achievement award winners across the University System of Georgia," said USG Foundation Board Chair Teddy Russell. "From Governor Kemp to Dr. Steve Wrigley, and our student speaker from Abraham Baldwin Agricultural College, Bridget Dixon, what brilliant examples of service, dedication and commitment to our theme of 'Learning Reawakened' through needs-based scholarship support of our most deserving students. We are grateful for the generous donors who have once again made this evening a success."
Information about the USG Foundation can be viewed on the website.