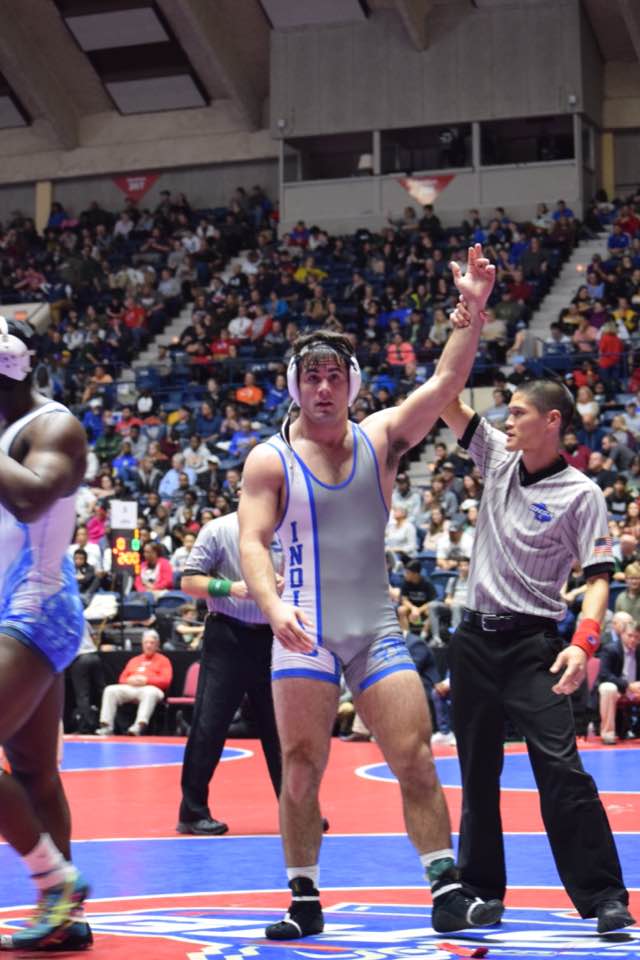 Reinhardt Wrestling on the Move
In the world of wrestling, Jeff Bedard has rapidly made Reinhardt University a force to be reckoned with. Fourteen freshmen were spread across his roster this season along with fourteen sophomore wrestlers. Not a single senior was on the team. Bedard has steadily been building a stable of top caliber young athletes to fill his brand-new wrestling facility at the private college nestled in the north Georgia mountains of Waleska. The school is experiencing a surge in growth, with the 2017 incoming freshmen representing the largest class in history for the Eagles, and Bedard is continuing his hunt for top-shelf talent.
Newest Eagle
That hunt has led Bedard once again to Floyd County, on the western border of Georgia. The Armuchee Indians are home to one of the best upper-weight wrestlers in the state, and Bedard has had his eyes set on making Jacob Henderson an Eagle. Henderson is the 3X State Finalist, 2X State Champ, 3x Area Champ and recently fell a single match short of All-American status at the National High School Championship in Virginia Beach, VA.
At 182 lbs, Henderson swept through the GHSA-AA division both his junior and senior years. After a broken leg sidelined his freshman campaign, Henderson has been on an absolute tear. He rebounded to a 49-7 record his sophomore year, a 45-0 undefeated campaign capped with his first state title during his junior year, before pushing himself into deeper waters during his senior year going 54-3 with another state title. His 148-10 record and back-to-back state crowns make him one of the most successful wrestlers in Armuchee's history. Over the course of his high school career, Henderson's relentlessness put him on the medal podium at every single tournament he competed in.
This past week, Bedard claimed his next prize pupil as Henderson signed with the Reinhardt Eagles, becoming part of their stellar 2018 recruiting class. Henderson will be joining fellow Floyd County wrestlers, Hinton Bolinger (Pepperell) and Kendall Byrd (Model) as part of the young depth Bedard will be counting on for significant gains in the upcoming seasons. And Henderson may be the template for wrestlers yet to come. His 3.9 GPA places the honor grad in the upper echelons of student-athletes, and that is exactly what the administrators at Reinhardt are happy to see. Henderson looks to join the team ready to contribute on the mat and in the classroom.
"We are excited to get Jacob in our room and with a good group of big guys to push him every day. He has a lot of untapped potential and he will benefit from having good training partners daily," Coach Bedard said.
Dual Threat
Armuchee Head Coach Joey Harris emphasized the impact Henderson has had on Armuchee wrestling, "Having Jacob the past three years raised the level of wrestling in our room." Harris went on to point out Henderson's work ethic, "He's been a student of the sport and put in more hours than anyone, from individual practices to off-season stuff. He has placed in every tournament we've entered and been a consistent point scorer for us. He has scored over 200 points for the team in each of the past three years."
Henderson's impact stretched beyond the wrestling room as he was a true student-athlete, leading by example on the field, the mat, and in the class room. "Academically, he's also a leader, carrying a 3.9 GPA. He left his mark and will be missed in our program."
Reinhardt finished the season ranked #22 in the Nation in the NAIA rankings, and number two in the state of Georgia behind Life University. Bedard aims to improve both of those rankings and wrestlers like Jacob Henderson will be a key to making that happen sooner rather than later.