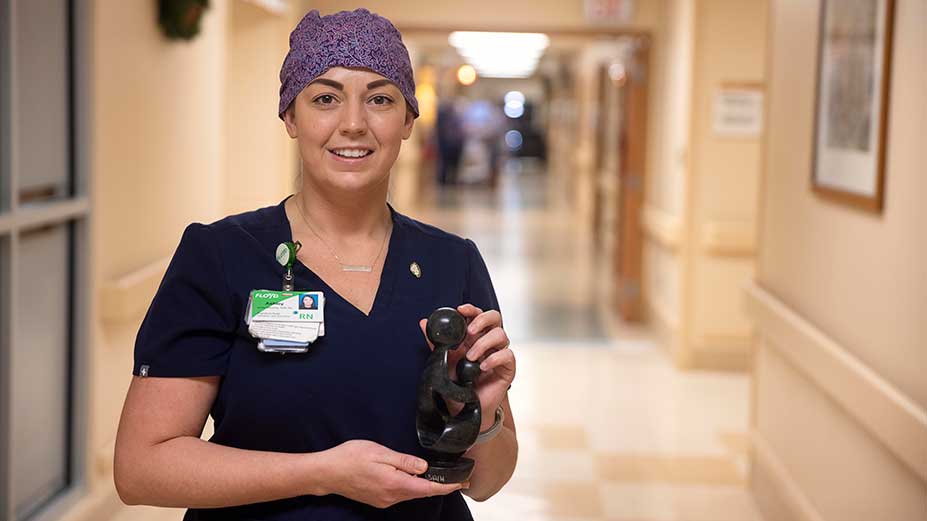 ​When a young serviceman stationed in Texas learned his grandmother was seriously ill at Floyd Medical Center, a nurse in the hospital's Intensive Care Unit called on all her resources to help him connect with the woman who helped raised him.
Ashley Ellenburg, RN, made multiple calls to the appropriate people in the military to help the soldier obtain leave so that he may come see his grandmother. Ellenburg then helped him research multiple flights to see how quickly he could get to Rome.
Having found the best flight, the nurse emailed the information to him. He called ICU in tears, expressing his gratitude. Her actions ensured that he got to say a final farewell to his grandmother.
Because of her compassion, Ellenburg has received a DAISY award. The award, which is recognized internationally, was established by the family of Patrick Barnes after he died from an auto-immune disease while being treated in a Seattle hospital. DAISY is an acronym for Diseases Attacking the Immune System. The Barnes family was thankful for the care he received and created the award to thank bedside nurses for the job they do.
Ellenburg has worked at Floyd since 2013. She said she didn't think she did anything out of the ordinary.
"I don't find it unusual," said Ellenburg. "I think it is a shame that more people don't think about going above and beyond to help someone."
According to the DAISY nomination, Ellenburg does all that she can to ensure her patients get the best care. If she is walking on another floor and hears an alarm or a call for help, she investigates, showing what it means to care for all patients. She provides comfort and a listening ear to not only patients but co-workers as well, and she is an advocate for everyone around her.
"You are so deserving of this award," said Shannon Cooke, RN, Clinical Manager of the ICU, who presented Ellenburg with her DAISY pin. Barbara Burnes, Director of Workforce Development and Service Excellence at Floyd, said Ellenburg was a unanimous choice to win the award.
​Ellenburg was also presented with a sculpture called A Healer's Touch. Each piece is hand-carved for the DAISY Foundation by an artist of the Shona Tribe in Zimbabwe.