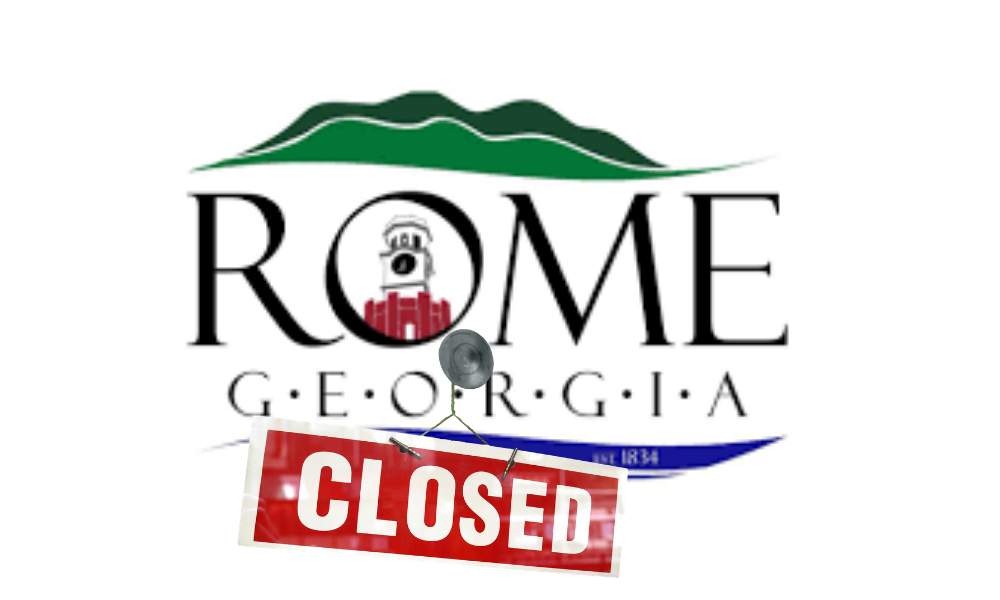 City of Rome Administration is closing city government facilities that involve face to face transactions effective Monday, November 16, 2020 due to the worsening COVID-19 pandemic. The public is encouraged to take advantage of online services.

"The city is taking these proactive efforts to protect the health and safety of our employees and the public," said city manager, Sammy Rich. "Face-to-face transactions potentially increase the further spread of the virus; we encourage citizens to utilize online services."
Citizens can access online bill pay for water billing, downtown parking tickets, solid waste/landfill bills, and municipal court fees at https://romefloyd.com/pay-online. A list if city departments with contact names, phone numbers and emails is available at https://romefloyd.com/departments.
City recreational facilities to include the Rome Tennis Center at Berry College and Stonebridge Golf Course will remain open, but offer phone, app and online options for booking play.
City leaders recently met with local health officials concerning the increase in local COVID-19 cases and is urging citizens to follow safe practices to help prevent the spread. The current recommendations for everyday actions to help prevent the spread of respiratory diseases, include:
Wash your hands often with soap and water for at least 20 seconds especially after you have been in a public place, or after blowing your nose, coughing, or sneezing.
If soap and water are not readily available, use a hand sanitizer that contains at least 60% alcohol. Cover all surfaces of your hands and rub them together until they feel dry.
Avoid touching your eyes, nose, and mouth with unwashed hands.
Inside your home: Avoid close contact with people who are sick.
Avoid touching your eyes, nose, and mouth with unwashed hands.

If possible, maintain 6 feet between the person who is sick and other household members.

Outside your home: Put 6 feet of distance between yourself and people who don't live in your household.

Remember that some people without symptoms may be able to spread virus.
Stay at least 6 feet (about 2 arms' length) from other people.
Keeping distance from others is especially important for people who are at higher risk of getting very sick.

Cover your mouth and nose with a mask when around others
Cover your cough or sneeze with a tissue, then throw the tissue in the trash.
Clean AND disinfect frequently touched surfaces daily.
Monitor your health daily and be alert for symptoms. Watch for fever, cough, shortness of breath, or other symptoms of COVID-19.
For accurate and reliable information about COVID-19 and information on how to protect yourself and others, visit: dph.georgia.gov/novelcoronavirus and cdc.gov
This is a press release.