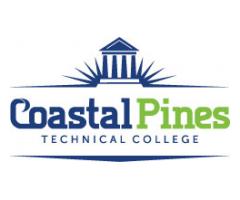 Each semester Coastal Pines Technical College (CPTC) recognizes students who have accomplished high academic achievement through the President's List, Dean's List and the Academic Achievement Award.


The President's List recognizes full-time students who earned a semester GPA of 4.00 and have a cumulative GPA of 2.0 or higher. The Dean's List recognizes CPTC students enrolled full time who have earned a semester GPA of 3.75 – 3.99 out of a possible 4.0 and have a cumulative GPA of 2.0 or higher. Students who enrolled in 6-11 credit hours during the semester and achieve a 3.75 or higher grade point average with a 2.0 cumulative GPA are awarded the Academic Achievement Award.
The following Coastal Pines Technical College students earned academic honors during Spring Semester 2019, and are listed by county:
Appling County
President's List: Tony Roberts.
Deans List: Taylor Carter.
Academic Achievement: Leah Carter, Tabatha Clements, Heather Dixon, Kathryn Doyle, Samantha Hall, Andrew Hutchinson, Vanessa Jackson, Justin Robinson, Joseph Sharpe, Stephanie Williams.
Atkinson County
President's List: Katherine Tinajero.
Bacon County
President's List: Ashley Crosby, Will Kelly, William Miles, Macey Taylor, Sabrina Walsh.
Deans List: Callie Davis.
Academic Achievement: Blaine Bowles, Austen Carrillo, Rebecca Castillo, Anthony Cothern, Daisha Dixon, Danny Douglas, Dusty Gaskins, Jacob Griffin, Carson Hand, Ethan Hyers, Caden Jarrard, Sebron Knox, David Lee, Jenah Lee, John Livingston, Shaun Moon, Himil Patel, Jayci Rigdon, Brylee Streat, Heather Sweat, Hannah Sweatt, Nehemiah Taylor, Shannon Thomas, Payton Wade, Victoria West, Ethan Williford.
Brantley County
President's List: Grant Bennett, Cristina Box, Heather Hutcheson, Kailey Lovell, Natalie Pate, Kenton Phillips, Lauren Reyna, Heather Thompson.
Deans List: Lena Allen, Marion Lawrence, Heather Sapp, Amber Walker.
Academic Achievement: Madelyn Alligood, Kaylee Blocker, Lariscy Brooks, Elanah Clifton, Heather Cook, Leslie Crews, Mikylee Crews, Dillion Daniels, Mattie Davis, Caitlyn Dickerson, Jinsey Dowling, Mckinzi Doyle, Brooke Evans, Savannah Foreman, Bobbie Harris, Raygen Helmuth, Kayli Herrin, Ashley James, Callie Johns, Cathy Johns, Ericka Mcclellan, Sydnie Middleton, Porter Mobley, Victoria Moody, Katelyn Moore, Nancy Nissen, Zoie Norton, Larissa Perez, Regan Perkins, Caroline Pittman, Kelly Pollard, Emma Raulerson, Aleigha Ribron, Sierra Santiago, Krystal Sellers, Jacqueline Sheppard, Madison Tucker, Curtis Tumlin, Kassidy Turner, Kayce Waters, Blythe Wellington, Ceegee Westberry, Ella Whitehurst, Abby Willis, Angelia Wilson, Joschay Wright, Cheyenne Yawn, Kaitlyn Young.
Brooks County
Deans List: Pete Rosales.
Bulloch County
Deans List: Jad Street.
Camden County
President's List: Mckenzie Barber, Misty Boggs, Allison Bowman, Keaton Bramlett, Amelia Brewer, Aubriana Brown, Nathan Bryan, Jailyn Chance, Nia Clark, Kasey Crossley, Ricky Daignault, Allison Davis, Julia Davis, Ethan Demeritt, Chandler Deen, Madison Deming, Bailey Diamond, Laklyn Dickman, Lillian Dickson, Bayleigh Dixon, Zenobia Dorman, Andrew Dulay, Kayla Ellis, William Forman, Devon Frost, Kyle Giddens, Maelah Giddens, Heather Glover, Hope Hansard, Tayla Hapney, Kayla Hastert, Tyler Heatherly, Shane Howell, Catherine Huyer, Loren James, Hannah Jelercic, Lauren Johnson, Keyondrea Jones, Sidney Joyce, Ian Kendrick, Shavon Kennedy-Turner, Mckenzie Kerrigan, Faith Lackey, Savannah Lang, Paige Lau, Brianna Lavalais-White, Annalise Law, Aspen Lemay, James Lewis, Jolie Lippencott, Gray Loden, Kymelle Long, Christian Marshall, Bethany Martin, Paige Massie, Camille Mcginnis, Kiara Mewborn, Mckenzie Miller, Hannah Mitchell, Makayla Morrow, Drew Nash, Madalyn Nesheim, Shaela Nestor, Katie Nolan, Alicia Ostrowski, Carly Overmier, Zill Patel, Kent Phillips, Caleb Picard, Madison Pipes, Ashlyn Potter, Faith Price, Riley Roe, Jacob Schumacher, Garrett Sims, Cameron Stuart, Kelly Tanner, Tyrone Taylor, Kaleigh Thayer, Mia Thompson, Colten Thrift, Aaron Verge, Dhrue Vinson, Ethan Von Behren, Madison Wagner, Brandon Walker, Michael Wanca, Olivia Williams, Marsha Woods.
Deans List: Nancy Anderson, Gabriel Gauldin, Katarina Gunnarsson, Kelsey Hogan, Gavin Jelinek, Aniya Seay, Tanayja White.
Academic Achievement: Catherine Adams, Taylor Adams, Gracie Adkinson, Zachary Agee, Sarah Agullo, Valerie Amerson, Mertice Anders, Liam Anderson, Megan Anderson, Samantha Anderson, Lonae Anwoju, Isaiah Archer, Megan Asanion, Christopher Baer, Logan Ballard, Micah Ballard, Logan Barfield, David Beahm, Felicity Beck, Kayla Bell, Xavier Belton, Sydney Bense, Kevin Benson, Leif Bernhart, Tristin Berryhill, Nyla Beutelschiess, John Blackerby, Kennison Blackerby, John Blount, Katie Blount, Jackson Boeckel, Ryan Bohner, Emma Bonner, Meredith Boswell, Aaliyah Brantley, Emma Brewer, Malerie Brooks, Kaila Brown, Robert Bruce, Baylen Bryan, Jarrett Bucken, Grace Burns, Danny Butler, Emma Butler, Zoe Cain, Laila Campbell, Tania Canty, Aiden Capulong, Kathryn Carper, Hannah Carroll-Woolley, Chad Carter, T'keysha Carter, Erin Casey, Kaiden Caudle, Blandon Causey, Alonna Chafin, James Chambless, Esmenia Clarke, Adrianna Clelland, Jourdan Coleman, Kaniya Coleman, Alison Collins, Kelsea Collins, Charles Cone, Isabella Cook, Katherine Coppage, Doriangells Cotto Caez, Conner Courson, Madison Cowart, Holly Cox, Taylor Crabtree, Chloe Crosby, Brandon Curtis, Cerisa Davis, Cheyenne Davis, William Davis, Tanisha Delgado Sifuentes, Allison Dempsey, Patrick Dempsey, Madison Dewar, Aaron Daniel Dino, Jala Doles, Auryanna Dunlap, Collin Dusenberry, Noah Eberhardt, Abigail Eitel, Zane Enos, Bailey Evanson, Victoria Faraon, Emily Fegel, Catherine Fenstermaker, Megan Fitzgerald, Breanna Floyd, Kaylee Floyd, Hope Flynn, Desmond Fogle, Michael Foreman, Brittany Forlader, Alexis Fortune, Amelia Franks, Kieyanna Freeman, Andrew Fugett, Sabrina Funderburk, Briana Gadson, Chasity Galliher, Mitchell Galluccio, Kya Garibaldi, Cecil Gay, Alexios Georvasilis, Samuel Gerick, Aaliyah Gibbs-Charles, Emily Gist, Olivia Godley, Veronica Gray, Ashley Greene, Amber Griffin, Gracie Griffin, Tyler Guyton, Madison Hale, Haley Halstead, Megan Hardy, Chelsea Hawk, Tajah Haywood, Alexandra Helms, Hayden Henderson, Hampton Heron, Jaeden Hill, Lucien Hodell, Eden Hodgson, Victoria Holden, Kennedy Horton, Garrett Howard, Kaelee Howard, Kilie Huckleby, William Humphrey, Jordan Hurtley, Trish Huynh, Scott Ihlenfeldt, Nathaniel Jack, Tiffany Jackson, Imani James, Allan Jamison, Carly Jelinek, Najah Jennings, Angelina Jilnicki, Kacey Jones, Becca Jordan, Izabella Keslar, Kayla Kimbrell, Tiara Kindell, Payton Kirk, Erique Knappenberger, Kanae Koss, Alana Laboy, Carolynn Lamprey, Taylor Lemay, Courtney Lester, Kristopher Lewis, Nicole Linkous, Myson Livingston, Cade Loden, Corbin Lombardo, Jerry Lowe, Alyssa Manning, Ceceila Manning, Elijah Masch, Gwen Masch, Trinity Mays, Ethan Mccandless, Hallie Mckee, Quinn Mckeon, Casey Mcmanus, Elissa Mcmullen, Harrison Mcneil, Mary Mcneil, Abigail Meadows, Kaitlynn Melear, Mackenzie Melton, Alexandra Metts, Savannah Miller, Cali Minchin, Lexi Mohammed, Ghaziadib Momin, William Morris, Amelia Nesheim, Robert Nevin, Wyatt Nipper, Triston Odom, Lindsey Orum, Timothy Parker, Ben Parrott, Ashni Patel, Riya Patel, Cassidy Peirson, Brittany Perkins, Sierra Peterke, Macy Pounds, Emily Powers, Gabriel Powers, Ansley Proctor, Dylan Puzon, Paige Pyne, Nina Rainey, Rebecca Raley, Robert Reed, Violet Reed, Stephanie Ritter, Teanna Roberts, Jordan Rojas, Madison Ross, Bailey Rossell, Lorilee Rumley, Bobbi Rusler, Grayson Sanders, Bryce Sawyer, Jeana Schindler, Sean Schoenherr, James Segear, Rachael Sellers, India Shellman, Nicholas Shoaf, Olivia Simpson, Kierstin Smith, Kimberlin Smith, Marissa Smith, Elani Soto, Kiara Souvanarath, Dakotah Starnes, Rylie Steele, Aven Stevens, Jacob Stokes, Tyler Talbert, Ariyanna Tayler, Kaleb Thomas, Leilani Thornton, Zoey Thrift, Brandon Tighe, Jacy Towe, Elizabeth Tran, Cayna Trimble, Jasmine Trumble, Andrew Truong, Allie Tucker, Ian Updegraff, Anthony Usher, Tatianna Valderrama, Ian Edward Villanueva, Christian Waller, Michelle Way, Shavonna Waye, Alyssa Welch, D'Naiya Weldon, Chloe Wells, Laiken Wensel, Liliana Whitesell, Korey Wigger, Raydan Wilder, Allison Williams, Isis Williams, Keelyn Williams, Melanie Williams, Cayden Williamson, Jillian Wilson, Jace Windbigler, Tara Wingate, Abigail Wirth, Zachary Womack, Zachary Wombolt, Alyssa Wood, Bryce Woodward, Christopher Zuzich.
Charlton County
President's List: Ciera Allen, Cole Giddens, Savannah Pollock, Travis Ray, Kyley Streweler.
Deans List: Kobi Lucree.
Academic Achievement: Shelby Bell, Austin Bennett, Leah Boatright, Chloe' Brevaldo, Rayera Brown, Nathaniel Carter, Larry Clairday, Rebecca Clairday, Andrew Crews, Annabella Crews, Makayla Cross, Matthew Ferguson, Nicholas Franques, Harrison Griffin, Emma Harris, Janieshea Harris, Brett Holman, Amy Huggins, Jordan Jernigan, Courtney Jordan, Taegan Knowles, Cameron Lindsey, Emily Lloyd, Halli Mccullough, Hagin Mcwhorter, Chloe Morgan, Jalees Murphy, Harold Murray, Bethany Norton, Marie Peacock, Melanie Prescott, Rayanna Prescott, Sierra Sheffield, Brantley Sloan, Brian Smith, Madison Suter, Kylee Thibault, Christina Thrift.
Clarke County
Academic Achievement: Jonathan Arnold.
Clinch County
Deans List: Ramara Williams.
Academic Achievement: Rachelynn Bivins, Dancey Hinson, Caitlin Johnston, Salena Lashore, Rebecca Mizell, Tiffany Morris, Stacey Palmer, Hannah Rowland, Christian Sasnett, Analee Wheeler, Ashley Zuniga.
Coffee County
President's List: Jaycee Anderson, Leah Turner.
Academic Achievement: Jacob Elrod, Phyllis Smith, Kristie Thompson.
Effingham County
Academic Achievement: Sheena Sewell.
Emanuel County
President's List: Austin Williamson, Marshall Williamson.
Evans County
Academic Achievement: Tiffany Humphrey.
Glynn County
President's List: Lakeasha Alexander, Allison Buchanan, Allison Cryer, Clare Favole, Kaitlyn Hollingsworth, Bailey Payne, Chaidelle Phillips, Patrice Taofeek, Kimberly Thomas, Cynthia Toler-Schell, Jasmine Walker.
Deans List: Brent Badis, Jodian Fuller, Julie Grant, Tiffany Hall, Kamryn Hurt, Olivia Morton, Aaliyah Oliva, Mistie Roberson, Reginald Sams, Andrew Stoklosa, KELANI UNDERWOOD.
Academic Achievement: Tracey Austin, Katherine Avant, Jason Belle, Maya Biggee, Ashley Bullard, Richard Bunkley, Justice Christian, Thomas Courson, Cathrine Davies, Brady Davis, Destiny Domzalski, Rebecca Durden, Shamel Edwards, Katie Faircloth, James Fischer, Jajuan Floyd, Zachary Hartley, Stephen Hoekwater, Stacy Howard, Auntonette Jackson, Anthony Jacobson, Talicia Lockwood, Joseph Lombardi, Gracie McClellan, Jordan Martin, Jennifer Martinez-Lopez, Sarah Massey, Callie Milligan, Ashley Mincey, Samantha Miness, Kayla Nelson, Camrie Noble, Abaigeal O'Brien, Brian Perrott, Saundra Phillips, Olivia Pralinksy, Caitlin Prescott, Erliver Ramirez, Roberto Ramirez, Fahima Rastagar, Ryan Reeves, Jordan Ribron, Queshanti Richardson, Kristina Rogers, Anthony Rossi, Cortney Russell, Dalton Sawyer, Jessica Sellers, Jacqueline Silva, Michelle Smith, Stephanie Tindall, Victoria Walker, Dominic Watson, James White, Nathan White, Ebony Wilcox, Declan Williams, Yasmin Williams.
Jeff Davis County
President's List: Kayla Bennett, Alec Campbell, Bailey Edmonson, Nikki Minton.
Deans List: Aaron Townsend.
Academic Achievement: Emanuel Acuna, Naul Aguirre, Noelani Branch, Tyler Calhoun, Anthony Carter, Aiyana Cooper, Morgan Cox, John Gerrity, Macey Hand, Jamie Harper, Dustin Jackson, Alicia Mendoza-Lopez, Juan Porras, Alexandria Summerlin, Ashley Taylor, Christopher Thornton, Zack Ussery, Jonathan Valencia-Lugo, Amos Wilson, Lexi Worth.
Laurens County
President's List: Jacob Lord.
Liberty County
President's List: Gabriel Bamberg, Nicholaus Brown, Anthony Cliett, Joseph Fahey, Christopher Martin, Kewan Richards.
Academic Achievement: Kristin Carter, Jamie Davis, Brittany Higson, Deloris Massey, Lewis Tyson.
Long County
President's List: Cynthia Freeman, Victoria Goodman, Jennifer Henry, Mackenzie Pattison.
Academic Achievement: Aryanna Carr, Destina Cabrera, Olivia Clark, Caitlin Deloach, Sarah Harris, Essence Hill, Kiley Hunt, Chhay Mao, Guy Morin, Bonnie Nimmons, Sommer Sharritt.
Lowndes County
President's List: Jonathan Bozeman, Russell Murray.
Deans List: James Hunt.
Mcintosh County
President's List: Leah Bazemore, Jacob Caldwell, Sunny Johnson, Lamesha Leggett, Seth Ricker, Billie Todd, Michaela Wilson.
Academic Achievement: Kallie Deverger, Kyana Fleming, Ashley Goodman, Sabrina Grovenor, Ellie Key, Alexis Mcquaig, Tammy Norris, Trey Saunds, Joshua Singletary, Warrine Sloan, Shae Williams.
Out-Of-State, Other County
President's List: Sydni Cloyd.
Pierce County
President's List: Lekisha Aldridge, James Boatright, Ryan Boyette, Pattison Boyle, Shaylynn Griffin, William Hayes, Jonathan Herrin, Alexis Jenkins, Mark Johnson, Magan Jones, Sarann Kicklighter, Mason Rigdon, Kolby Simonin, Katherine Thornton, Macy Wolfe.
Deans List: Mikel Bowers, Katharine Carter, Thomas Jackson, Hagen Liles, Sydney Lewis, Catlyn Reynolds, Hanna Robinson, Jaqueline Sierra, Steven Slusher, Daniel Smith, Cydnie Steiner-Swain, Katie Waters, Luke Williams.
Academic Achievement: Daysi Arredondo Rodriguez, Gunars Bitenieks, Michael Badillo, Jason Batten, Misty Baucom, Amy Bennett, Suzanna Bennett, Tristen Blocker, Felicia Burse, Kaci Crase, Hannah Cloud, Lily Decker, Thomas Drawdy, Emma-Leigh Evors, Erica Fowler, Andrew Fan, Cason Farr, Jack Golub, Ethan Hitchner, Jennifer Hale, Nyegha Harris, Abbie Hayes, Maggie Herrin, Natalie Herrin, Brittany Hickox, Pablo Hipolito, Sunni Housley, Karlie Jarrell, Margaret James, Rose Kicklighter, Griselda Llama-Vasquez, Ronnie Long, Ashley Mcintosh, Christopher Meeks, Julienne Myrick, Joslynn Nettles, Eduardo Pimental, James Paulk, Halie Pickens, Skylar Ray, Joseph Robertson, Jonathan Rudd, Aaron Scurry, Eduardo Solorio, Hannah Strickland, Kade Scott, Matthew Simpson, Benjamin Strait, Jada Strickland, Wyatt Turner, Abbie Thornton, Haley Tiner, Kaden Todd, Shane Vickery, Kaitlyn Vaughn, Sarah Walley, Haylee Waters, Chandler Watson, Sara Wheeler, Laney Williams, Rikki Williams.
Tattnal County
Academic Achievement: Christine Hill, Chad Morgan.
Telfair County
Academic Achievement: Olin Adams.
Treutlen County
President's List: Payton Brooks.
Ware County
President's List: Amber Brown, Misty Buchanan, Kierra Hall, Sandra Jaime, Amara Grace Jeffords, Destiny Music, Lakira Woods, Carey York.
Deans List: Santiago Deleon, Norman Fitzgerald, Donrico Lewis, Timothy Mclaughlin.
Academic Achievement: Meghan Aldridge, Bethany Bartram, Delia Beyer, Sydney Bokor, Robert Braucht, Kennedy Brice, Amber Bussey, Kimbron Collins, Jessica Cox, Trevor Cox, Anna Delk, Abby Dixon, Megan Dukes, April Enfinger, Demya Gibson, Daniel Good, Brittany Gould, Jamia Green, Tyler Hanson, Jennifer Hardy, Rebecca Hendrix, Jose Hernandez Espinosa, Hunter Hooks, Abbie Howell, Deandra Jackson, Audrey Jacobs, Joseph James, Aidan Jeffords, Imani Johnson, Czareah Kay, Emma Lee, John Lim, Anne Lin, Dalton Malone, Dyonne Mcclain, Kori Musgrove, Deedee Newbrough, Adriana Noya, Tonja Padgett, April Pickeral, Santiago Ramirez, Kailey Ray, Jelani Reese, Dominic Reynolds, Mabry Rigdon, Sarah Rittenhouse, Donald Sears, Olivia Sharpe, Danielle Shell, Grace Sirmons, Lauren Smallwood, Ben Smith, Evan Smoak, Reagan Taylor, Katie Turner, Tonya Tuten, Ashley Walley, Bryson Wheeler, Jared Wiggins, Jordan Williams, Cassidy Willis, Mildred Wilson.
Wayne County
President's List: Allayna Bonillareyes, Santonia Boyd, Thad Brackin, Jordan Brazell, Hallie Dixon, Kursten Eby, Krista Franklin, John Gray, Tavaris Hayes, Christopher Hickey, Moneka Mason, Tiyawnna Moopow, Shelly Morris, Teresa Moseley, Wadeedah Muhammad, Kayla Owens, Jade Reed, Stacy Spears, Cedrick Thomas, Alexis Westberry, Naobi Williams.
Deans List: Giovanna Arcos Fernandez, Devane Baker, Kelvin Danford, Teresa Finch, Deja Fuller Hernandez, Julian Wright.
Academic Achievement: Joshua All, Eden Bagley, Russa Beach, Clifton Bennett, Terrance Bennett, Tomi Boyd, Alexis Bradford, Julianna Branson, Lisa Buford, Maya Bush-Roberts, Tommy Coon, Kaylee Czech, Ashley Dowling, Abigail Evans, Malachi Ellis, Maybrie Eubanks, Macy Futch, Nadhira Giles, Katelyn Ginn, Kyle Grant, Scott Hardenbrook, Justin Harrison, Zachary Hayes, Jeremy Henderson, Olen Houston, Jonathan Landon, Kadie Moxley, Shayna Manning, Steven Moseley, Hannah Moxley, Johnny Palmer, Kaley Poppell, Kerry Ricci, Brittany Roberson, Aubrey Schluckebier, Chasity Sheffield, Matthew Spivey, Cristina Stanfield, Madison White, Hannah Wise, Cory Wood.