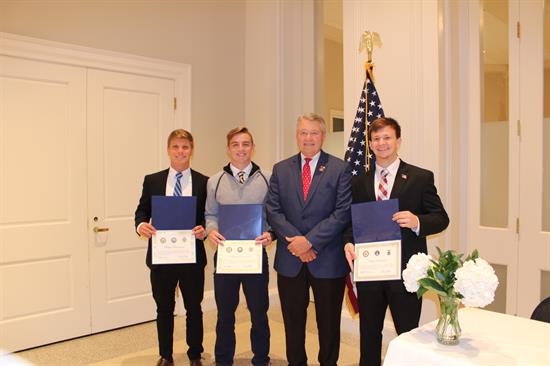 Congressman Rick Allen recently hosted a signing ceremony for the four students accepted into U.S. Service Academies.


Allen  issued the following statement after hosting a Service Academy Signing Ceremony this week for three young men (one was not in attendance) from Georgia's 12th district who received and accepted an offer of appointment to one of our nation's Military Service Academies.
Each year, Congressman Allen nominates a limited number of young people to attend four of our nation's five Service Academies. Accepting an appointment obligates the appointees to commit and serve in the military for a minimum of five years upon graduation from the academy.
"Knowing that we have such exceptional young adults in the 12th District of Georgia who are willing to make the ultimate sacrifice for their country gives me great hope for the future of America," said Congressman Allen. "Today, I had the opportunity to recognize three of them – Nathan, Logan, and Michael – who, throughout their lives, have gone above and beyond to become valued leaders among their peers. It is with much admiration that I congratulate each of them for their many triumphs and I was proud to do my part to support them as they begin this next chapter in their lives."
Based upon recommendations from a distinguished academy advisory board, the following individuals were nominated by Congressman Allen and received an appointment to attend a Military Service Academy.

Nathan Sand (Evans, GA) Lakeside High School – Received and accepted an offer of appointment to the U.S. Air Force Academy


Logan Schultz (Douglas, GA) Coffee High School – Received and accepted an offer of appointment to the U.S. Naval Academy


Michael Jeschke (Augusta, GA) Aquinas High School – Received and accepted an offer of appointment to the U.S. Naval Academy


Nolan Barco (Grovetown, GA) Grovetown High School – Received and accepted an offer of appointment to the U.S. Military Academy (*Not in attendance*)
Ryan Jolly (Martinez, GA) Augusta Preparatory Day School – Received and accepted an offer of appointment to the U.S. Naval Academy (*Not in attendance*)