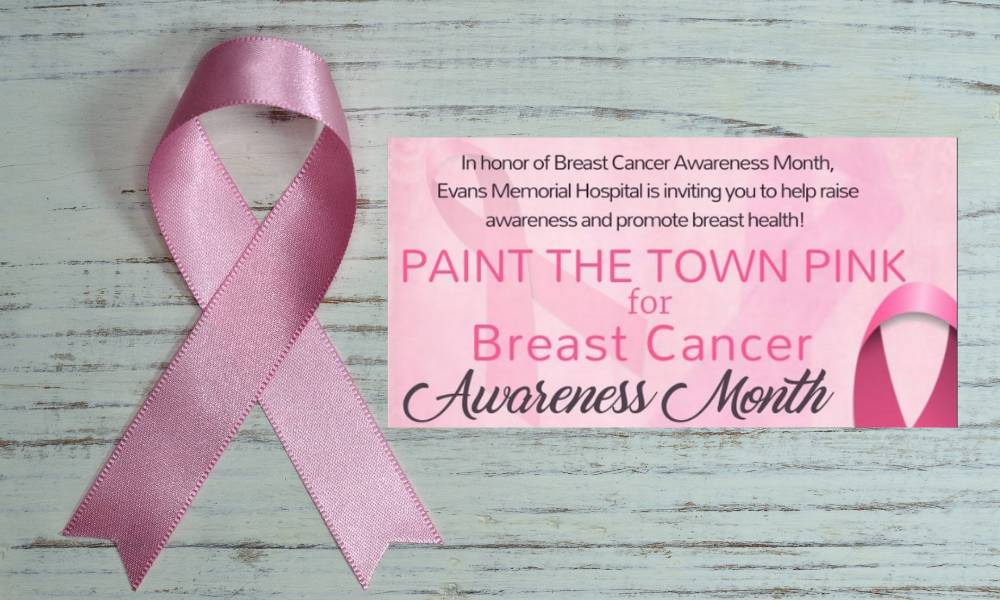 In recognition of Breast Cancer Awareness month, Evans Memorial Hospital is hosting an open event, Paint the Town Pink, to the community to learn more about early breast cancer detection.

In addition, to spread awareness about the disease, Evans Memorial partnered with the community, which has displayed support by turning home fronts and store fronts pink for the month of October. 
In the United States, breast cancer is one of the most common forms of cancer in women and the most frequently diagnosed. One in eight women will be diagnosed with breast cancer in their lifetime. An estimated 276,480 new cases of invasive breast cancer are expected to be diagnosed among women in the U.S. in 2020, along with 48,530 new cases of non-invasive breast cancer, according to breastcancer.org. Approximately 42,170 of U.S. women will succumb to breast cancer in the U.S. in 2020. It has been expected by local trends that 8-10 women will be diagnosed in Evans and Tattnall County this year. By increasing awareness, it is our hope that women and men will be more attentive to the early signs and symptoms of breast cancer. A combination of mammograms, clinical breast exams and selfexams can save thousands of lives each year by helping detect cancer earlier, when it's treatable. All of which is offered at Evans Memorial Hospital.
DETAILS:
Thursday, October 29th
Hames Building
405 E Long Street
Claxton, GA 30417
5:00 – 7:00 pm
Speakers:
Dr. Rebecca Spahos, General Surgeon
Dr. Patrick Buchanan, Plastic Surgeon
Dr. Rebecca Spahos is one of Evans Memorial Hospital's general surgeons who has a special interest in breast cancer surgery and promoting awareness in our community. She graduated from UGA, attended the Medical College of Georgia, trained at Memorial Health University Medical Center, started a breast program locally, and is now treating the women of our community at Evans Memorial Hospital.
Dr. Patrick Buchanan, from Georgia Institute for Plastic Surgery from Savannah, is also joining the EMH team as the plastic surgeon for reconstruction and other needed services for breast patient care. He earned his medical degree from the University of Florida College of Medicine, and completed his fellowship at the University of Michigan. We are excited for the growth of a much needed service for the healthcare of women and men in the community. 
More below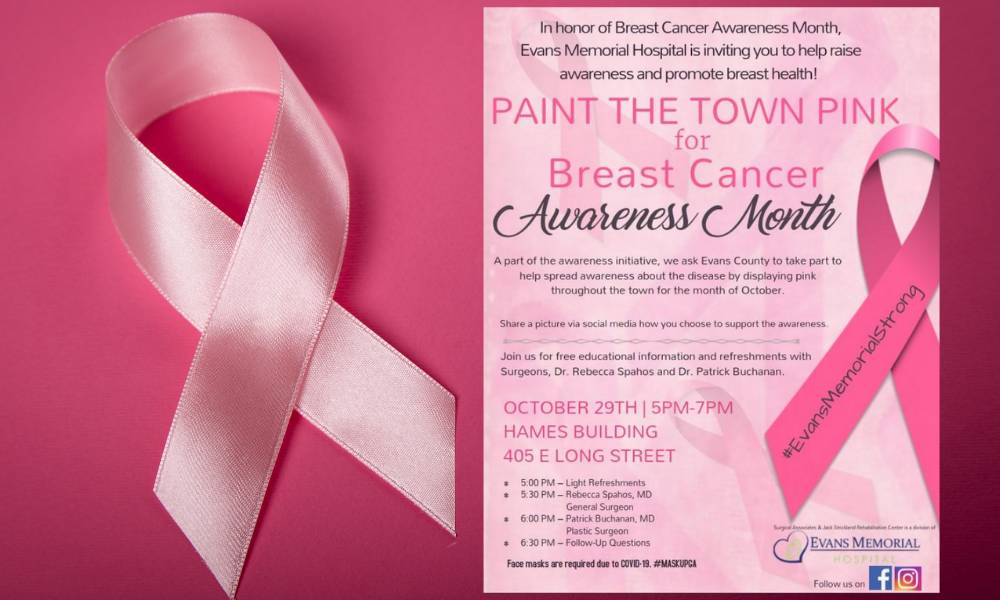 Due to COVID-19, many individuals are staying home to prevent the spread. The event will be streamed Live on Facebook if you are unable to attend. Masks are required for all attendees as recommended by the CDC and social distancing will be practiced. In addition, all attendees will go through a short COVID-19 screening upon arrival. If you plan to attend, please make sure you RSVP to hr@evansmemorial.org or Facebook message Evans Memorial Hospital.