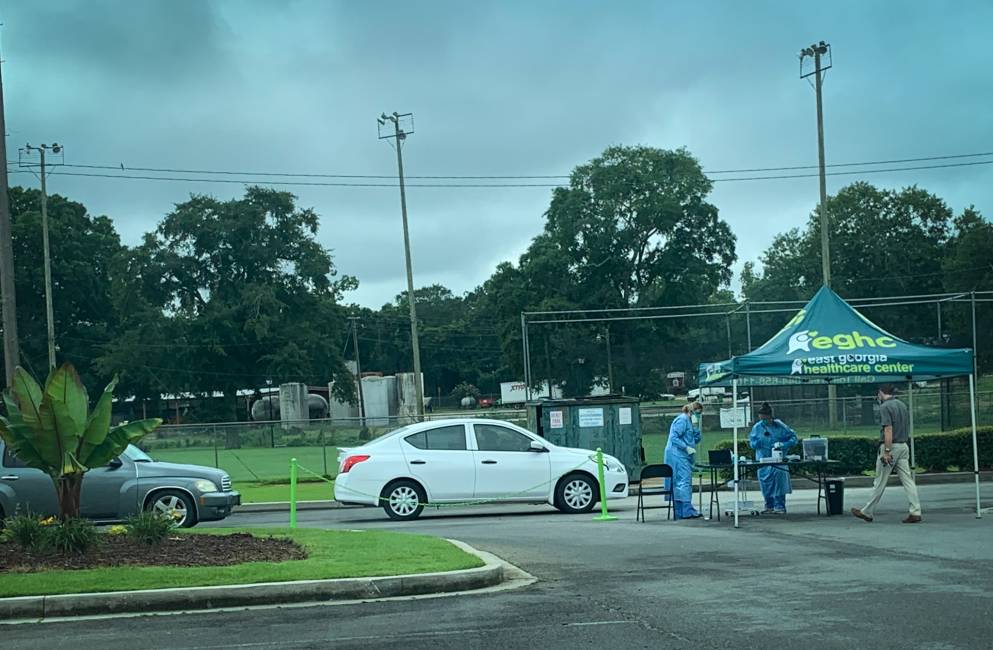 East Georgia Healthcare Center (EGHC) in partnership with the City of Statesboro and Bulloch County will scale back free COVID-19 testing at Luetta Moore Park from two days a week to one day a week. The schedule change is due to a recent decline in testing demands at the drive-thru. Since opening the drive-thru on September 15, 2020, EGHC has performed 369 tests with a total of 25 patients testing positive for COVID-19.


The free COVID-19 testing will take place on Thursdays from 9:00 a.m. until 12:00 p.m. at Luetta Moore Park located at 121 Martin Luther King Jr. Drive, Statesboro, GA 30458. The COVID-19 tests are free to all patients. If the patient is insured, their health insurance will be filed, but EGHC has chosen to waive copayments. Patients should bring a government ID and insurance card if insured. Funding for the free COVID-19 testing is provided through filed insurance claims for insured patients and uninsured patients' tests will be covered by federal COVID-19 relief funding.
Patients don't need to schedule an appointment but can call EGHC's Statesboro office at (912) 764-9196 with questions. Patients do not have to reside in Bulloch County to receive a test. There are no requirements to receive a test such as proof of potential exposure or symptoms.
When patients arrive at the park, there will be two lines for patients: one for drive-ups and one for walk-ins. Patients should follow the directional signs and those directing traffic. Patients arriving by car should stay in their car and await instruction. If a patient is parked next to another car, they will need to keep their car running and keep the windows up. If a patient is standing in the walk-up line, they will need to remain with their family and maintain a space of 6 feet between themselves and other families.
All drive-thru workers are EGHC employees and trained extensively to work with COVID-19 testing. Patients can expect a problem-focused visit that will be conducted by a fully licensed nurse practitioner, physician assistant or medical doctor with medical assistants or nurses collecting specimens. As part of the visit, EGHC will collect patient vitals, a simple medical history, have a problem-focused exam, and then administer a swab test for COVID-19.
EGHC is a Federally Qualified Health Center (FQHC) with 13 locations across East Georgia. EGHC is a patient-centered medical home that serves over 24,000 individuals each year. They accept all insurances and offer a sliding fee scale for uninsured patients. Their Statesboro office offers pediatrics, family medicine, and mental/behavioral health. They facilitate COVID-19 testing along with all other primary medical care in all of their offices including the Statesboro office on Brampton Avenue.