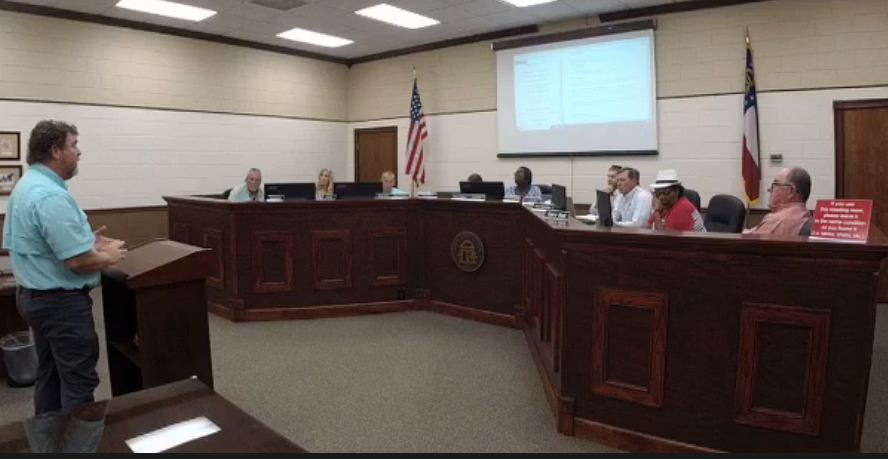 The Evans County Board of Commissioners voted Tuesday night to move forward with their own convenience site plan for recycling just one day after reaching out to the City of Claxton about a partnership.


Ahead of the vote, Commissioners heard from County Administrator Casey Burkhalter who attended the Claxton City Council meeting Monday to propose the consolidated convenience site plan which would have provided a manned site with household garbage compactors and recycling bins to the tune of $80,000 annually paid for by a $20 annual user fee. The location was suggested to be an expanded operation at the existing site in the city limits of Claxton.
But the City of Claxton did not seem open to the idea and Burkhalter reported that to Commissioners on Tuesday evening. Council members pushed back on cost, efficiency, and need saying people won't use a consolidated site.
Claxton did not take an official vote on the matter Monday as both Burkhalter and Mayor Branch told the Council that the presentation was for 'informational purposes' only. Burkhalter had also suggested the City and County partner together to host a series of workshops with Daisy, Hagan, and Bellville to discuss the matter in more detail. You can read the article on the presentation and council members comments below. (Video is in article)
Claxton Council Shoots Holes in County's Proposal for Consolidated Convenient Site Center with User Fee
There was little discussion Tuesday night as Commissioners heard from Burkhalter, who explained what happened with Claxton, what the costs would be and how it would operate. Ultimately, Commissioners voted to pass on working with the City, without saying so much, and instead modify the status with EPD for the existing landfill in Daisy to be able to provide additional services at the same location. Users will pay by weight.
Commissioner Jill Griffin said that would be the most fair way to do recycling because it would allow people to pay as they use. She asked Burkhalter if there was a cost associated with modifying the property with EPD and Burkhalter said there would be a cost for engineering, but that revenue was sufficient. The county, under this plan, would then accept everything except hazardous waste.
Commissioner Brian Croft said he would like to see the road be paved if that is where the permanent site is going to be and people are going to be encouraged to use it frequently.
Commissioner Gary Bell asked about the estimated timeline to get the site operational as discussed and Burkhalter said 30-90 days.
Ultimately, Commissioner Jill Griffin made a motion to move forward with the modification of the landfill and the motion carried unanimously. 
At the end of the meeting, Commissioner-elect Wesley Jenkins, who will represent District 5 beginning in January, asked if he could address the Commissioners. Chairman Shela Holland said, "Yes sir, since you're coming on board, let's see what you've got to say."
Jenkins comments are below, verbatim:
"I'm really concerned with this convenience site. If I'm not badly mistaken, y'all just voted to go ahead and put it out at the landfill, is that correct? [Burkhalter responded it was to put a compactor at the landfill] Okay, my concern is you just talked to the City of Claxton last night and no one has made a decision. We hadn't talked to Bellville, Daisy, or Hagan. How do we know that they don't want to come on board? In my opinion, I'm just a citizen and a taxpayer at this moment, but nothing is convenient about our landfill for the citizens of Evans County that's my take on it."
Holland said, "My understanding is that Casey already talked to the city and they really don't want it."
Jenkins: "Did they say that last night?"
Burkhalter: "They were not interested at all."
Griffin: "This is not the first time that they've said they're not interested."
Jenkins: "But they did not say they didn't want it or would not do it? And we haven't talked to Bellville, Hagan or Daisy?"
Holland: "The reason we went to Claxton is because they already had it set up."
Burkhalter: "Correct, you would go to them first."
Jenkins: "But to answer my question, we haven't talk to anyone else?"
Holland: "No, we hadn't talked to them. When you start out doing stuff like this, and somebody's already got something, all we wanna do is kinda help start it back up."
Jenkins: "Well, I understand that there's nothing convenient about a convenient site as far as money, convenience is not cheap, but until we enable to folks in Evans County to have somewhere convenient to put brown goods, metal objects, and maybe we could work yard trimmings in there, we're still going to have people littering our county because they're not going to drive out to Daisy on a dirt road. That's all I got to say, thank you."
The meeting adjourned immediately following his comments.
You can watch the Evans County Commission meeting in its entirety below. The discussion on this subject begins at the 3:00 mark. Comments by Jenkins begin at the 34:30 mark.