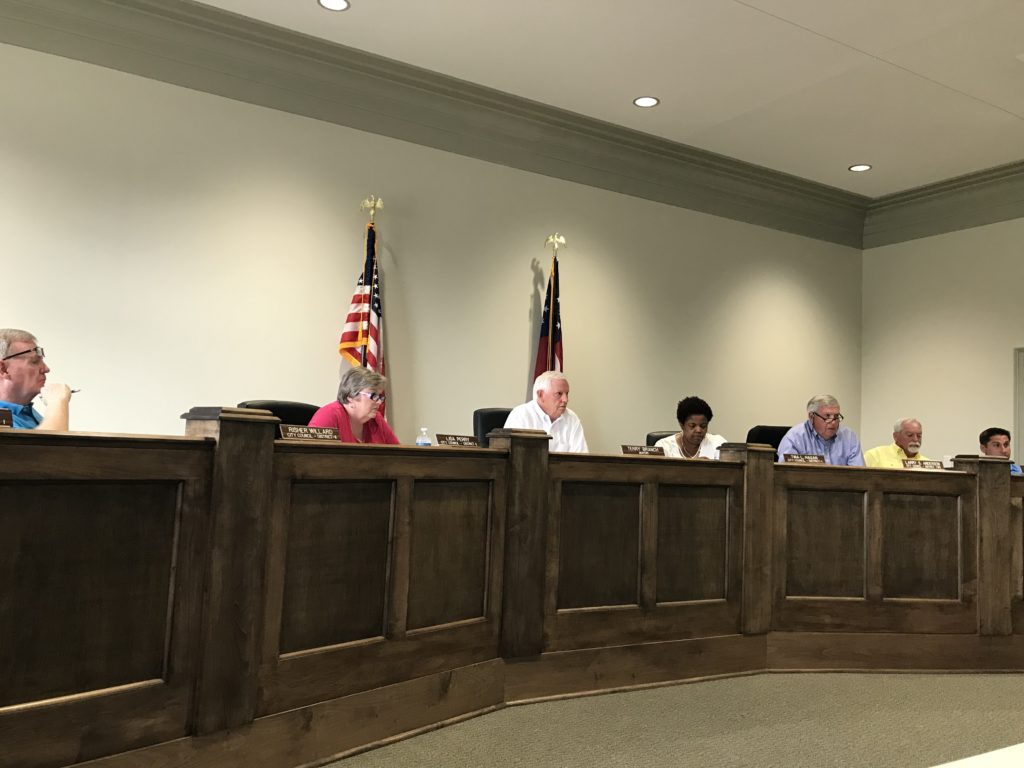 The Claxton City Council voted Monday night to officially enter into a contract with the Claxton-Evans Chamber of Commerce in an effort to resolve previously unlawful appropriations to the private entity.

The contract is the first one executed between the city and the entity since 1994.
During the budget process, it was brought to the attention of the city officials by AllOnGeorgia that the city was in violation of the gratuities clause in the state constitution which prohibits the use of tax dollars to fund private organizations. State law provides an exception for economic development purposes, but the city has not been in compliance with those parameters since the 1990s because no annually renewed agreement was approved by council.
The approval of the contract, as well as the job description for the Chamber Executive Director, means the Chamber will have to provide budget and expenditure explanations for the $19,500 in city funds allocated to the 501(c)6 under OCGA 36-60-14 in addition to the free rent provided to the Chamber in a city building.
Councilwoman Lisa Perry asked AllOnGeorgia for a clarification about the state gratuities clause during the meeting but Mayor Branch informed her that questions of the audience would not be permitted.
Councilman Risher Willard asked what percentage of the chamber budget the city provided, but no one one council or employed by the city knew. Branch asked Chamber Director Tammi Hall about the amount, but AllOnGeorgia inquired about the new rule to not speak to people in the audience. Branch withdrew his question.
City Attorney Bill Callaway told council that the concerns brought up regarding the constitution and state law were "incorrect," but then presented a new contract that resolved the issues of the gratuities clause and state law. He said there would be no duplication of services by the Chamber of Commerce and the Economic Development Authority.
The new contract was drafted by Bill Callaway at the request of mayor and interim city administrator Terry Branch and will require the Claxton-Evans Chamber to:
* Run the official welcome center for the city and county
* Serve as the destination marketing organization for tourism services
* Provide clerical support to the Claxton Downtown Development Authority
* Identify and attract new businesses in a partnership with he Claxton Downtown Development Authority
* Support existing business and industry
* Sponsor and/Co-sponsor major community events
A motion to approve the contract was made by Councilman Larry Anderson and seconded by Risher Willard. It passed 6-0.
Also on the agenda was a contract for services with regard to the allocation of hotel/motel tax. The Chamber of Commerce gets 25% of the hotel/motel tax and the Downtown Development Authority receives 75% of the hotel/motel tax collected. This has been the practice for years but a contract formalizes the agreement in writing. It was adopted unanimously in a vote of 6-0.
Councilwoman Joy Freeman was absent from the meeting.
chamber contract 2019

Claxton Chamber _executive director job description