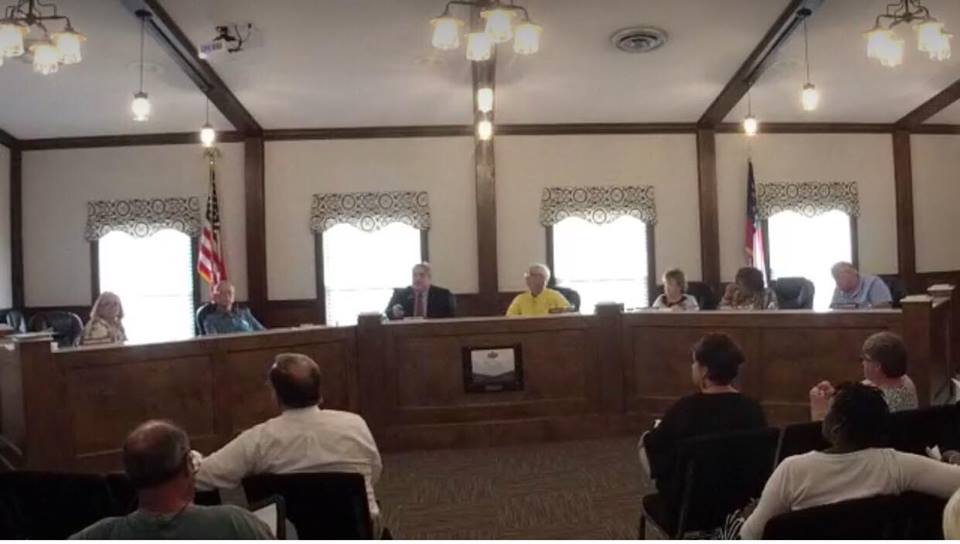 The Evans County Board of Education held a workshop at the Central Office on August 27, 2018. A variety of issues were discussed, but after the Board announced $430,000 in additional funds to spend, some citizens voiced concerns over the millage rate and property taxes, given the newly found funds.

The superintendent allowed the community members present to ask questions during the workshop and one gentleman asked what would have to happen in order for seniors to see a tax exemption for the school portion of property taxes.
"How would you go about getting it so that the senior citizens didn't have to pay school taxes? You've got people that's 75 years old and they can't afford school taxes. How do you go about getting a reduced rate?" Larry Kennedy asked.
AllOnGeorgia is fact-checking two statements made by officials in response to the question asked by Kennedy at the meeting Monday.
Background:
Property owners were angered in 2017 when the Board made moves to increase the millage rate and cited state mandates as the reason for the increase. Superintendent Marty Waters and Chairman David Greene told a crowded cafeteria at Claxton High School that the county would lost millions in equalization money if they did not raise property taxes. AllOnGeorgia challenged the statements, citing the law and other counties millage rates, ultimately publishing an article with the details.
You can read that background here.
Evans Co. Board of Ed. Skips Homework Assignment on Millage Rate
Neither the Board nor Waters apologized to the community, but said they were misinformed. The Board ultimately chose to increase the millage rate, but not steeply as initially planned. Even still, property owners, especially those who no longer have children in the school system, were upset at the hike and talks of forthcoming hikes.
Fact Check #1
Waters deferred to Board of Education attorney Ron Hallman to answer the question of Mr. Kennedy with regard to the elimination of the school property tax.
Hallman said, "That would take a Constitutional Amendment passed by the [state] legislature and ratified by the people statewide and on a county-by-county basis."
That statement is determined to be false.
As of 2010, more than 50% of county school districts had age-specific tax exemptions and 61.5% of city school districts had age-specific tax exemptions. All were approved by local legislation in the state legislature, which means a state representative or a state senator for the county sponsors legislation and it is voted on for that county alone. No amendments are made to the state constitution and voters around the state do not determine what happens in Evans County.
For example: Wayne County in southeast Georgia has exempted seniors from school property taxes. Gilmer County in north Georgia has a 100% tax exemption for seniors over 65, Glynn County, school exemptions are provided in tiers for those 62 and older and a higher rate for those 65 and older, and are even more situationally-specific in places like Gwinnett county. Here is a link to additional counties with school tax exemptions and how they're determined, some of which are based on home value.
Each of these were sponsored by a state legislator from the county and passed as local legislation, which is different from general legislation in the legislature and substantially different from a Constitutional Amendment.
Fact Check #2
Another member of the community asked if senior citizens could see some relief on school property taxes. "If there is any way you can cut things, to give us a break…" Her questions came on the heels of discussion of $430,000 in additional funding found, which would be allocated to staff raises, technology, and some other items.
Dr. Waters told the member of the community, "During the budget process, we did not want to go to taxpayers. We wanted to look internally." Waters went on to tell the room that the millage rate is 'frustrating.'
"The state has set mandatory limits on millage rates if we're to receive equalization funds. Um, we earn about $1.6 million from the state, which is the difference of about 5 ½ to 6 mills. To earn that, we have to be, as of July 1 of this year at 13.5 mills and July 1, 2019 at 14 mills. Which is the reason the Board voted to roll back to 14 mills and hold constant."
Waters referred to Evans County as a 'low wealth district,' saying it would be 'wonderful' if Evans County was a low-wealth district because they could get more money from the state, but saying a significant 'financial impact' would have to occur in order for that to happen. His statements were followed by Dr Greene commenting that 'We don't want that.'
The statement on the millage rate is determined to be partially-true.
What the law says:
O.C.G.A 20-2-165 (a)(9)(C) reads:
Beginning July 1, 2015, having a millage rate or an equivalent millage of at least 12 mills; beginning July 1, 2016, having a millage rate or an equivalent millage of at least 12 1/2 mills; beginning July 1, 2017, having a millage rate or an equivalent millage of at least 13 mills; beginning July 1, 2018, having a millage rate or an equivalent millage of at least 13 1/2 mills; beginning July 1, 2019, and thereafter, having a millage rate or an equivalent millage of at least 14 mills.
Dr. Waters is correct that the millage rate must be 14.0 mills as of July 1, 2019, but the Board has a higher than necessary millage rate for a full calendar year before it is legally required by the state to be 14.0 mills. The 14.0 millage rate adopted this year is for the 2018 tax year, not 2019.
Waters said he learned at his summer leadership conference at Jekyll Island that the state may do something about 'the two Georgias' soon.
AllOnGeorgia published an article on the repercussions of property tax exemption for seniors in September 2017. You can read it below.
What if Evans Co. Had a School Tax Exemption for Senior Citizens?
You can watch the video of the meeting below. The question from the audience begins at the 42:00 minute mark.