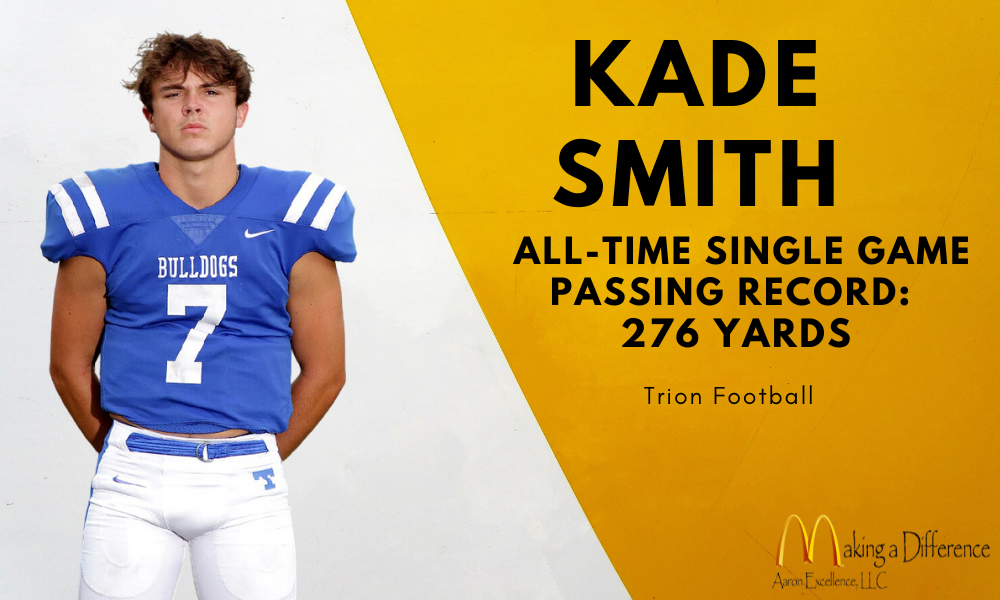 This week's AllOnGeorgia Player of the Week honors brought to you by Jim Aaron's Summerville McDonalds go to Trion Football's Kade Smith. 
In the world of sports, breaking records is the pinnacle of achievement, a testament to extraordinary skill, determination, and unwavering dedication. Trion Football's quarterback, Kade Smith,  broke several records last season as a sophomore including all time passing yards, most passing yards during a season (1,801) and most passing touchdowns (17) in a season.

With one game under his belt this season Smith has etched his name in the records of athletic history again by setting a remarkable single-game record for the most passing yards. With an astonishing 276 yards in a single game. The feat was made even sweeter since it was against rivals, Gordon Lee. (The previous record was held by Jarrett Gill with 266.)
When asked what his favorite moment of the game was, Smith said, "when we went for it on 4th and 2 and Toby took it to the house."
Smith said that because the Trion vs Gordon Lee rivalry is the oldest in the state, it is important to win the game not just for the team, but for the entire Trion community.
Smith was quick to point out the important part his Offensive Line had played in Friday nights 56-14 win. "Our OL is the engine to our offense. If they aren't doing good then the offense wouldn't do good. They come to work everyday to get better and better. I played with some of them since rec ball and others since middle school. I think they played a great game. I didn't have pressure the whole game. This is why we were successful Friday night," Smith said.
"Kade accounted for 359 total yards last Friday night (276 passing and 83 rushing) and 4 TDs in a little over three quarters," Bulldog Head Coach Sean Patrick said. "He is a heck of a player. It has been fun to watch him grow and develop into the player he is today. He's such a hard worker and is completely deserving of this recognition."
More About Kade Smith: 
"A good leader in football is holding yourself and others accountable. You can't tell someone to do something and then you turn around and do the exact opposite."
"A few qualities that make a good football coach is loving each and every one of your players, doing whatever it takes to find a way to win, and pushing your players to be the best football players and the best men that they can be. Coach Patrick is a great example."
GPA: 4.0
Favorite Class: College Algebra
Favorite Teacher: Coach Cornett
In ten years I will be in the insurance business.
Pregame jam:  favorite pregame music is rap, current favorite pump up song would have to be first day out – Tee Grizzley