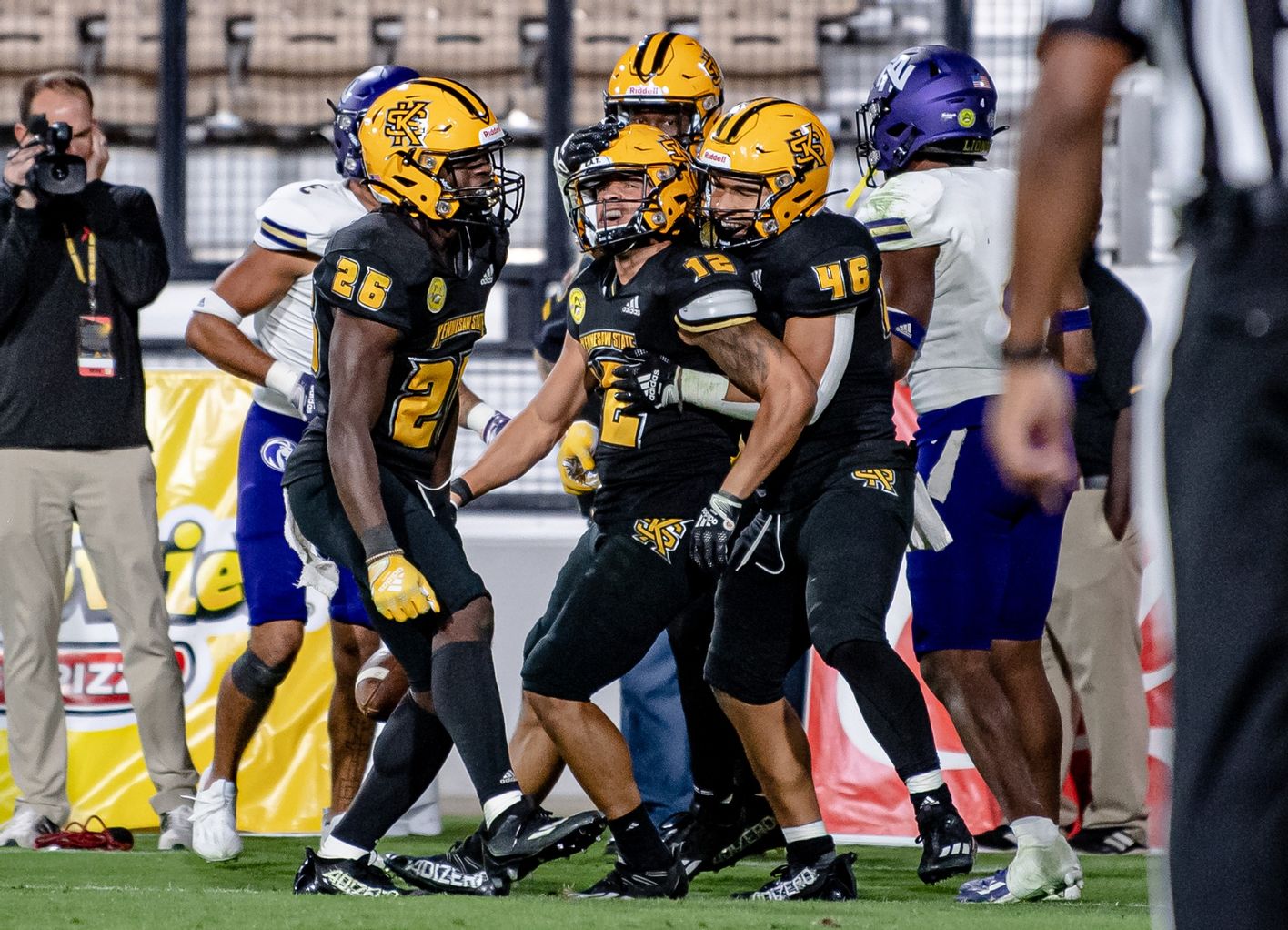 Kennesaw State football secured a double-overtime victory over North Alabama by a score of 40-34 on Saturday night inside Fifth Third Bank Stadium. The Owls (2-3, 1-1 ASUN Conference) collected their 13th-straight win at home and improve to a perfect 3-0 in series history over the Lions (1-4, 0-1 ASUN).

With the ball on the one-yard line and trailing 27-20 with 21 seconds remaining in the fourth quarter, Kennesaw State quarterback Xavier Shepherd found receiver Isaac Foster in the back of the end zone for a touchdown reception to help send the game into overtime.
In the initial overtime period, UNA got the ball first and scored on its third play. Kennesaw State forced a second overtime when Xavier Hill jumped in the end zone to pull down his first touchdown catch of the season on a 10-yard pass from Shepherd.
As the second overtime began, Foster exploded to the outside for a 12-yard touchdown run to put Kennesaw State ahead by six. The Owls missed a two-point conversion and looked to their defense to seal the game.
For the second-straight game at home, the KSU defense walked it off with a big play to secure the victory. On fourth-and-long, Markeith Montgomery broke-up a deep pass to give the Owls their first conference win of the season. Montgomery led the team with eight tackles (three solo) on the evening.
Shepherd led the offense with two rushing touchdowns and ended the day with 102 rushing yards on 34 carries. Early in the third quarter, the Owls' signal-caller scored a five-yard rushing touchdown for the 27th of his career. This moved Shepherd past Darnell Holland into second place in the KSU record book for career rushing touchdowns.
Through the air, Shepherd finished 13-of-18 with 172 passing yards. His 13 completed passes set a new career high.
Foster added 36 rushing yards on six attempts while scoring the go-ahead touchdown. The senior also added five receptions for a career-high 76 yards, including a career-long 40-yarder, and one touchdown.
UNA connected on a 26-yard field goal to jump ahead 3-0 after its first possession. The Owls answered with their longest scoring drive of the season, an 18-play, 75-yard trip capped by a two-yard touchdown run from Shepherd, who came off the bench midway through the drive.
On the ensuing possesion, Jalen Barnum tipped a third-down pass from the Lion quarterback that was picked off by a leaping Garland Benyard. The pick marked the first of the year for Benyard and the third consecutive game the Kennesaw State defense forced an interception.
The offense took over on the North Alabama 34-yard line. KSU recorded one first down on the drive, before Conor Cummins blasted a 36-yard field goal to put the team ahead 10-3. The field goal was the first of Cummins' collegiate career.
The Lions converted a field goal to pull the score to 10-6 and were driving with two minutes left in the first half. On a second down pass attempt, Montrel Jenkins blasted the UNA quarterback to record his first strip-sack on the season. A diving Kelcy Allen recovered the ball and gave the KSU defense its second turnover of the game.
Kennesaw State got on the board quickly after the half, scoring a touchdown in only five plays. Yesiah Clemons broke down the middle of the field for a career-long 36-yard rush that moved the ball to the UNA five-yard line. On the next play, Shepherd dove into the end zone for his second score of the evening to extend the KSU lead to 17-6.
A 62-yard touchdown pass from UNA pulled the score to 17-13. The Lions threatened again on their next possession before a Dylan Hand diving interception ended the drive. The pick was the second of Hand's career, with his first coming last season at Robert Morris (Nov. 6).
UNA re-took the lead with 11:38 remaining in the fourth quarter. Lion running back ShunDerrick Powell powered his way in from two yards out to give UNA its first lead since the opening quarter.
Shepherd and the offense answered with an impressive drive, highlighted by a 13-yard reception from Foster and a 26-yard reception from Hill. On fourth-and-five, Cummins booted a 26-yard field goal to tie things up with 5:45 remaining.
Kennesaw State football is back at Fifth Third Bank Stadium next week for an ASUN matchup against Central Arkansas. The game will be the first in series history between the Owls and Bears, with kickoff set for 1:00 p.m. Click here to purchase tickets.
Post-Game Notes
The Owls' improve their win streak at Fifth Third Bank Stadium to 13 games, the second-longest streak in program history.
Kennesaw State has scored at least one point in 86 consecutive games and has reached double-digits in 64 straight.
The Owls have now rushed for 150+ yards in 73 consecutive games against FCS opponents.
The KSU defense has now recorded an interception in three-straight games.
Kennesaw State has had a player rush for 100+ yards in three consecutive games.
KSU has won each of the last 42 games when it scores 32 points and is 45-1 all-time when reaching that mark.
Quarterback Xavier Shepherd registered his fourth career game with 100+ rushing yards and set a new career-high with 13 completions.
Running back Isaac Foster set career-highs in receiving yards (76) and longest reception (40).
Kicker Conor Cummins connected on field goals of 36 and 26 yards for the first two field goals of his collegiate career.
Yesiah Clemons set a new career-long with a 36-yard run in the third quarter.
For more information on Kennesaw State athletics, follow @KennesawStFB on Twitter or like Kennesaw State Football on Facebook and Instagram.
Foster Career Highs
Rushing Attempts: 11, vs. Charleston So. (03/13/21)
Rushing Yards: 183, at Missouri St. (09/21/19)
Rushing Touchdowns: 2, at Missouri St. (09/21/19), vs. Reinhardt (09/28/19)
Longest Rush: 75, at Missouri St. (09/21/19)
Receptions: 4, at Monmouth (04/10/21), vs. Wofford (09/24/22)
Receiving Yards: 64, at Monmouth (04/10/21)
Receiving Touchdowns: 1, at Monmouth (04/10/21), at Presbyterian (10/19/19)
Longest Reception: 38, vs. South Dakota St. (12/08/18)
Longest Punt Return: 57, at Presbyterian (10/19/19)
Longest Kick Return: 100, vs. Alabama St. (09/15/18), at Gardner-Webb (10/13/18)
Total Tackles: 4, vs. Alabama St. (09/15/18)
As a Graduate (2022)
Had five rushes for 16 yards in the season opener at Samford (Sept. 1) … also returned one kickoff for 15 yards … tied a career-high with four receptions in the home opener against Wofford (Sept. 24) for 32 yards … also had three kickoff returns for 57 yards… registered three receptions for 35 yards at Jacksonville State (Oct. 1)… also rushed for 12 yards on seven carries.
As a Senior (Fall 2021)
Named to the Big South's Preseason Special Teams First-Team, and Honorable Mention offense.
Played three games before sitting out due to injury … had eight rushes for 51 yards.
As a Junior (Spring 2021)
» All-Big South Special Teams Second-Team
» All-Big South Offense Second-Team
Played in every game and was second on the squad with 229 rushing yards … Averaged 7.6 yards per-carry on 30 attempts … scored once and had a long of 27 yards … tied for team-high with five receptions … had 72 receiving yards and a touchdown … had nine kickoff returns for 208 yards, good for a 23.1-yard average with a long of 29 yards.
As a Sophomore (2019)
» All-Big South Special Teams Second-Team
Played and started in the first seven games of the year before going down with a season-ending injury … set the program's all-time record for yards per carry in a season at 14.9 after finishing the year with 506 rushing yards on 34 carries … registered a season-best 183 rushing yards on just eight carries at Missouri State (Sept. 21) to fuel a comeback victory … had touchdown runs of 75 and 67 yards on back-to-back touches for two of his four rushing TD's on the year … scored two more touchdowns and added 127 rushing yards on six carries in a rain-shortened game against Reinhardt (Sept. 28) …. hauled in six catches for 111 yards and one touchdown … set the KSU program record for yards per punt return at 18.6, returning 6 punts for 112 total yards to earn second-team All-Big South honors on special teams … returned 14 kickoffs for 407 yards, including a 54-yard return at Presbyterian (Oct. 19), the longest punt return in program history … had a team-best 1,136 all-purpose yards despite missing the final seven games of the season.
As a Freshman (2018)
» All-Big South Special Teams First-Team
» Big South Special Teams Player of the Year
» HERO Sports Freshman All-America First Team
» Big South Special Teams Player of the Week (Sept. 19, Oct. 15)
Played in all 13 games, making an impact in the backfield and on special teams … named the Big South Special Teams Player of the Year after becoming the first player in league history to record two 100-yard kickoff returns for touchdowns in the same season … was the only FCS and FBS player in the nation with two 100-yard kickoff returns for TD's during the 2018 campaign …  recorded the 100-yard kickoff returns against Alabama State (Sept. 15) and Gardner-Webb (Oct. 13) … was one of 15 players in Division I football (FBS & FCS) with multiple kickoff return for touchdowns on the year and one of two individuals to do it with fewer than 10 attempts …  also did damage returning punts, returning 20 punts for 164 yards to rank No. 28 in the nation at 8.2 yards per attempt … in the backfield he rushed 29 times for 241 yards and one touchdown … caught two passes for 45 yards in the quarterfinals of the FCS Playoffs against SDSU (Dec. 8) … earned HERO Sports Freshman All-America First Team honors following his electric rookie season.
High School
A running back out of Chattooga High School … a four-year letterwinner in football under head coach Charles Hammon … reached the 2016 AA Quarterfinals and finished with a record of 8-5 … finished his career at Chattooga as the all-time leading scorer in school history with 336 points … his 10-yard per carry average was the highest in the state among players with more than 100 carries … ranked fifth in total yards in spite of having the fewest carries among top-10 rushers … a four-time 7AA first-team Offense and two-time Region 7AA first-team Defense selection … one-time Region 7AA Offensive Player of the Year … as a junior, led team with 410 passing yards (31-of-62) … totaled 1,149 rushing yards and accounted for 15 TDs … also played safety, garnering 41 tackles and five pass breakups … out of the backfield, for his career, he totaled 3,243 yards on 421 carries … averaged 7.7 yards per game and 104.6 total yards per game … totaled 40 touchdowns in 31 games.
Personal
Full name is Isaac Chanceler Foster … born July 13, 1999 in Eastridge, Tenn. … son of Melvin Foster, Jr. and Tiffany Lawrence … has a twin brother named Isaiah … also has three other siblings named Darion, Faith and Daysa … majoring in accounting.
Via: KSUOwls.com https://ksuowls.com/news/2022/10/8/football-ksu-earns-double-overtime-victory-over-north-alabama.aspx