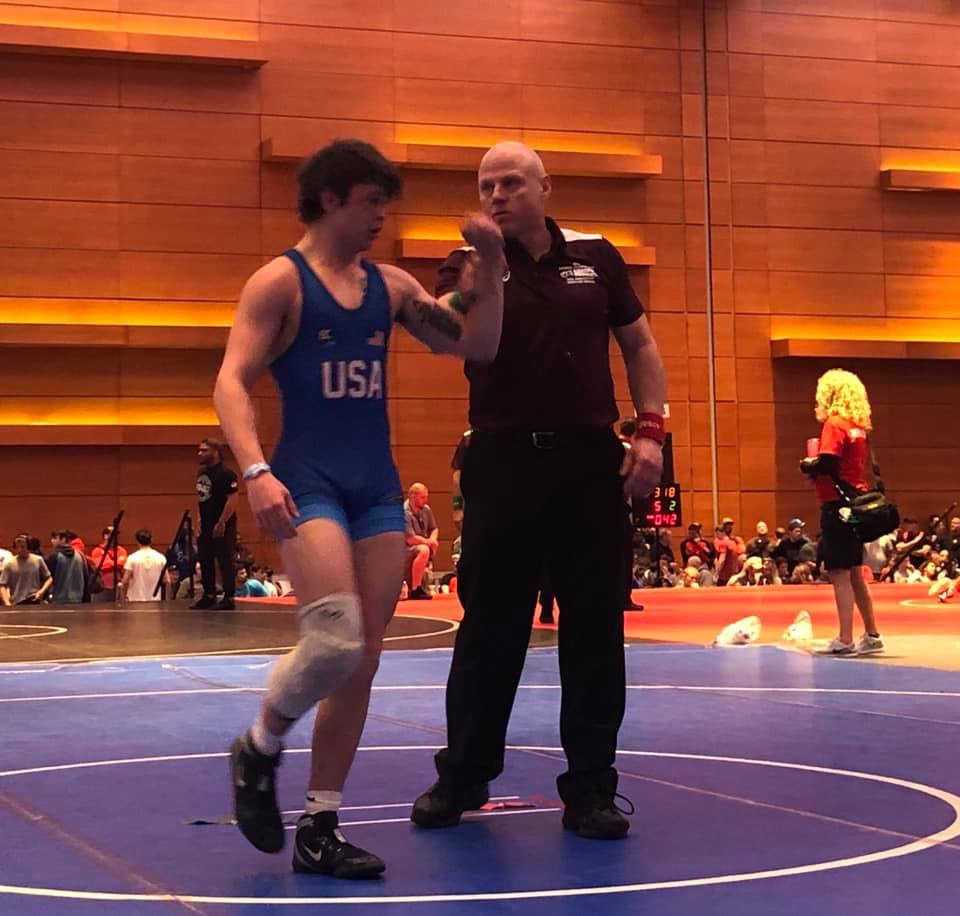 After a brutal Day Two in Virginia Beach at the High School Nationals, the gauntlet has claimed more names and only the best have emerged unscathed.
For Georgia wrestlers, while some big names have fallen victim to the "post season blues," the forge has churned out some very familiar names. With the Finals looming tomorrow, here's how Georgia stands among the competition at the national level.
Freshman: 5th Place- 3 Finalists, 5 All-Americans
With five wrestlers still competing for placement, the freshman crowd surprised nobody with three absolute beasts in the Finals. Sam Harris (145) proved his mettle as he closed out Day Two undefeated and poised to take on Brody Conley of Ohio. Woodward Academy snatched a lot of attention with their pair of freshman standouts as Michael Kilic (132) rolls into the Finals to face Justin Bartee of West Virginia and teammate Matthew Singleton absolutely stunned the crowd with an overwhelming 48 hours of wrestling during which he scored bonus points in EVERY match. Singleton went 5-0 with a Fall, three TechFalls and a dominating 14-5 Major in the semifinals to set up a huge Finals match against Antwaun Burns of Ohio.
Going for 7th Place will be Jeremy Paradice (138) and Brandon High (220) both who have secured All-American Status for Georgia freshman.
Sophomores: 6th Place- 1 Finalist, 4 All-Americans
The sophomore group saw some top caliber wrestlers fall on Day Two and are led into the Finals by Woodland 2x State Champ Caden McCrary (132). The well-traveled McCrary relied on a wealth of experience to bulldoze past his competition, going 6-0 and heading into the Finals against Maryland's Ethen Miller. Teammate Jaxon Smith (145) bounced back from a 2-3 loss in the semifinals to pin his way into the Conso-Finals to face Jared Simma from Kansas. Elijah Burns (182) scored four Falls on the weekend and his 4-1 performance places him also in tomorrow's Conso-Finals against Ben Vanadia from Ohio. Dalton's Hunter Noland (138) has had a strong weekend as well and looks to finish strong against Rhode Island's Nicholas Fine and earn a 5th Place finish.
Juniors: 5th Place- 1 Finalist, 7 All-Americans
Led by Buford's Charlie Darracott (145), the Junior group sends seven wrestlers into the medal rounds. Darracott's 6-0 performance was capped with a thrilling 1-0 win in the Semifinals to advance him into a Finals matchup with West Virginia's Peyton Hall. Nick Masters (120), Nick Stonecheck (138), and D.J. Lundy (220) all overcame defeat to battle back into the Conso-Finals. Masters' 7-8 loss in the semifinals set up a big 5-1 win over nationally-ranked Wyatt Yapoujian to get into the 3rd Place match with Ethan Oakley of North Carolina. Stonecheck also fell by a single point in the semifinals 2-3 to Florida's Justin Rivera before coming back and defeating Maxx Mayfield from Nebraska 4-2 and securing his spot in the Conso-Finals against John Mears of Montana.
Francis Morrisey (152), Jakeem Littles (170), and Jacob Stephens (220) all worked their way into the 7th Place match and All-American status.
Seniors: 4th Place – 2 Finalists, 5 All-Americans
Buford's Logan Ashton (113), a Stanford commit and Dalton's Tyler Hunt (126), a Navy commit, both opened the tournament as #1 seeds and both stormed into the Finals in a surge of confidence. Ashton scored two Falls and a TechFall before a strong 8-2 win in the Semis secured his Finals match with Virginia's Clarence Lee-green.
Hunt was a senior standout across the board as he pinned every opponent on his way to a 6-0 shut out of Virginia's Riley Parker in the semifinals. Hunt will face off with New Jersey's Chris Cannon in the Finals to complete what could be one of the most dominating performances of the tourney.
After a second round loss, DeeJay McNeal (120) rolled off five straight wins in epic comeback fashion and will compete for 3rd Place against Caleb Smith of North Carolina. Myles Starke (182) will be competing for 5th Place and Ethan Willis (138) will be going for 7th.
Consolation Finals begin at 8 am and Championship matches start at 10 am.