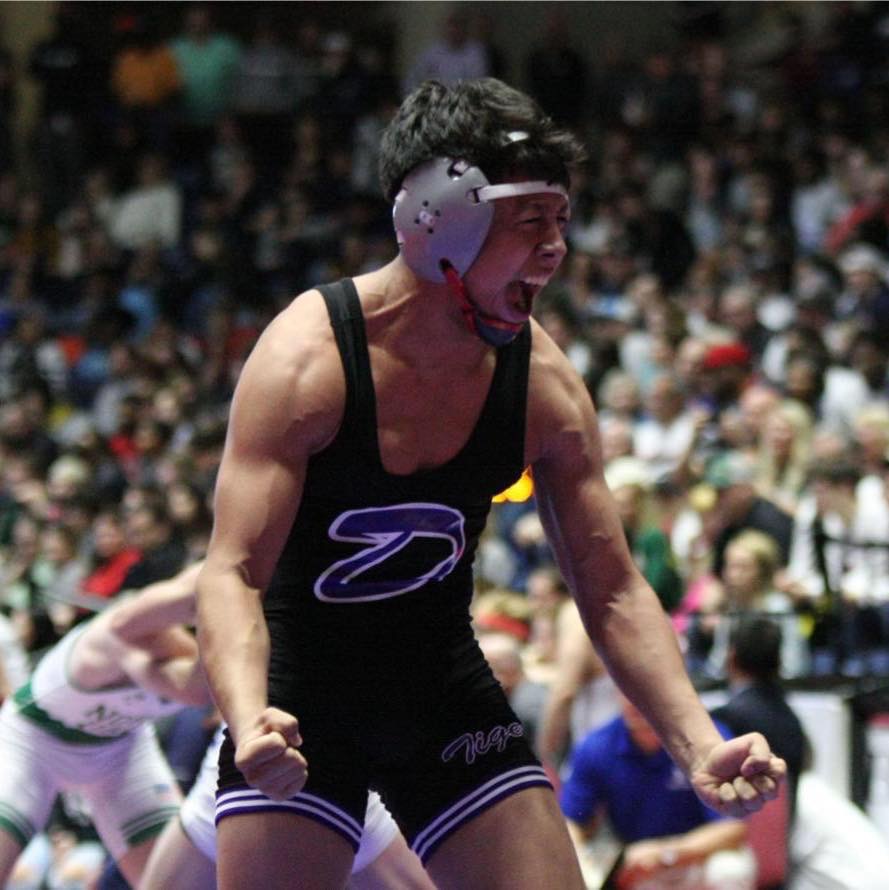 Day One updates from the NHSCA High School National Wrestling Championships taking place in Virginia Beach, VA for all the fans of Folkstyle wrestling fans in Georgia who didn't get enough after the NCAA Nationals last week.

The NHSCA High School Nationals is one of the most prestigious high school events in the country and will feature over 4,000 wrestlers from coast to coast. The unique part of the NHSCA National Tournament is wrestlers compete only against wrestlers in their age group. On average, 7 of the 10 NCAA champions are NHSCA alumni, and 52 of the 80 All-Americans at the 2017 NCAA Tournament competed in the NHSCA High School Nationals.
Georgia took a nice contingent of wrestlers this year and all four grades are holding their own in the Top 10 after Day One on the mat.
Freshman: 5th Place
For the Freshman class, seven of the 58 wrestlers are still in the championship bracket which stacks up nicely against Ohio (13), New Jersey and Pennsylvania (both 11), and hometown Virginia (10) to keep the Georgia gang solidly in 5th place.
Fresh off of his first State Title at Single-A 126lbs, Darlington's Alan Cordero has been a nightmare for national opponents going 4-0 with three Falls.  Brandon High (220), Jackson Bond (113), Matthew Singleton (138), Michael Kilic (132), Sam Harris (145), and Jeremy Paradice (138) have all advanced into the Quarter Finals.
Sophomores: 10th Place
With six of the 47 wrestlers still in the hunt for the title, the Sophomore group includes some real heavy hitters. At 182lbs Elijah Burns has plowed through the day-one competition with three first-period Falls. Josh Siegel (138) had a solid opening day with a Fall and a Major as he joins the other sophomore line up that reads like a future hall of fame list: Alex Whitworth (160), Caden McCrary (132), Hunter Noland (138), and Jaxon Smith (145). With this lineup of six, the Georgia group should be able to keep up with current Number 1, New York who brought 130 wrestlers and have only eight in the championship bracket.
Juniors:  5th Place
Georgia's 11th graders have shown up and showed out. With eight of the 73 wrestlers still in the mix for the top of the podium, Georgia is looking up at NY, NJ, PA and OH and that is some pretty good company to be sitting with after Day One.
Caleb Hardeman (220), DJ Lundy (220), and Jacob Stephens (220) are a trio of big boys that have made a powerful Day One statement in the upper weight classes. At 170lbs, Jakeem Littles pulled in two Falls and the Fab Four of Charlie Darracott (145), Francis Morrissey (152), Nick Stonecheck (138) and Nick Masters (120) have been lights out for Georgia's Juniors.
Seniors: 9th Place
With only 44 wrestlers coming in the Senior group, the roster is missing a few big names who've already inked their deals and are resting their bodies for the next level but the group that made the trip are in some deep waters. Dalton's Tyler Hunt (126) and Buford's Logan Ashton (113) earned tournament #1 Seeds and have lived up to the billing.  Nick Krug (126) rounds out the Senior trio still in the hunt as some big names fall to the consolation rounds hoping for All-American status where #2 Seed DeeJay McNeel, Jefferson's Ryan Hurd and 4x State Champ Trevor Burdick all ran into some day one trouble.
DAY TWO- Saturday, March 30th
Tune into some big-time action in the Quarterfinals tomorrow and watch those wrestle backs as some big names face the pressure of "Lose and Go Home!"
All matches broadcast live on Flo Wrestling with a pay-per-view account or just watch the Live Dashboard and keep up with the brackets at no charge.