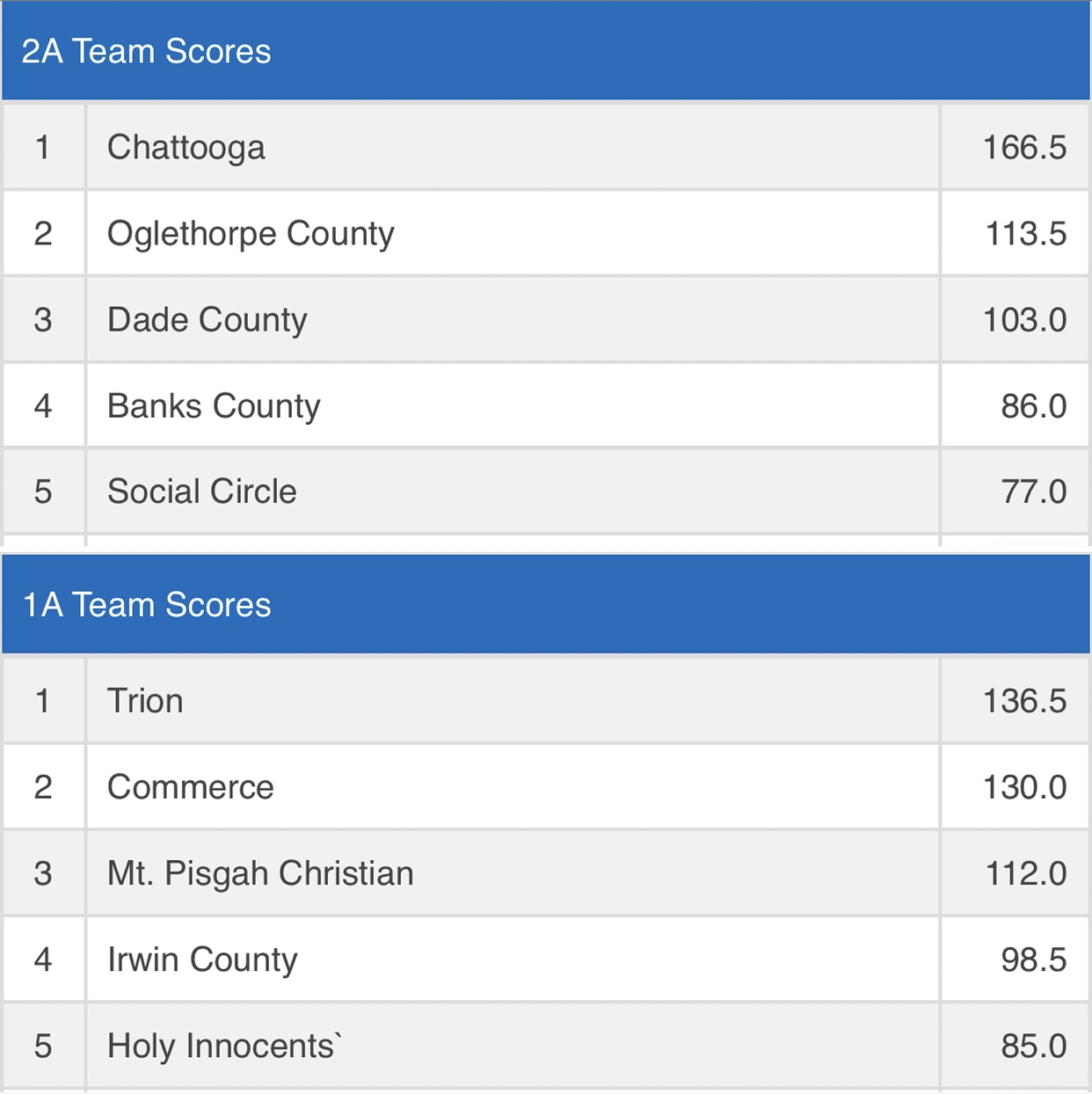 State Weekend is nearing its inevitable conclusion of winners and losers; of fulfilled goals, and broken dreams. The GHSA wrestling championship held a new shine in 2020 for residents of Chattooga County and the City of Trion as the Indians and Bulldogs are each coming off the thrill of their first ever State Duals Championships.

But, at the Traditional State Championship, a wider net has been cast and the very best of the very best are here to state their case for a title.
The Chattooga Indians treated the semifinals with respect and anticipation. With all nine wrestlers in the semis, seven advanced despite formidable opponents. Amongst some of the toughest competition the 2A Class has seen in years, Chattooga all but locked up a team title by placing seven wrestlers in the finals. For the two battling on the consolation side, Rowan Burdick (152) overpowered Gabe Dodd of Banks County with a convincing 11-0 Major, advancing Burdick into Saturday's Consolation Finals and a shot at 3rd Place.
Junior Jason Malone (138) will be competing for 5th Place and his first ever trip to the State Podium.
Junior Ty Veatch (195) joins the senior six in the State Finals; Griffin Jarrett (113), Wes Conley (120), Mason Sterner (145), Jakoby Cottrell (170), Alex Mears (220), and Luis Medina (285).
The Road to the Finals has not been easy and the matches tomorrow will be some of the toughest the Indians have faced all season.
Finals begin at 2 PM.
As Day 2 wraps up, the Bulldogs know that, in order to keep pace with the likes of Commerce and Mount Pisgah, Trion wrestlers knocked to the consolation side of the brackets early must win. And win they did. Bringing 12 wrestlers to Macon, Trion lost only one of those on Day 1, and the Pack responded with wins in crunch time.
All eleven remaining wrestlers won in the wrestle-backs when the stakes were high and now, all eleven will be State Placers. In the Conso-semis, winners were Daegen Vaughn (113) 10-0, Bryce James (126) 16-9, Logan Eller (145) 13-6, Brantley Wilbanks (195) Fall, and Clay Baker (285) Fall. These five Bulldogs will be wrestling in Saturday's Consolation Finals for a 3rd Place finish.
Wrestling for 5th will be Andrew Jones (120), Versain Vasquez (132), Bowden Brock (138), Bladyn Bowman (170), and Bo Jones (182).
Lincoln Maddux (152) will be showcased under the bright lights of the Finals.