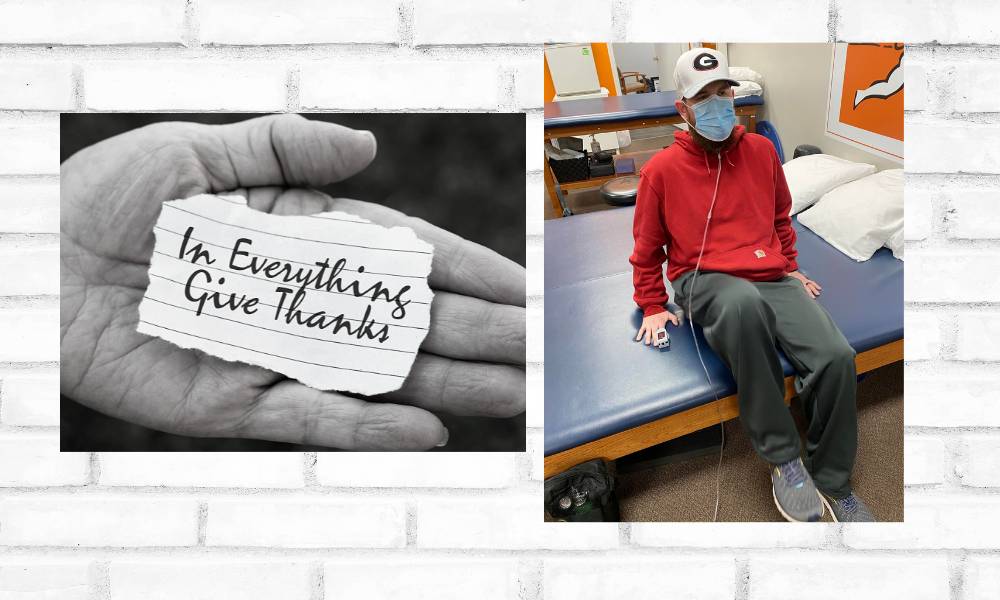 36-year-old Michael Nicholson battled COVID-19 for 83 days, 60 of those days were on a ventilator.
Michael is one of the lucky ones, his story has a good ending, he is home with his family this Thanksgiving and is working daily to rebuild his strength.
AllOnGeorgia recently reached out to Michael for a first-hand account of what his COVID experience has been like so far.
AOG: What was your COVID-19 experience like in the hospital?
Michael: If I'm being honest, hell. Absolute hell. In the beginning before I was intubated, I was completely alone in the COVID unit. I had no windows, my television didn't work half of the time and the doctors and nurses coming in were so covered that I didn't even feel like I was having human interaction. Every day my pneumonia worsened and it felt like I was drowning. The days became a blur and before I knew it I was being moved to the ICU. Once I was placed on a ventilator, I have no memory of anything until I was moved to Kindred rehab facility. At that point, my mind went straight to my family and just wanting to survive it and go home to them.
AOG: What was your focus in the hospital?
Michael: GETTING HOME!!! There was nothing on my mind other than making it out of there alive and hugging them all again. Being kept from your children is the one of the most terrifying feelings in the world. Just knowing I couldn't see them until I was home was so scary. I read my Bible daily and my wife gave me a devotional. I poured everything in the words and knew that I'd get to see them and be whole again someday.
AOG: How did the community support and prayer make you feel?
Michael: Speechless. I had nothing but tears. Just knowing that someone was looking after my family and continuously praying for my health and my family was such an incredible feeling. All glory goes to God in this entire situation. He saved me, He saved my family, and He opened our eyes to such a loving, helpful community that we can't wait to give back to.
AOG: How is it being home?  Is your energy returning?
Michael: Being home has been wonderful. You never realize everything you are thankful for until you think that you might not have any of it anymore. I wake up each day so thankful that my family is here with me. Unfortunately, I only have minimal energy to get from one room to the other. My oxygen levels dropped very low when I am up exerting myself, but thankfully they return to a normal level within a few seconds of deep breathing. My resting heart rate remains around 100-110. It's apparently one of the COVID long hauler side effects. It's a very scary feeling when you can't do anything for yourself. I don't know how long it will take for the old me to return but I'll be working my hardest until that day comes.
AOG asked Michael's wife Brittney if she had anything she wanted to share with the community, she wasted no time in sharing her thanksgiving and gratitude. "Thank you. A million times over, thank you. I know that I could have never gotten through this battle without having the support, the food, the prayers and the love. I never want to see anyone go through something like this, but I cannot wait to be able to help someone else out in need. For a long time I have wanted out of the town… somewhere bigger and what I thought was 'better'.  This experience has shown me just how amazing it is to live here, raise my family here and call this town and community 'HOME'", Brittney said.
"Having Michael home has been the biggest blessing. I lay my head down at night giving all my thanks to God. I told everyone from day one that I knew Michael's time on Earth was not up. I could feel it in my soul and to see him here, with me, living and breathing and recovering, it's such a surreal and blessed feeling. Turning my life over to a higher power and having the faith that He will take care of us, then watching it unfold right before my eyes has changed me forever!! This will be a Thanksgiving to remember."
Michael currently has physical therapy twice a week for one hour long sessions. He doesn't leave the house at all right now besides for therapy because he is weak and trying hard to not be exposed to any type of sickness.