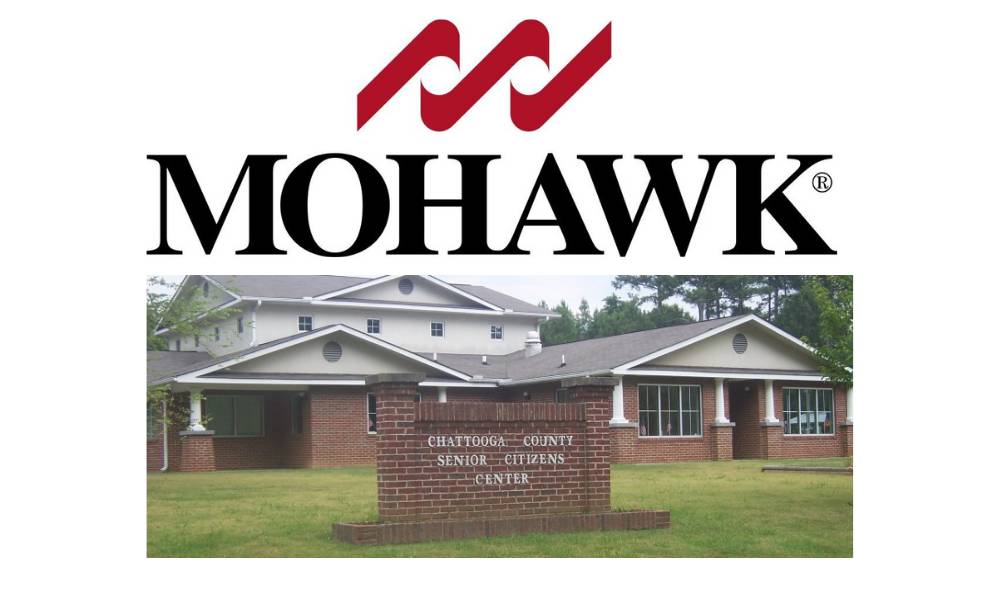 Chattooga County Sole Commissioner Blake Elsberry recently announced that Mohawk Industries in Summerville had made a donation of new carpet tiles and adhesive to be used at the Chattooga County Senior Center.
Mohawk Industries has operated manufacturing facilities in Chattooga County for almost 30 years and is one of the county's largest employers.
"Mohawk's recent donation of carpet tile and adhesive to the Chattooga County Senior Center is a way of giving back to many people who have contributed to the company's success during the past three decades," Mohawk Industries Mark Dye said.  "Through the company's annual Elite Banquet for employees and retirees with more than 25 years of service, Mohawk's leadership team remains in touch with many local individuals who benefit from the senior center's programs. A gift that helps these retirees and their families is a great investment in the community."
"I would like to thank Mohawk for their generous donation of carpet and adhesive to the Chattooga County Senior Center," Commissioner Elsberry said. "Also, I would like to thank Mickey McGraw for all his hard work in helping get this donation for the Senior Center."
Mohawk's charitable giving in Chattooga County isn't limited to product donations. Several years ago, the company initiated a partnership with United Way to allow employees to exclusively support Chattooga County non-profits through payroll deductions. Those donations are amplified each year through a generous corporate gift that benefit many non-profits in the county including the Sara Hightower Regional Library System.
"Mohawk is proud of its long history in Chattooga County and looks forward to continuing to provide great career opportunities as well as investing to enhance the community's quality of life," Dye said.
"Mohawk has always been and continues to be a vital part of our community, I am thankful for their continued support of Chattooga County," Elsberry said.