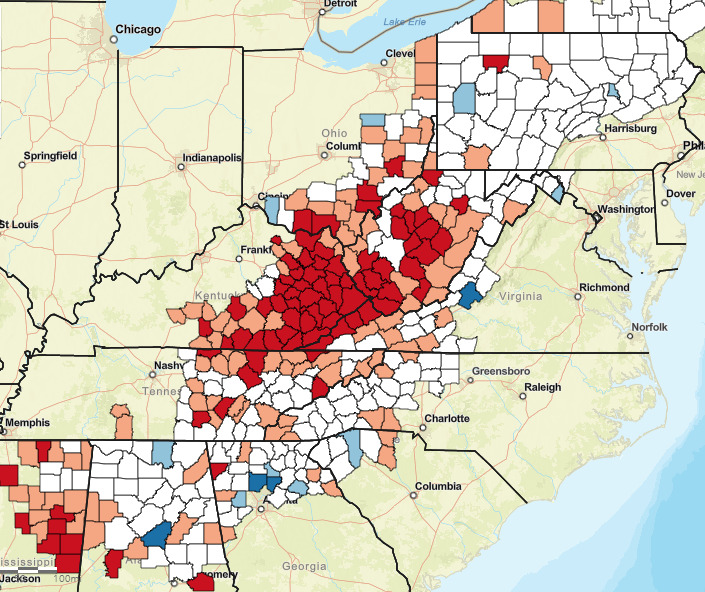 Chattooga County is in the lowest category economic status, distressed, according to rankings released last week by the Appalachian Regional Commission.

The ARC analysis compares each of its 423 counties with national averages for unemployment rates, per capita income and poverty rates over the previous three-year period.
Chattooga County Sole Commissioner Blake Elsberry had this to say about the distressed ranking.
"ARC looked at the poverty rate, unemployment rate, and the per capita market income that came from the most recent census data and determined that Chattooga County is economically distressed.
The designations are used to determine the match requirements for ARC grants, as well as resource investment strategies targeting the Region's most distressed areas. This will change our current match for any ARC funding from 70-30 to 80-20. That means for any ARC funding for a project the county applies for and is awarded ARC will fund 80% and the county will be responsible for 20%. ARC funding can only be used for projects that directly impact economic development in an area.
I would say Best/SHOWA closing definitely had an economic impact on the county, especially for the City of Menlo. If you remember, Chattooga County, along with the Chattooga County Chamber of Commerce and the Northwest Georgia Regional Commission, set up a job fair and resources for those employees at Showa the minute we learned of their planned closing. I believe taking that pro-active approach helped get some of those displaced employees to new employment. We actually have displaced Showa employees working for the county.
Chattooga County struggles with many of the same economic issues other rural Georgia counties struggle with. Especially those that do not have interstate access. But we are seeing some economic growth as well. The Freestanding ER project will have a great economic impact, not just in the jobs it will produce but, in the interest it will bring to the surrounding property in that commercial corridor.
Also, the mountain bike facility in the Dry Creek area is performing very well. They are averaging 250-300 people per week attendance, and 500-600 on weeks with special events.
We have also seen a big increase in the development of property and small businesses in the downtown area of Summerville.
Our long-time established industries are continuing to thrive, and many are still trying to find employees to fill positions, so there are plenty of jobs available.
While the loss of Dixie was disappointing and sudden, I believe that the Dixie property already having an established building could be a prime commodity to suit a wide variety of industrial businesses.
ARC and the funding they make available is a great benefit to our rural counties in Northwest Georgia. The ARC staff are always willing to help guide us through the grant process and Chattooga County plans on taking full advantage of any funding we can."
Chattooga is the only ARC county in Georgia labeled as distressed.