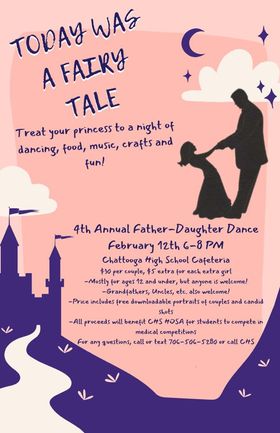 The Chattooga High School HOSA Chapter is hosting the 4th annual Daddy-Daughter Dance on Saturday, February 12th.
The dance will take place at the Chattooga High lunchroom from 6-8 pm.
This year's theme is "Today was a fairy tale." Tickets are $30 at the door for one dad and one daughter, plus an extra $5 per child.
What's included?
Professional photos
unlimited food
dancing with a professional DJ
crafts
pictures with fairies and princesses
CHS HOSA is raising funds for the "State Leadership Conference," where health science students will travel to Atlanta and compete with other students from around the state in multiple health-related competitions.
For more information, call CHS and ask for Misty McQueese or Cameron Carter, Chattooga High School HOSA Vice President.