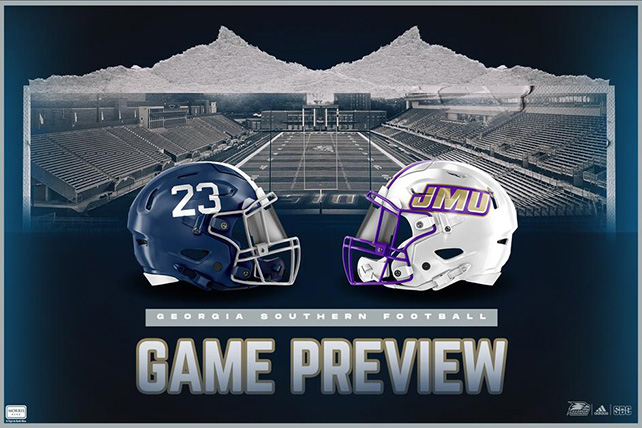 Game Preview: Georgia Southern vs James Madison at Bridgeforth Stadium in Harrisonburg, Virginia

The Georgia Southern football team returns to conference action on Saturday, traveling to undefeated James Madison for an important Sun Belt tilt at Bridgeforth Stadium. Kickoff is set for 12 p.m. and will be broadcast on ESPN2. The game will also be available via radio on the Georgia Southern Sports Network. Here's all you need to know about the game:
Game 6: Saturday, Oct. 14, 2023 • 12 PM
Location: Harrisonburg, Va. (Bridgeforth Stadium; 24,877)
Records:
James Madison: 5-0, 2-0 SBC
Georgia Southern: 4-1, 1-0 SBC
Broadcast Information
Broadcast: ESPN2
PBP: John Schiffren; Analyst: Rocky Boiman; Sidelines: Dawn Davenport
Radio: Georgia Southern Sports Network
PBP: Danny Reed (@GSEaglesVoice); Analyst: Terry Harvin (@TerryHarvin); Sidelines: Kyle Vantrease (@KVT6_)
GS: GAME NOTES
JMU: GAME NOTES
Inside The Series
Overall Record GS leads, 8-1
'In Statesboro GS leads, 5-0
In Harrisonburg GS leads, 3-1
At Neutral Never Met
Cignetti vs. GS 0-1
Helton vs. JMU 1-0
Helton vs. Cignetti Helton leads, 1-0
Current Streak GS, Won 8 (1986-)
Last Meeting GS 45, JMU 38 (2022)
Longest GS Streak Eight (1986-)
Longest JMU Streak One (1985)
Largest GS Win 19 points (1987 in Statesboro)
Largest JMU Win 15 points (1985 in Harrisonburg)
GS vs. current Sun Belt Members 68-65-1
GS vs. teams from Virginia 25-3
GS in state of Virginia 12-1
Of Note:
Georgia Southern and James Madison played eight straight seasons from 1985 to 1992. After dropping the first game 21-6 at Bridgeforth Stadium, the Eagles have rolled off eight straight wins, although none were by more than 19 points.
In last year's game, the two teams combined to score 24 points in the final seven minutes of the game, and there were two lead changes in the final three minutes of the contest. Each team trailed by double digits in the game, and the teams combined for 1,265 total yards, including 1,046 through the air with the Eagles finally knocking off the 25th-ranked Dukes 45-38 at Paulson Stadium.
Eagle defensive back Mari Wingard played for JMU head coach Curt Cignetti when the duo was at Elon in 2019.
Senior offensive analyst Bryan Schor was a Walter Payton Award finalist and All-American as a quarterback at James Madison, leading the Dukes to the 2016 FCS national title.
Countdown to Kickoff
10: Davis Brin is ranked 10th in the FBS in total offense per game at 323.2 yards per contest.
9: The Eagles have won nine of 12 games in which they've scored 30 points or more in the 18-game tenure of Clay Helton as the head coach of Georgia Southern.
8: After dropping the opener in 1985, Georgia Southern has won the past eight games against James Madison to take an 8-1 lead in the series.
7: In last year's game, the two teams combined to score 24 points in the final seven minutes of the game, and there were two lead changes in the final three minutes of the contest.
6: Georgia Southern (6) and JMU (2) have combined to win eight of the 13 FCS national titles captured by members of the new-look Sun Belt East. Additionally, App State won three and Marshall won two.
5: This game will be the fifth contest in the series played at Bridgeforth Stadium. The Eagles are 3-1 on JMU's home turf, but haven't played there since 1991.
4: Quarterback Davis Brin is already halfway to tying the school record for 300-yard passing games in a season and career (Kyle Vantrease, 8, 2022) with his four 300-yard passing games in 2023.
3: Dalen Cobb, Khaleb Hood and Derwin Burgess Jr. all have three receiving plays of 25 yard or longer, the top number on the team.
2: Senior linebacker Khadry Jackson now has two career pick sixes after recording one against Coastal.
1: Georgia Southern's defense has recorded seven interceptions in five games with seven different players each recording one.
Up Next:
Oct. 21 vs. ULM – Statesboro, Ga. – 2 p.m. – ESPN+
---
Georgia Southern Athletics gseagles.com