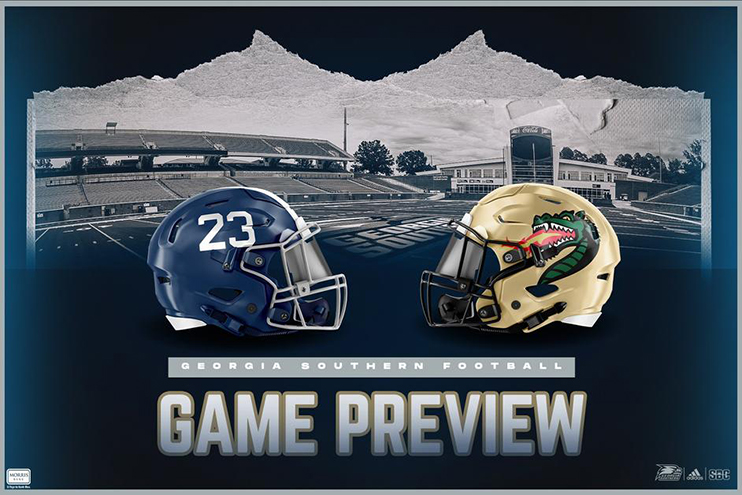 Game Preview: Georgia Southern hosts UAB Saturday in Paulson


The Georgia Southern football team returns to action on Saturday when it hosts UAB at Allen E. Paulson Stadium. Kickoff for the non-conference tilt is set for 6:02 p.m. and will be streamed online through ESPN+. The game will also be available via radio on the Georgia Southern Sports Network. Here's all you need to know about the game:
IMPORTANT LINKS
Tickets
Game Day Guide (PDF)
Game Day Stadium Map (PDF)
Parking (PDF)
Clear Bag Policy (PDF)
Game 2: Saturday, Sept. 9, 2023 • 6 PM
Location: Statesboro, Ga. (Allen E. Paulson Stadium; 25,000)
Promotion: Teacher Appreciation
Records:
UAB: 1-0, 0-0 AAC
Georgia Southern: 1-0, 0-0 SBC
Broadcast Information
Broadcast: ESPN+ (online)
PBP: Danny Waugh; Analyst: David Hulvey; Sidelines: LeeAnna Gaye
Radio: Georgia Southern Sports Network
PBP: Danny Reed (@GSEaglesVoice); Analyst: Terry Harvin (@TerryHarvin); Sidelines: Kyle Vantrease (@KVT6_)
GS: GAME NOTES (PDF)
UAB: GAME NOTES
Inside The Series
Overall Record UAB leads, 1-0
In Statesboro Never Met
In Birmingham UAB leads, 1-0
Dilfer vs. GS Never Met
Helton vs. UAB 0-1
Helton vs. Dilfer Never Met
Current Streak UAB, Won 1 (2022)
Last Meeting UAB 35, GS 21 (2022)
Longest GS Streak N/A
Longest UAB Streak One (2022-)
Largest GS Win N/A
Largest UAB Win 14 points (2022 in Birmingham)
GS vs. current AAC Members 3-7
GS vs. teams from Alabama 23-16
GS in state of Georgia 226-65-1
Of Note:
This will be the second meeting on the gridiron between Georgia Southern and UAB with the Blazers leading 1-0. UAB won the only other meeting in the series, a 35-21 victory in Birmingham last season.
Starting running back Jalen White is the lone Eagle from the state of Alabama, hailing from Daleville.
Since a Nov. 18, 2006 overtime loss to Central Arkansas that ended the season, the Eagles have won 31 of their past 32 home games against non-conference opponents. The only loss during that 32-game stretch came to No. 14 BYU in 2021.
Georgia Southern has posted a 128-17 all-time record at Paulson Stadium in non-conference contests.
Offensive coordinator Bryan Ellis was a graduate assistant at UAB in 2012 and 2013. Special teams coordinator Turner West was an intern for the Blazers in 2011.
Countdown to Kickoff
10: Ten true freshmen­—DeAndre Buchannon, KD Dorsey, Ayden Jackson, Caimon Mathis, David Mbadinga, Branden Palmer, Troy Pikes, Kebba Secka, Alex Smith and Robert Wright Jr.— saw action in the opener against The Citadel.
9: Georgia Southern has run 70 or more plays in nine of 14 games under head coach Clay Helton, including 74 in last week's opener against The Citadel.
8: In last year's game at UAB, the Eagles had just eight rushing first downs.
7: Seven former Georgia Southern players are on active NFL rosters for opening weekend—Darrell Baker Jr., Tyler Bass, Matt Breida, Younghoe Koo, Jerick McKinnon, NaJee Thompson and Kindle Vildor.
6: The Georgia Southern running game averaged six yards per carry last week against The Citadel with both Jalen White and OJ Arnold averaging 6.6 yards per carry.
5: The Eagles were one of five FBS teams in the country to post a shutout in the first weekend of action.
4: Georgia Southern has one of the best home-field advantages in the FBS as the Eagles have an official NCAA record of 210-48 at Allen E. Paulson Stadium. That .814 winning percentage is the fourth best in the FBS.
3: Georgia Southern started the game with three, three-and-outs against The Citadel in last week's season opener, a feat the Eagle defense failed to do so in any of its 13 games last year.
2: This will be the second game in a scheduled two-game, home-and-home series between Georgia Southern and UAB.
1: Last week's 34-0 win over The Citadel was the first shutout for Clay Helton in 84 games as a head coach.
Up Next:
Sept. 16 at Wisconsin – Madison, Wisc. – 12 p.m. (ET)/11 a.m. (local) – Big Ten Network
---
gseagles.com Georgia Southern Athletics