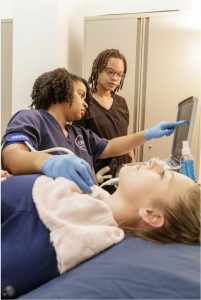 Georgia Southern University's Center for Public Health Practice and Research at the Jiann-Ping Hsu College of Public Health (JPHCOPH) received a $4 million grant from the Health Resources and Services Administration (HRSA) to provide targeted technical assistance to rural hospitals nationwide. The funding will support the team's implementation of the Targeted Technical Assistance for Rural Hospitals Program over a five-year period (2023-2028).


"Many rural hospitals are struggling financially across the U.S.," said JPHCOPH Dean Stuart Tedders, Ph.D. "Long-term, the primary program goal of this grant is to ensure that all rural hospitals are financially viable and positioned to serve their communities with the essential health care services that we all need and expect. A viable health care system is essential for assuring that all communities and their residents thrive. I am very proud of the Center for Public Health Practice and Research at the JPHCOPH and the commitment they have made to improving the quality of life of rural and underserved populations across the country."
Bettye Apenteng, Ph.D., and Charles Owens, both professors of health policy and management, serve as the co-principal investigators for the grant.
"We are proud to be selected to work cooperatively with rural hospitals across the U.S. to strengthen their viability so they can continue to provide essential health care locally so the residents, the local hospital and the community may thrive," said Owens.
As part of this cooperative agreement, the team will work in partnership with HRSA and rural health stakeholders to provide in-depth and tailored technical assistance to rural hospitals at risk of financial distress nationwide. Technical assistance delivered as part of this program will help rural hospital communities implement a prioritized strategy for maintaining essential services locally through capacity building in evidence-based decision-making, operational and financial improvement, strategic management, community partnership, project implementation and evaluation.
"We are excited to extend the work we have done in Georgia with rural hospitals, for close to a decade, to the rest of the nation," said Apenteng. "We look forward to building strong collaborative relationships with rural hospital communities nationwide."
The grant activities will be executed by a multidisciplinary team that includes additional JPHCOPH faculty Angie Peden; Andrew Hansen, DrPH; Linda Kimsey, Ph.D.; William Mase, DrPH; Tilicia Mayo-Gamble, Ph.D., and Samuel Opoku, Ph.D.; and Parker College of Business' Kwabena Boakye, Ph.D.; and the College of Arts and Humanities' Jason Murdock.