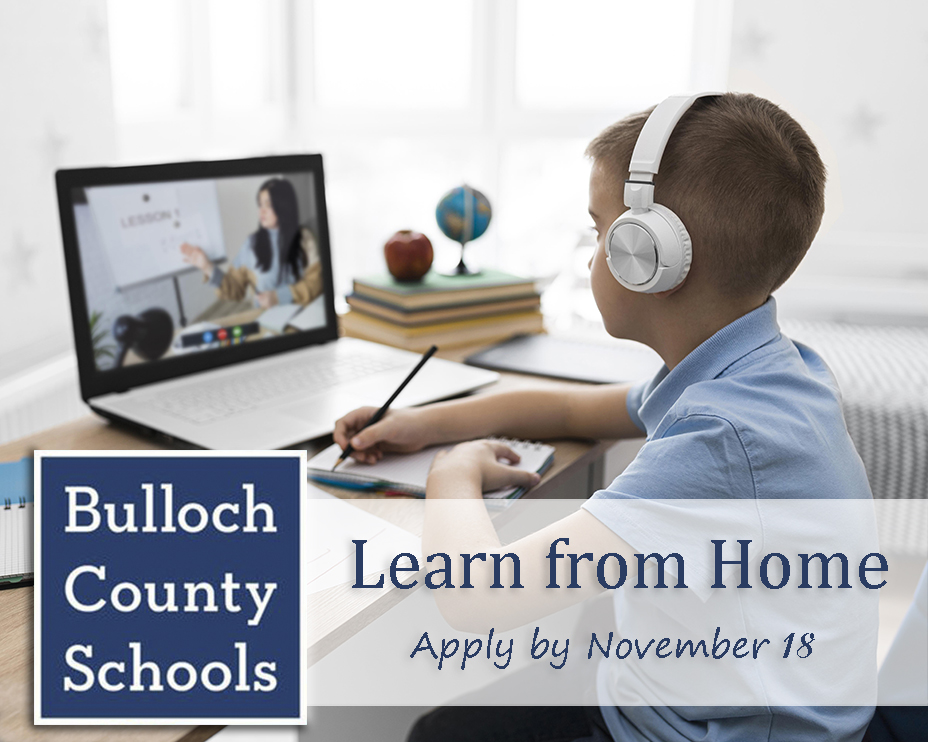 Bulloch County Schools is offering a third student learning option for the second semester, which begins January 5. The deadline to apply for Learn from Home is November 18: 

During the COVID-19 pandemic the school district has offered both traditional and virtual learning, along with a temporary distance learning method that is activated should a student be isolated or quarantined.
Bulloch County Schools has developed a third option, Learn From Home. While the school district's lead educators do not believe this is the best option for children, it does provide a third choice for families who do not want to send their children to a traditional school setting, and who did not enroll in the virtual program prior to the initial deadline. The deadline to enroll in Learn From Home for the second semester is November 18.
Here are the key points for this option:
Available for Bulloch County students in grades K-12
Services are outsourced to a third party (not Bulloch County Schools teachers)
Grades K-8: provider is Edgenuity
Grades 9-12: provider is Edgenuity or Georgia Virtual School
Course offerings are limited to what the provider offers–mostly academic core content courses and very limited electives
This option is primarily asynchronous learning, meaning there are no live sessions with a teacher. A facilitator who is not a Bulloch County Schools teacher checks in with the student periodically or is available if assistance is needed
The provider's instructional calendar may not follow the same calendar as Bulloch County Schools
Accommodations for students with disabilities or a 504 plan are limited to what the provider offers
This is a full semester commitment. Once enrolled in this option, students cannot return to their traditional face-to-face school or to the Bulloch County Schools Virtual Learning program for the rest of this school year
Parents are required to attend an enrollment meeting to sign their student up for this option. Parents may contact Mandy Motes at (912) 212-8553 prior to 4:30 p.m. on November 10, to schedule an appointment if they are unable to attend either of the following meeting dates:
Monday, November 8, from 6:30 .m. -7:30 p.m. in the Central Office boardroom
Wednesday, November 10, from 5:30 p.m. -6:30 p.m. in the Central Office boardroom
---
Bulloch County Schools