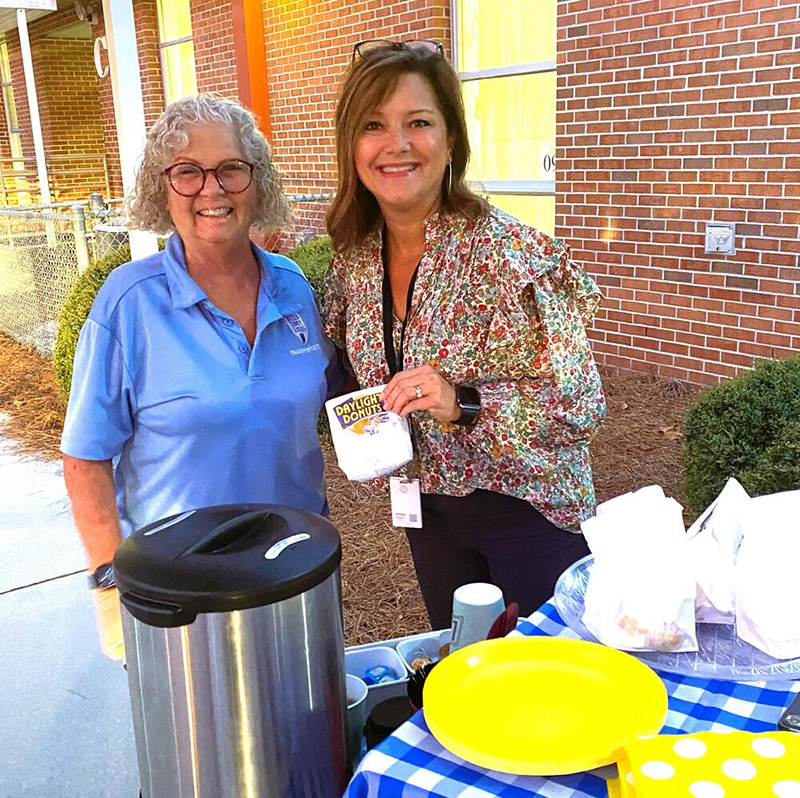 Bulloch County Schools is celebrating school bus drivers and bus safety this week: 


National Bus Safety Week is October 17-21, and in Georgia, the third Monday of October is annually celebrated as School Bus Driver Appreciation Day. Since schools are on fall break next week, Bulloch County is observing the dates this week and set aside Oct. 12 as driver appreciation day.
Each of the district's 15 schools planned their own unique ways to honor the team of drivers assigned to their school. From special bagged breakfasts, encouraging signs made by students, to gifts and goodies, the children and faculty have provided these small tokens to show the love and appreciation we all have for school bus drivers.
Who is our driving force? With a fleet of 163 buses, the school district's drivers, mechanics, monitors and other support personnel ensure that twice each day more than 5,500 students are delivered safely to and from school.  Drivers travel more than 6,200 miles daily across more than 100 different routes. Drivers also travel an additional 52,000 miles annually for more than 1,300 field trips and athletic events, bringing the total annual miles traveled to more than 1.3 million miles. We are always seeking additional full-time, part-time, and substitute drivers.
How committed are drivers to safety? The process to apply and train to become a school bus driver can take six to eight weeks depending on a driver's existing qualifications and licenses. The stringent training, licensing and background checks are necessary to help ensure the school district transports children as safely as possible.
All bus drivers receive rigorous, specialized training on a variety of topics before they take the wheel behind a big yellow bus. Because school buses are an extension of the classroom, first and second-year drivers go through mandatory training on student management, student privacy, and first aid training just like classroom teachers. They also learn about proper railroad crossings, bus loading/unloading, fire extinguisher use, back door locking/unlocking, bus mechanics, preparing a bus for inspection, mastering driving range skills, and preparing a bus for end-of-year return.
All Bulloch's drivers are required to annually test their driving skills on a standard bus range to keep skills sharp and help handle real-world driving situations. They also must attend a three-hour state safety training session annually.
How do drivers ensure that their buses are well maintained? Bus drivers inspect their buses daily to help ensure the fleet is safe. Buses today are equipped with more safety features than any other vehicles on the road. The school system's bus mechanics also ensure buses remain road-ready. Every 20 days, they service each bus and perform general inspections.
How do drivers conduct safety training with students? Each August, drivers conduct their annual "Sparky" School Bus Safety Training for each of the district's more than 11,000 students. While not every child may ride a school bus daily, at some point they will ride a bus for a field trip, to an academic competition or for school sports. The lessons teach children how to properly get on and off the bus, how to evacuate the bus in the event of a fire or accident, how to sit and use quiet voices on the bus, danger zones around a bus, and bus stop rules. Drivers also practice safe evacuations with students two times each year.
Please join us in thanking our school bus drivers and the school district's Transportation Department personnel.