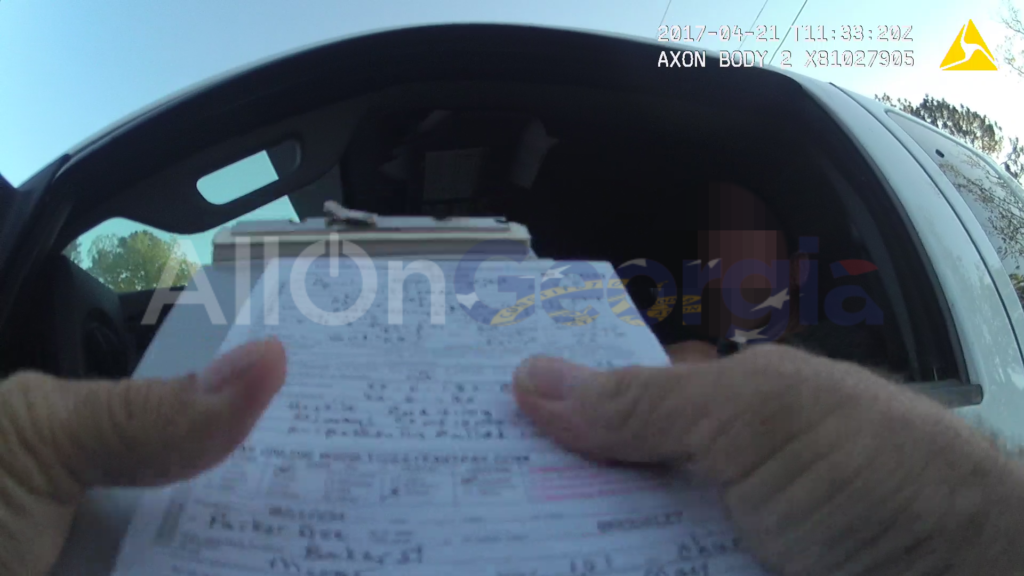 The following article is Part 2 of an investigative series by AllOnGeorgia into the Brooklet Police Department under the authority of Former Police Chief Doug Meyer (also known as Max Meyer & Clifford Meyer). The series looks into Internal Affairs investigation reports, a series of body camera files, and details over a dozen incidents during Meyer's tenure in which citizens allege harassment, retaliation, and false imprisonment by Meyer and a few of his officers. All documents contained in the article below were obtained by way of an Open Records Request filed on May 29, 2018.

You can read Part 1 — Fmr Chief in Brooklet acknowledged citing business owner for speaking out against PD — here.
---
As video footage of incidents and police encounters with the Brooklet Police Department continue to emerge, a notable encounter with then-Chief Doug Meyer shows Meyer telling a motorist, who was detained for speeding, that he would 'work to get him fired.'
The traffic stop occurred on April 21, 2017. The motorist pulled into a church parking lot in downtown Brooklet.
NOTE: AllOnGeorgia obtained more than 100 body camera video files by way of an Open Records Request filed in late March, but in instances where Meyer decided to issue a ticket, his body camera did not include footage of the initial stop or the first encounter on the road side. The ticketed encounters begin with Meyer writing the citation in his patrol car. No data exists of Meyer stopping the motorist, explaining why they were pulled over, or any other introduction. Only in the videos where a verbal warning was given were the body cameras running. 
The video shows Meyer returning to the vehicle to present the motorist with a traffic citation for speeding. As he walks to the window, Meyer says, "This is the second I've dealt with you. I don't know what your problem is and I do not care."
As the motorist tried to share his side, Meyer spoke over him "Don't speak. Don't even speak. Don't do it – don't do it. Do not do it."
The motorist again tried to speak, to which Meyer responded, "Who is your boss?" The motorist answered and Meyer said, "I'm going to work to get you fired, my friend. You're driving a government vehicle."
"Every time I see you, you're going to get a ticket for the violations that I have been ignoring," Meyer pressed. "If you think you're going to come down here and shove my [inaudible] in the poo, you've got another thing coming."
Meyer then presented the motorist with the citation, though he never told the motorist that by signing the citation he was not admitting to guilt on the charge.
O.C.G.A. 40-13-2.1 (2010) indicates that "the officer shall advise the person that signing the citation is not an admission of guilt and that failure to sign will result in the person having to post a cash bond."
The video, while not comprehensive of the traffic stop, is a complete record as retained by the Brooklet Police Department. It is available in its entirety below.