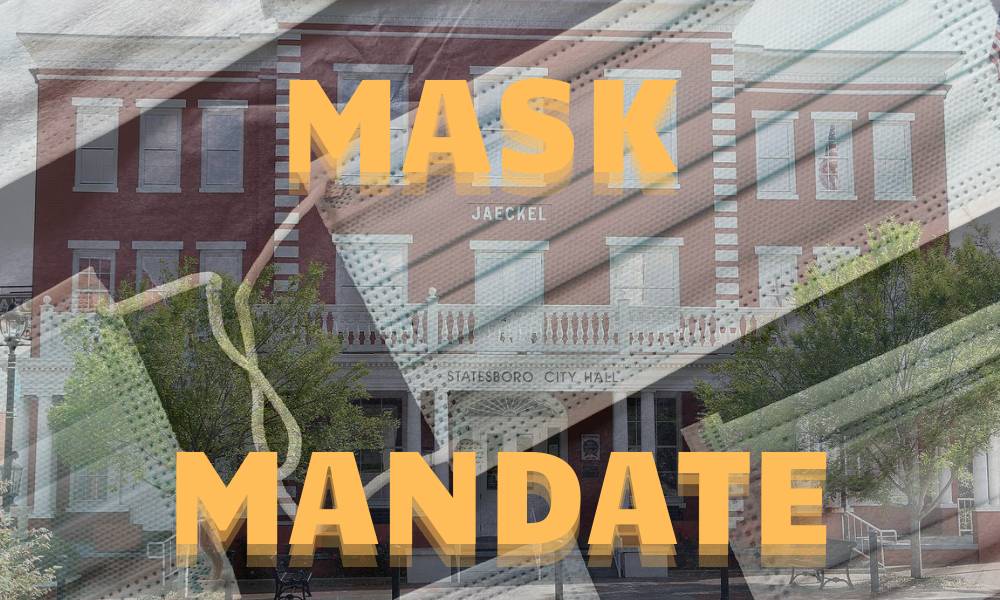 8:15 PM – This article has been updated to include a copy of the ordinance, which is at the bottom of the article. 



The Mayor and Council met Tuesday for a workshop and the second regular meeting of the month, in which Council discussed a mask mandate for the City of Statesboro.
The line item was on the agenda during the workshop, but no action was taken, per open meetings guidelines. Under the local emergency declaration approved by Council in March, the mayor has the authority to put the ordinance in place without a Council vote, but ultimately made a collective decision for the mandate.
Under Kemp's Executive Order, the county in which the municipality is located must have at least 100 cases per 100,000 people in the last 14 days according to the Georgia Department of Public Health before a municipality can enact a mask mandate. As of Tuesday, Bulloch's case numbers were 357 new confirmed cases in the last 14 days.
Additionally, local governments are limited to public and city property for mandates, leaving private businesses out of the local regulation if the business chooses not to opt in to the regulation. (Some industries are still under state-ordered mask mandates, like restaurant servers and hostesses, those in hair salons and barber shops, etc.)
The Georgia Municipal Association sent out a "sample" mask mandate ordinance and resolution to all the cities in Georgia along with a resolution and talking points from Kemp's Order on Sunday and Monday in an effort to assist cities in swiftly approving a measure. GMA is the same lobbying organization, which is funded by tax payers which that took the position that the "rights" of local governments were being violated by Kemp, prompting the entity to file a brief in support of Atlanta Mayor Keisha Bottoms in court.
Statesboro's Ordinance
The City's ordinance mimics the model ordinance sent out by GMA and would not include Georgia Southern, Bulloch County Schools, state property, or federal property.
Businesses that do not wish to participate would be required to post a sign on the door opting out and notating that masks are not required. City Attorney Cain Smith said the measure lets law enforcement know that enforcement is not allowed on the premises while informing the public know that face masks are not required.
Councilwoman Venus Mack said via Zoom that she thinks it's time the Council act in a bigger way. "The students are walking around without masks, in big groups. I know there's a lot of shaky ground with this, but I think with the City of Statesboro, we should mandate these masks."
Mayor Jonathan Mccollar said the big concern is on bars and nightclubs outside of the University. Citing too few ventilators, McCollar also relayed concerns over a lack of medical infrastructure and his frustration with the politicization of public health matters.
"If George Washington and Benjamin Franklin we're here, I don't think they'd be arguing about masks," McCollar said.
Councilman Phil Boyum followed McCollar's position on bars and businesses generally,  saying, "If we close the business, they'll just go out to house parties in the county."
"We need to do something now," Councilwoman Paulette Chavers said. "We have the right to do this and we should do it."
Councilman John Riggs expressed support of mask mandates, but vocalized concerns over forthcoming lawsuits over civil rights and actual enforcement. "There are lawyers waiting for us to enact something so they can sue us." Riggs also said he believes there would be people who would choose not to wear a mask because they're being told to do so.
"There will be people who don't agree," Chavers said. "But we have to do what is best for the masses."
Guest speaker Dr. Davis, who did not announce his employment, told Council members that the public is suffering from "Quarantine Fatigue," an issue which he said is problematic because the virus has not fatigued or relented in Bulloch County or the State of Georgia. "It's not that onerous to wear a mask," he said. "It's just not."
Riggs asked that the decision be held off until September 1 so he could have more time to look over the original, but Council sought to move forward more swiftly. The measure was approved 4-1 with Riggs only opposing because he was not able to read the ordinance ahead of the meeting.
The mandate will take effect immediately upon signature of the mayor.
A copy of the ordinance was not available for public review at meeting time, but is expected to be published soon.
The ordinance will only remain in effect for as long as the new case number is over 100 per 100,000 based on a 14 day rolling average AND the Governor's Executive Order is in effect.