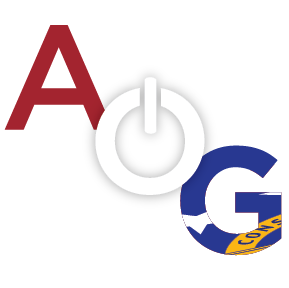 I met a man with no legs in the lobby of Sports Clips. He was charming and handsome and his kids were adorable. His face was familiar and we struck up a conversation about how he came to be in a chair. Rather than bore me with details, the man introduced himself as Krige, and showed me a short video clip. As I watched together with his six year old daughter, Sarah, tears filled my eyes and Sarah broke down crying. Sarah has only known a father with no legs. This was the day she discovered that her father once had walked on two feet, before losing his legs in Angola with the South African Army in 1987. Krige comforted his daughter, wiping her tears away and telling her, while he doesn't have legs, "I have you now." He has had a tragic life. But it has shaped his life, rather than destroying it. While he has no legs, nothing has slowed this man or his big dreams. I was sitting beside a true hero, a dad, a husband, a soldier and an ESPY winner.
Krige Schabort has been there and he has done that. The Rio Paralympics will mark his sixth Games, representing two different countries. Schabort started his athletic career as a South African Paralympian in 1992 where he won bronze in the marathon. But this go-round is the most special. "It's the first Paralympic triathlon, and I race for the world's best team," he says. "I am so thankful." Apart from being a multiple-time Paralympian, Schabort is a husband and father. He starts every morning with a cup of coffee in bed with his wife, Caron. "Got to keep my honey happy," he says. Then it's time to get his three kids to school before training, a short rest and after-school activities. It's challenging, and there's not much down time, but a love for what he does makes it worth it. With everything Schabort's gone through in his life, one thing keeps him going: "Never give up. Never fear the risk to succeed or the disappointment of defeat."
The triathlon events on the Paralympic Games program will be contested on Sept. 10-11 at Copacabana Beach, with the men competing on Sept. 10 and the women scheduled to compete on Sept. 11.
The eight initial members of the U.S. Paralympic Triathlon Team are:
Krige Schabort (PT1, Rome, Ga.)
Hailey Danisewicz (PT2, Chicago, Ill.)
Allysa Seely (PT2, Glendale, Ariz.)
Mark Barr (PT2, Houston, Texas)
Grace Norman (PT4, Jamestown, Ohio)
Chris Hammer (PT4, Salt Lake City, Utah)
Patricia Walsh (PT5, Austin, Texas)
Elizabeth Baker (PT5, Signal Mountain, Tenn.)
Krige Schabort's Complete Bio:
Career Highlights
1st, 2016 Sarasota CAMTRI Paratriathlon American Championships, 2015 Yokohama ITU World Paratriathlon Event, 2014 ITU Paratriathlon World Championships; 2nd, 2015 ITU Paratriathlon World Championships, Rio de Janeiro ITU World Paratriathlon Event; two-time medalist at Paralympic Games, marathon (1992, 2000); five-time Paralympian
Sport: Paratriathlon
Birthdate: September 9, 1963
Birthplace: Somerset West, South Africa
Hometown: Rome, Ga.
Current Residence: Rome, Ga.
College: Stellenbosch University
Paralympic Experience
2012 Paralympic Games – 10th (marathon)
2000 Paralympic Games – silver medal (marathon)
1992 Paralympic Games – bronze medal (marathon)
Career Highlights
2014 ITU Paratriathlon World Champion
Two-time ITU Paratriathlon World Championships silver medalist (2016, 2015)
2013 ITU Paratriathlon World Championships bronze medalist
2015 ESPY Award winner, Best Male Athlete with a Disability
2013 USA Paratriathlon National Champion
2012 USA Triathlon All-American
Broke the IRONMAN World Championship world record in 2011
2002 IPC World Track Championships, silver medal (marathon)
1998 IPC World Track Championships, gold medal (10000m)
Personal 
Son of Susan Magdaleen Schabort • Siblings are Stein and Victor • Married to Caron Erica • Has three children, two boys (Daniel and Simon) and a girl (Sarah) • Hobbies are camping, boating, cycling, surfing, home improvement, gardening, cooking and baking • A native of South Africa who previously competed for that nation • Lost his legs during a war in Angola while serving in the South African Engineering Corp • Nominated for a 2007 ESPY Award