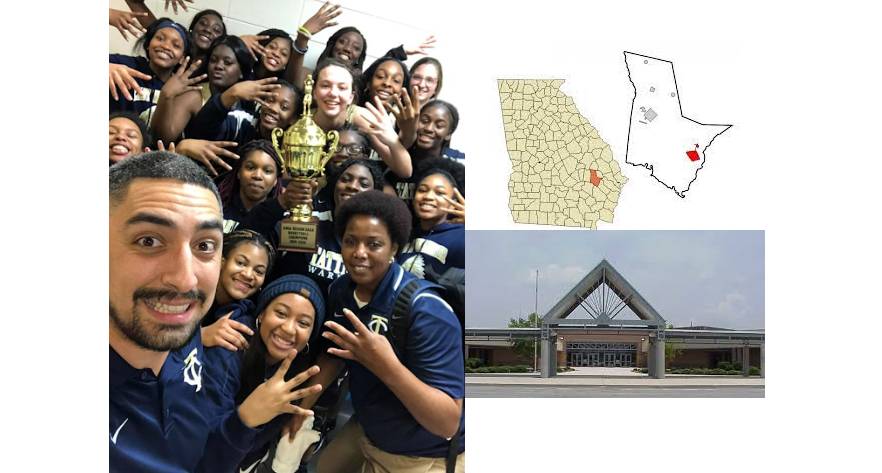 A teacher at Tattnall County High School has been relieved of his coaching duties for one year due to comments made on social media. 

Tattnall County history teacher Jordan Huerta has been suspended from coaching for a period of one year, reportedly for comments he made on Facebook which elicited dialogue with a high school student and a parent. Huerta, a graduate of the school system himself who has worked in Tattnall County for three years, has coached softball, basketball, and baseball in various capacities at the high school since he began working there. His employment contract has not been impacted by the disciplinary matter, which came from the administration at the school system. 
The issue at hand in a disciplinary matter related to social media is not whether or not Huerta has free speech protections (which apply to government limitations and not employment discipline matters), but instead whether or not his comments violated the school system personnel policy on employee behavior on social media. Allison Cobb with the Journal Sentinel in Tattnall County said Monday that the school system does not have a social media policy for employees and AllOnGeorgia filed a public information request on the item Monday afternoon. At this time, it is not known which posts in particular led to administrative action against Huerta. 
Huerta frequently posts on current events on his personal social media accounts and wasamong the organizers for a recent Unity in the Community rally in Glennville, which was well attended by citizens and elected officials, including Glennville Mayor Bernie Weaver, Tattnall County Sheriff Kyle Sapp, and State Representative Bill Werkheiser.  
A gallery of recent posts made by Huerta as provided to AllOnGeorgia are below. Story continues below.
The news of the action spread on social media Monday afternoon and quickly garnered the attention of the Tattnall County community and TCHS students. JoAnn Anderson of the Tattnall County chapter of the NAACP posted in the 'Tattnall Against Racism' group that Huerta had the support of the organization. By Monday evening, a petition to reverse the disciplinary action had been launched on Change.org by a former student and garnered more than 1,200 signatures by lunch on Tuesday. "He is an educator, and yet, he is being punished for educating. Suspending him from coaching not only hurts him, but it also hurts the basketball team as a whole," the petition reads. 
AllOnGeorgia reached out and requested a statement on how Huerta plans to move forward. His attorney, Bruce Dubberly, said Tuesday:
"Coach Huerta was called in for a meeting on June 24, 2020, and by the end of the meeting he was told that he would be suspended from coaching for the upcoming year. Administrators at Tattnall County High cited violations of his professionalism as a teacher for engaging in "both politically and racially charged banter with both a current student and parent, inciting unrest amongst a parent in regards to her child's educator."
Critically, no one informed Coach Huerta of the particular conversation or exchange that forms the basis of such an extremely serious allegation. First and foremost, Coach Huerta's class and teaching have been observed 9 different times by administrators over the last two years – and not once was his professionalism called into question. Coach Huerta has been a coach at Tattnall County High since January 2017. And without notice, hearing, or even a detailed reason, he was relieved of his coaching duties – with no assurance of a return. This was a rush to judgment that has implications in both due process and free speech. The action taken against Coach Huerta was without question a punitive response to his duties as a teacher. Accordingly, he should be afforded due process rights under the Tattnall Board of Education's policy and Georgia law.
Our hope is that this can be resolved amicably and expediently through reinstatement and renewal of Coach Huerta for the upcoming athletic year. Alternatively, we have requested a hearing in front of the Board of Education so that he can have the opportunity to see exactly what is contended by the High School to be "politically and racially charged banter" and an opportunity to defend himself. Should those opportunities be declined, we will seek alternative legal action through the courts."
The Tattnall County School System is not able to comment publicly on personnel matters, but has said the matter is ongoing.
AllOnGeorgia has filed Open Records Requests with the school system seeking the school systems personnel policy on social media, recent directives to employees on social media activity, any complaints made about TCHS employees for non-academic matters, disciplinary documentation related to the aforementioned complaints, and the personnel file of Huerta. Due to the summer months and the upcoming holiday, however, the district office will not be able to fulfill the request until early next week. 
AllOnGeorgia will continue to follow this story as it develops.