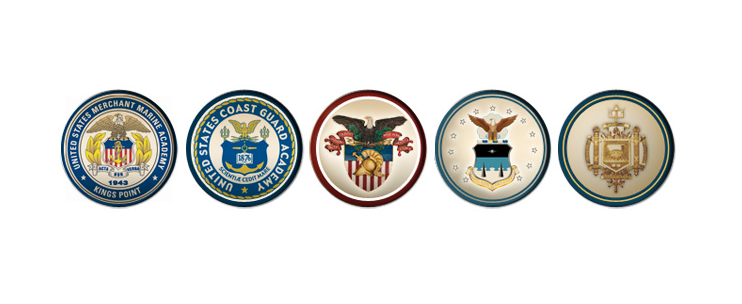 28 High School Seniors Nominated in 2019 Accepted into Naval Academy, Air Force Academy, West Point, Merchant Marine Academy
U.S. Senator Kelly Loeffler (R-Ga.) recently announced that 28 high school graduates from across Georgia who were nominated last fall by her predecessor have been accepted into U.S. military service academies for fall 2020. The 28 students are among the several dozen students nominated by Georgia congressional offices who have been accepted.
Members of Congress are tasked with nominating students to attend our nation's military academies annually. Those nominees who are accepted into the academies are awarded full four-year scholarships that include tuition, books, room and board, and medical and dental care. As U.S. Senator Johnny Isakson's successor, Loeffler inherited his slate of 2019 nominees. The 28 students were selected out of a pool of 300 applicants and they will attend the U.S. Naval Academy, the U.S. Military Academy at West Point, the Merchant Marine Academy and the Air Force Academy.
In addition, another six Georgia students applied independently and were accepted to the U.S. Coast Guard Academy and the U.S. Coast Guard Academy Preparatory School, which do not require a Congressional nomination. 
"I commend all of Georgia's students who have received appointments to our nation's prestigious military academies," said Loeffler. "These students excelled both in and out of the classroom, demonstrating their academic excellence, dedication to service and leadership capability. I am grateful for their decision to serve our nation, and I am proud that they will be representing Georgia at America's academies."
The following students were accepted by the academies. Included below are students' hometowns and the high schools they've graduated from.
U.S. Merchant Marine Academy
Meredith Buchanan – Kathleen, Veterans High School
William Connor Pitts – Dallas, East Paulding High School
David Rivera – Ball Ground, Pickens High School
Brian Martin Waller – Warner Robins, Mount de Sales Academy
U.S. Military Academy at West Point
Levi Hiland Bell – Maysville, Jefferson High School
Kyle Joseph Bryce – Jefferson, Jackson County Comprehensive High School
Albert Jang – Duluth, Peachtree Ridge High School
Autumn Grace Keaton – Temple, Haralson County High School
Kijana Emmanuel Knights – Covington, Newton High School
Kaitlin Grace Palaian – Atlanta, Henry W. Grady High School
U.S. Naval Academy
Charles Evan Daniels – Alpharetta, Milton High School
Grace Katherine Findlay – Roswell, Blessed Trinity Catholic High School
Jennifer Bennette Harnage – Marietta, Hillgrove High School
Jay Ho – Snellville, Gwinnett School of Mathematics, Science, and Technology
June Elizabeth Jordet – Marietta, Lassiter High School
Katherine Susanna Ketner – Hampton, Eagle's Landing Christian Academy
Gavin Etheridge Kim – Acworth, Allatoona High School
Dwight Edward Kinney – Canton, Cherokee High School
Kathryn Grace Meyer – Atlanta, St. Pius X Catholic High School
Logan Alexander Paugh – Braselton, Mill Creek High School
Emma Dawn Peck – Martinez, Lakeside High School
Elizabeth Mae Shippen – Atlanta, Pace Academy
Matthew McKay Shirah – Blue Ridge, Fannin County High School
Olivia Marie Tinsley – Conyers, Eagle's Landing Christian Academy
U.S. Air Force Academy
Jasmine DeAundrea Jacob – Morrow, Forest Park High School
Colby Brooks McRae – Thomaston, Upson-Lee High School
Joshua Kaiyuan Miao – Evans, Lakeside High School
Vyvy Nguyen – Morrow, Morrow High School
U.S. Air Force Academy Preparatory School (no Congressional nomination required)
Heath Isaac McDonald – Bogart, North Oconee High School
U.S. Coast Guard Academy (no Congressional nomination required)
Daniel Birch – Savannah
Jackson Frizzell – Alpharetta
Chase Sippola – Villa Rica
U.S. Coast Guard Academy Preparatory School (no Congressional nomination required)
Garrett Bragg – Clayton
Janae Jackson – Carrollton
Ryan Laruy – Dalton