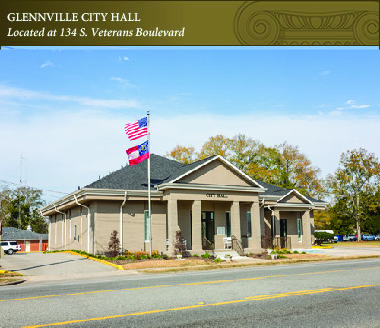 The City of Glennville received a perfect audit report for the city's FY 2018 accounting practices, the auditor told city council members last week.

Scott Simpson of Henderson & Godbee, LLP attended the city council workshop ahead of the regular council meeting Tuesday to go over the 61-page audit report with Mayor Chris Roessler, City Manager Amy Murray, and council members*. The Valdosta-based firm spent the last several months, since the end of the fiscal year, examining the city management practices of General Funds, SPLOST accounts, FEMA reimbursements, and other accounts.
The report concluded that the firm "did not identify any deficiencies in internal control" that are considered to be material weaknesses, nor did the audit find any instances of noncompliance or other matters that are required to be reported under the Government Auditing Standards.
Glennville is the only government entity in Tattnall County to have a perfect financial audit report and this is not the first year Glennville has received a clean report.
Simpson did make note of the amount of fines that are written off by the city annually due to unpaid traffic citations in Municipal Court, which is adversely affecting the city budget. Municipal Court Judge Joe McGovern uses private probation services loosely for a variety of city ordinances, but the fines are not being paid to the city and, often times, the minimal amounts paid go to the probation company before the city sees any money. The city council is actively working to resolve the issue.
Following the report, Mayor Roessler commended Murray and her staff for their work throughout the year and thanked them for the attention to detail.
*Council members Dorothy Berry & Dennis Strickland were not present.
You can read the full PDF of the audit below. [File is large and may be slow to load]
FY'18 Audit - City of Glennville