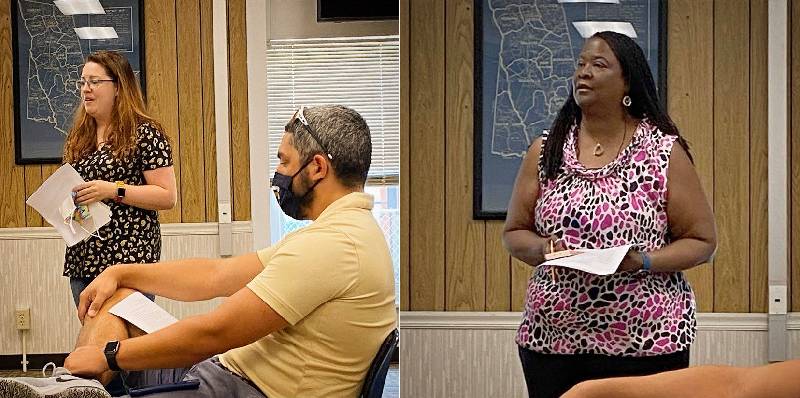 Two people formally addressed the Tattnall County Board of Education in support of Tattnall County High School Coach Jordan Huerta Monday afternoon during the regularly scheduled meeting while several others showed their support in attendance.


Tiffany Taylor, a lifelong friend, and Jo Ann Anderson, President of the Tattnall County NAACP, both implored Board members to consider a larger picture and reverse an administrative decision made at the school level regarding Huerta, who was also present, by allowing him to return to his coaching duties. 
Taylor focused on Huerta's passion for coaching and his own individual growth through diverse experiences and interactions. "He's biracial himself and I think he identifies with a lot of his students, especially his athletes. I think he wants to be that teacher and coach that he had and I think that's very motivating for him," she told the Board. Taylor also cited a number of awards pertaining to coaching and alumni status attained by Huerta, whom she referenced as a student and parent favorite, in his first few years of teaching. 
But Taylor also asked the Board Members to consider that district employees don't have a clear direction on what they can and cannot do. In providing a timeline of events, Taylor explained that she felt it was unfair for administrators to bring Huerta in for a meeting with little notice as to what the meeting, which ended up being disciplinary, was in reference. She said an initial letter accused Huerta of 'politically and racially-charged banter,' a description she said was too broad, especially after a meeting with administrators that Huerta's supporters have maintained 'lacked specifics.' "It certainly isn't something that I'd personally want on my record without any context to what the discussion was. We have this history teacher that's on the right side of history and no reference to what his position actually was in the conversation." Taylor said Huerta is not being set up for success with clear direction, a clear understanding of what a resolution would be, and without support from their employers.

Jo Ann Anderson offered a different perspective, opening her remarks by explaining that she only became familiar with Huerta when this incident came into the public light, but said the issue nevertheless 'hit very close to home.' She shared that she learned of the situation from friends who knew Huerta and felt that he was being treated unfairly by the school system. "Nothing I found was politically or racially charged banter," Anderson said. "I did see a conversation between him and a parent, that the parent disagreed but he was only giving factual information. As a history teacher, he was giving her what the facts were. Of course he was also giving his opinion on where he lands on racial issues and also about the American flag, which was not politically charged from what I could read." Anderson said she does not know the parent involved but said the parent was the one emotionally upset about the post and that Huerta was professional in his handling of the situation. 
Anderson also said Huerta's suspension from coaching was a 'rush to the wrong decision' and should not have occurred. "We take issue any time there is even a suspicion of racial bias because our job as an organization is to identify and eradicate racial prejudice wherever it is found," she said before closing by sharing that she believed Huerta was 'kind in trying to educate the emotionally-charged parent.' 
It is not standard for Board members or the Superintendent to address questions or speak to personnel matters during a public meeting, but all six BOE members were present and joined the Superintendent in offering their attention for the duration of the presentations. The school system as a whole is also barred from commenting in-depth on ongoing personnel matters.  
Monday morning was a pivotal point for Huerta's legal route for remedy within the court system, however, as Atlantic Judicial Circuit Superior Court Judge C. Paul Rose granted a Petition for a Writ of Mandamus, which will provide for a disciplinary hearing for Huerta. The petition also sought a motion for Injunctive Relief, which would have restored Huerta to his coaching duties during the interim, however, that was denied on Monday. A hearing has not yet been set but will be coordinated so that legal counsel can be present. 
After the Board Meeting, Huerta posted on social media to thank those who spoke and attended in support. He also said that 'justice' as it pertains to his situation is returning to the field and the court with his athletes.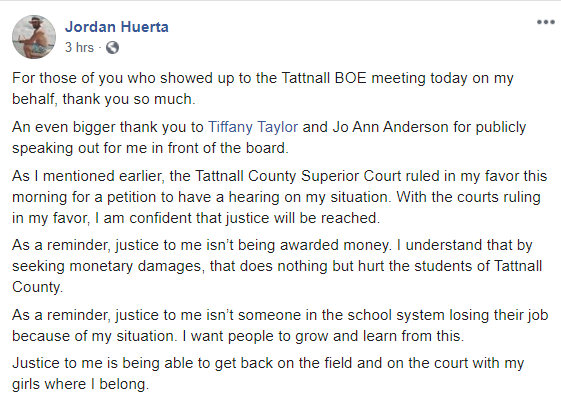 The video of the public remarks is below.
Please note: This video has been clipped to include the video presentation of Tiffany Taylor and Jo Ann Anderson as their comments pertain to Jordan Huerta. Mrs. Anderson spoke on 2 other matters and the video footage of those discussions will appear in a separate article. The video was not otherwise altered.