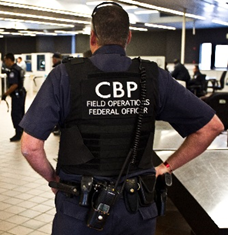 DHS says its initiatives lead to a decrease in Illegal Activity in First Month of FY 2020
U.S. Customs and Border Protection Acting Commissioner Mark Morgan announced recently that border enforcement results in October marked the fifth consecutive month to see significant decline in apprehensions and inadmissible cases at ports of entry along the Southwest border.
CBP enforcement actions along the Southwest border have declined over 68 percent since the height of the border crisis in May.
"This Administration has implemented critical policies and reached important agreements with our partners in Mexico, El Salvador, Honduras and Guatemala that have resulted in the fifth consecutive month of reduced apprehensions on the Southwest border," said Acting Commissioner Mark Morgan. "These are positive results, but Congress must pass meaningful legislation to stop the exploitation of vulnerable families and children, and bring integrity back to our broken immigration system."
Defying typical, seasonal trends, enforcement actions declined in October for the first time in seven years. CBP's total enforcement actions on our Southwest border declined by 14 percent in October, compared to September, for a total of 45,250.
This number reflects a 19-percent decline in the number of inadmissible aliens at U.S. ports of entry, and a 12 percent decline in Border Patrol apprehensions.
CBP seized more than 47,000 pounds of drugs on our Southwest border last month – 50 percent more than we intercepted in October 2018.  Seizures of methamphetamine last month totaled more than 9,200 pounds – double the amount seized in October 2018. Fentanyl seizures on the Southwest border totaled 225 pounds – 48 percent more than CBP intercepted in October 2018.
Nationwide, CBP intercepted more than 54,500 pounds of narcotics – 45 percent more than October 2018. CBP seized 9,735 pounds of methamphetamine – up 90 percent over October of 2018, and the agency intercepted 284 pounds of fentanyl – up 84 percent over October of 2018.