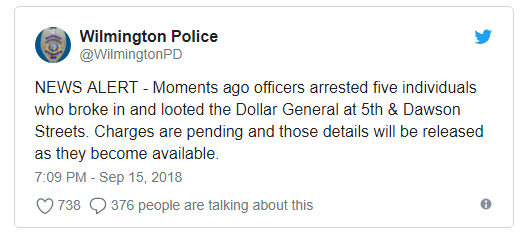 The rains were barely gone and the flooding from Hurricane Florence had not even subsided before looters began taking advantage of stores in North Carolina over the weekend.
Police arrested five people Saturday night as a result. Wilmington Police confirmed the arrests on Twitter but did not immediately release the identities of the five individuals.
"Charges are pending and those details will be released as they become available," police said.
Authorities were made aware of the looting around 1:30 P.M. on Saturday, specifically at a Dollar General in town. Management initially asked police "not to intervene." Police later said they were working to identify the thieves and would "will charge them to the fullest extent of the law."
The City of Wilmington and a number of others were under curfew in Wilmington.
EXCLUSIVE VIDEO: @WilmingtonPD has alerted for some looting happening in #Wilmington including at this Family Dollar Store at 13th & Greenfield Sts. We just passed by and shot some video pic.twitter.com/N9CtN7RVtv

— Marta Dhanis (@MartaDhanis) September 15, 2018
The National Hurricane Center reported over the weekend that "catastrophic flooding" is expected in certain parts of the Carolinas. At least 11 deaths have been reported.