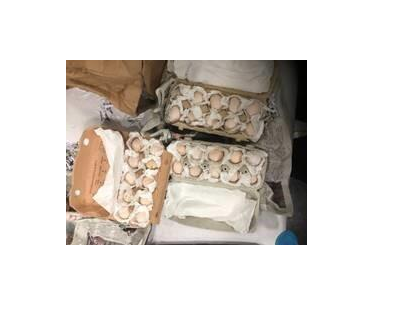 U.S. Customs and Border Protection (CBP) agriculture specialists at the international mail facility in Miami seized a shipment containing 30 suspected hatching eggs from the Netherlands this month. It is the third package with hatching eggs intercepted recently under similar circumstances.
Agriculture specialists selected the shipment labeled as "Children's Toys" for a secondary examination, after noticing unusual items on an initial X-ray. While performing an enforcement examination of the package, agriculture specialists discovered 30 suspected hatching eggs placed in cardboard containers.
Verification was made through the United States Department of Agriculture (USDA) Animal and Plant Health Inspection Service (APHIS) that the shipment lacked the proper import permit.
"CBP agriculture specialists are America's frontline and work diligently and tirelessly to intercept prohibited and restricted agriculture items," said Miami International Airport Port Director Christopher Maston. "These highly-skilled professionals know exactly what to look for and this is just the latest example."
Hatching eggs are of concern to CBP due to their ability to carry highly contagious diseases such as Exotic Newcastle Disease.
CBP agriculture specialists have extensive training and experience in the biological sciences and in the inspection of agricultural commodities. CBP agriculture specialists often intercept prohibited items through ports of entry statewide such as Miami International Airport, Port Everglades, Miami's Seaport and Port of Jacksonville. CBP's national Centers of Excellence and Expertise for Agriculture & Prepared Products is based in Miami.