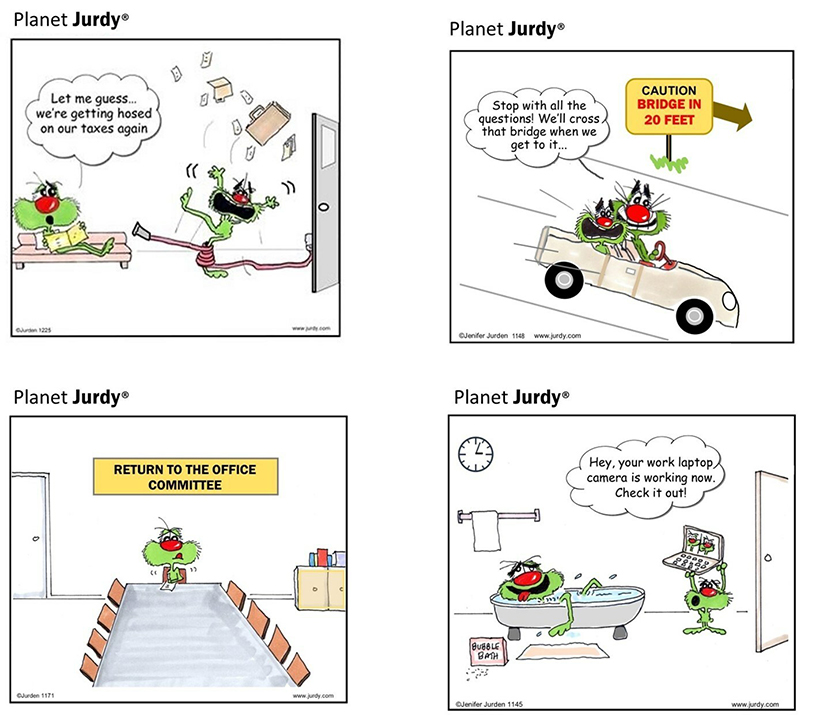 Jurdy®, the new other-worldly cartoon character known as the "Hero of Happy-ness™", is landing on earth for National UFO Day, July 2nd to cultivate laughter and ease human fears about UFOs.

With all the news about UFO sightings and curiosity about life on other planets, cartoonist Jenifer Jurden is launching a new single-panel cartoon strip, "Planet Jurdy™," featuring her whimsical, but lovable cartoon alien, Jurdy®.
Jurdy® can't wait to engage human curiosity with an eye toward helping us see the joy of being human through the lens of a humorous and lovable alien. Through Jurdy's earthly creator, Jenifer Jurden, Planet Jurdy cartoons will help us learn that it is precisely our differences that make us unique and able to make our world a kind, happy place where humor reigns.
"Jurdy has arrived to bring levity to our human plight and to demonstrate that even though we may all be from different walks of life, and life-forms, we all experience similar, silly situations and daily challenges. Jurdy uses his alien humor to show us how to handle and cope with life's oddities and absurdities through sarcasm and true to life scenarios," says Jurden. Jurdy is currently in orbit on the Jurdy website, on social media and is also available for other earthly opportunities. Please contact creator, Jenifer Jurden at jen@shoutbcause.com.
---
About Jurdy®
Jurdy®, the "Hero of Happy-ness™," is a cool little alien cartoon character created by Jenifer Jurden, a cartoonist and marketing professional. For more information, visit www.jurdy.com or contact Jenifer Jurden at jen@jurdy.com
---
SOURCE Jurdy