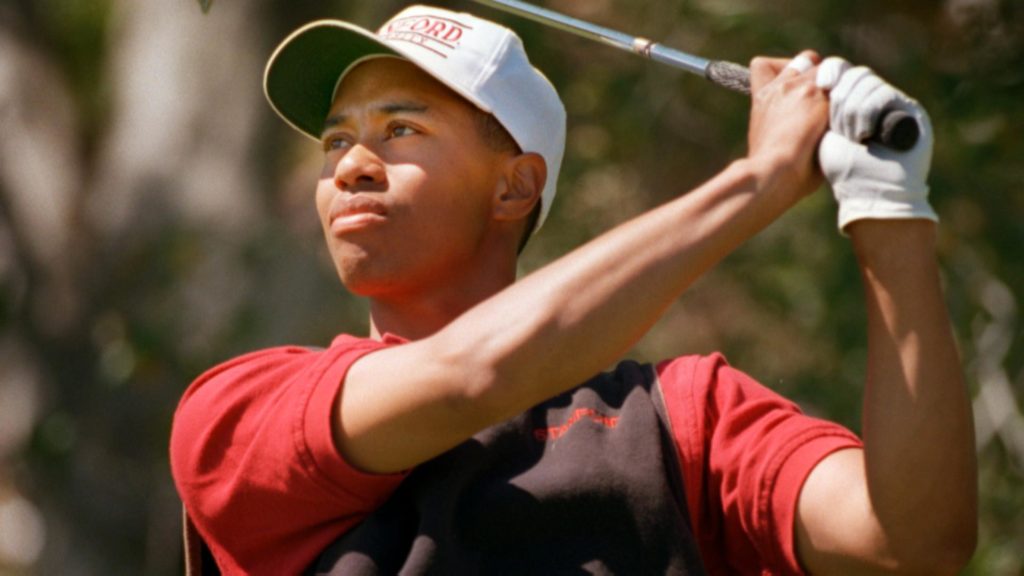 Funny what winning can do for you. Tiger Woods wins a trophy at East Lake and the world is back in his corner again. Just as it was in late 1996, when the devil came down to Georgia to say he was sorry.

At that time, there was nothing this PGA rookie couldn't do. He was magic, and so was his name. There were hints that the game's old guard were fading, and no one doubted that 20-year-old Tiger Woods would soon be golf's Next Big Thing.
Then he stumbled. Too tired to compete and too tired to eat. Or so he said.
That was the year that Woods won the Haskins Award. It is named for Fred Haskins, a British teaching pro who migrated to the Country Club of Columbus after World War I. His first big job in America was at East Lake Golf Club in Atlanta. He was working there as the legend of Bobby Jones began to flower. He arrived in Columbus in 1924 with a letter of reference from Jones' primary teacher, Stewart Maiden.
Years later, his faithful followers and pupils created the Haskins Award. Since 1971 that impressive trophy had gone to the nation's outstanding collegiate golfer.
That year, without a doubt, the budding superstar from Stanford was a runaway choice. Woods agreed to accept the award when he was in the area to participate in the Buick Challenge in October.
The PGA event (formerly known as the Buick Southern Open) was played at Callaway Gardens and proceeds went to local charities. The founding committee and most of its volunteers, hailed from Columbus, some 30 miles away.
Presentations of the award were normally made on the campus of the winning golfer's college or university — usually at halftime of a big football game. This one would be different.
He might have been a rookie, but Woods was already winning tournaments on the pro golf circuit and attracting huge galleries. By presenting him the award at the PGA tournament, the Haskins group thought it would be assured of national media attention.
Neither the Haskins Committee, Callaway Gardens nor the Buick Challenge were treating this ceremony like an ordinary roast beef and mashed potatoes kind of event. Special filets were ordered. A fancy wine list was prepared. An impressive list of RSVPs were received.
Then came the stumble.
On the eve of the PGA event, after participating in a practice round at Callaway Gardens on Tuesday of tournament week, Tigers Woods withdrew. He cited fatigue. He had played in a golf tournament nine out of the last 10 weeks and he said he was tired.
His year had begun at Stanford, continued at the U.S. Amateur where he won his third straight title and culminated with his rookie of the year play on the PGA Tour. Yes, he was tired. But was he too tired not to remember his manners?
The young golfer paid the price for his mistake. Staying home created a firestorm among Haskins commission members, fellow golfers on the PGA Tour and members of the golf media, which had already adopted Woods as a Favorite Son.
Woods was in the midst of a personal move to Orlando, Fla. He was somewhat rudely welcomed to the community by Orlando Sentinel sports columnist Larry Guest, who wrote about the golfer's faux pas by not showing up for dinner.
"So you've committed the first youthful misstep of your pro career, abruptly dropping out on the eve of this week's PGA Tour event outside Columbus, Ga., and sending regrets for Thursday's Haskins Awards dinner in your honor. The dinner, after much expense and energy on the parts of many, has been cancelled, the tournament is wounded, and your fellow Tour stars are throwing verbal darts …"
"The next time a sticky situation arises — and there will be more of them, for sure — address it head-on. Never, never, never again leave your IMG (International Management Group) rep Hughes Norton and a cold, impersonal prepared statement to plead your case, as happened this week … Your own pleasing smile and natural charm will be far more effective in defusing volatile situations and disarming critics. Face the music. Be accessible. Openly apologize if the case warrants. This is definitely one of those cases.
"Say you're sorry. Say you'll try to make it up to Columbus and the Haskins Award sponsors. Cop a plea that you're young and learning. The world will give you the benefit of the doubt and drape an arm around your shoulder …"
No one knows whether Woods or his people listened to the newspaper columnist or not, but Tiger Woods did apologize — and he was forgiven from all directions. He sent a letter to every member of the Haskins Commission and offered a personal apology for missing the banquet. After saying he was sorry for his decision, he said he would be happy to come back and accept the award at a later date.
The awards ceremony was rescheduled for the 11th of November. It was Woods who suggested the dinner be held at Callaway Gardens. The event proved to an unexpected gift for the golfer and for the Haskins Committee.
What could have been disaster became unforgettable. On the night of the ceremony Tiger came and so did Earl Woods, his doting father. Former Columbus College golf coach Nelson Ross was there. It was Ross who first suggested the Haskins Award. Ross and Neill Hatcher, the youngest member of the panel would present the trophy. The emcee was veteran commission member Cecil Calhoun who handled he difficult job masterfully. The room was full of anticipation, wondering what the golfer would say.
Before Tiger spoke, in an unusual twist, his father went to the podium first. The retired lieutenant colonel and Vietnam vet was once stationed at nearby Fort Benning. Gary Smith of Sports Illustrated  later captured the essence of Earl's remarks and the event in a magazine article that December.
"It was ordinary. It was oh so ordinary. It was a salad, a dinner roll, a steak, a half potato, a slice of cake, a clinking fork, a podium joke, a ballroom full of white-linen-tablecloth conversation. Then a thick man with tufts of white hair rose from the head table. His voice trembled and his eyes teared and his throat gulped down sobs between words, and everything ordinary was cast out of the room.
"He said, "Please forgive me … but sometimes I get very emotional … when I talk about my son…. My heart … fills with so … much … joy … when I realize … that this young man … is going to be able … to help so many people…. He will transcend this game … and bring to the world … a humanitarianism … which has never been known before. The world will be a better place to live in … by virtue of his existence … and his presence…. I acknowledge only a small part in that … in that I know that I was personally selected by God himself … to nurture this young man … and bring him to the point where he can make his contribution to humanity…. This is my treasure…. Please accept it … and use it wisely…. Thank you."
When Earl's work was done, father and son warmly embraced, and the dinner crowd jumped to its feet and applauded — as if there was never anything wrong. Looking back, that may have been the moment that Tiger Woods was forgiven.
Then it was Tiger's turn.
"That's my father," he said.
He talked about the circumstances that led to his decision not to come to dinner 1996 — and then he paused.
"My actions were wrong," he said, looking the people in the room in their collective eyes. "I should have attended that dinner … I didn't. I was wrong and I am sorry for any inconvenience I caused."
####
Earl Woods, the rough tough Green Beret, died in May of 2006 and his son was devastated. The golf world outwardly wondered if Tiger would be able to defend his title in the upcoming British Open that July. Somehow he did.
The Open was being played at the Royal Liverpool Golf Club in Hoylake — the village where Fred Haskins was born and the course that he played as a boy. No one knows if Tiger was aware of such a connection.
Woods stood one shot back after the opening round, but stormed into the lead the following day. He was on top on Saturday and on Sunday he fought off three of the top players in the world to win by two strokes.
This was the moment that he always hugged his father. This time he couldn't.
Over the past weekend, Tiger Woods continued to follow the endless circle of Fred Haskins and East Lake Golf Club. He was in Atlanta for the Tour Championship, played on the course where Bobby Jones once fine-tuned his game.
The Haskins dinner and its swirl of controversy was in the past. The name of Fred Haskins and the award named for him was far from his mind.
More important to Tiger was that after four serious operations on his back he had not won a golf tournament in five painful years.
Some observers doubted he would ever top a leader board again. Oh, there were tantalizing hints that Tiger's body might be ready for him to win again, but the hints always turned into teases. No one would know for sure until the weekend was over.
Late Sunday afternoon, on that hallowed historic plot of land to the east of downtown Atlanta, he finally recorded his elusive 80th championship. Millions of dollars were on the line but more important than the cash was redemption, and the knowledge that years of hard work had paid off. He won by two strokes over Billy Horschel, a fourth or fifth grader when Tiger won that Haskins Award so long ago.
Then, just as it did when a much younger Tiger Woods apologized to that unknown group of golf lovers from Georgia, the world reached out and gave him a big hug.
####
Read the full story of Fred Haskins and the year that Tiger Woods failed to come to dinner in Mr. Haskins of Hoylake, a book by Richard Hyatt. You can order the book by visiting Amazon.com