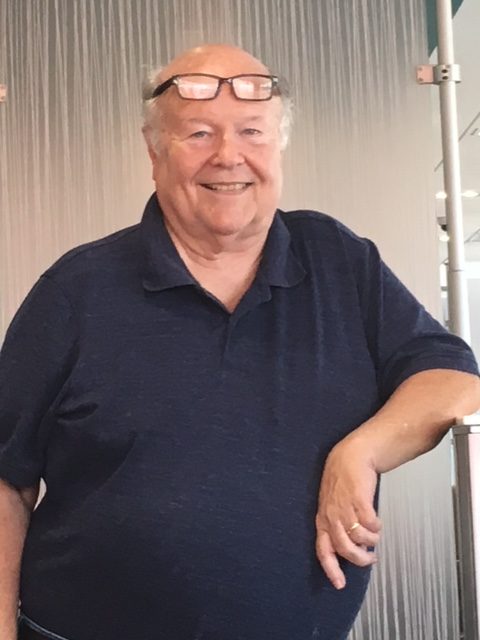 It was Mason Lampton's show but Virginia Ann Holman was running the meeting. Their invited guests were being asked to come up with new ways to stimulate life in the infield at the Columbus Steeplechase.

Every year, on the first Saturday in November, thousands of fashion-conscious people in tweed and pastels with goofy hats on their head gather on a hillside at Callaway Gardens for a fancy party where every now and then some well-bred horses race around a track.
Lampton, the president of the Hardaway Company at the time, first brought the event to Columbus 34 years ago. He was born a horseman so he appreciated those magnificent animals that came to show their grace and speed. He also loved the pageantry and the festivities under colorful tents where fine food and drink were served.
And there were also unconfirmed rumors that, every now and then, some of the natty patrons at the top of the hill might have placed a few wagers. Friendly, of course.
Holman, who had been the race director since 1985, wanted ways to inspire and entertain the simple folk in the infield — a place where many of the guests wore denim and khaki, drank beer out of a can and picked up their food at a drive-through on their way to Pine Mountain.
Music was mentioned —lively music that might even lead to dancing. Concessions were needed — with menus that included pig cooked on a grill. Everyone agreed those things were needed. What was lacking was a serious cultural change, a shift from restrained to raucous.
Lampton — a former president of the Greater Columbus Chamber of Commerce — had a way of putting everything into words that anyone could understand — even if his choice of adjectives made the hoity-toity in that room cringe.
"What we need is a place where folks can get naked and have fun," he said.
That was it, Mason. A cross between the Daytona 500 and the Kentucky Derby. But to this day, there have been no verified sightings of a naked person prancing through the infield and having fun. Not even one in an outrageous hat.
A bible of everything southern
Now I hear the Columbus Steeplechase has a new primary sponsor.
It makes sense in an old school way to bring together the 34th running of the race with Southern Living, a monthly bible of everything southern, a magazine that knows more recipes for potato salad than your grandma did.
The magazine's editor and chief, Sid Evans, will be a busy fellow on Nov. 2-3. He will be part of a Friday night gala where Southern Living unveils its new party cookbook. Bringing the recipes to life will be celebrity chef and author Elizabeth Heiskell.
Evans returns Saturday afternoon to judge the hat contest, an annual competition that determines whose hat is most gaudy and most creative. Maybe even the goofiest. Hopefully Evans understands what a cutthroat event this can be.
Promoters like to refer to the steeplechase as "The Event of the Season." It is an afternoon for the horsey set, the ones who enjoy watching thoroughbreds race over timber and brush. It is also a place where a fashionista can see and be seen. It is a day when yapping Jack Russell Terriers join the spirit of competition. It is an endless dining table where the food is epic and the drinks are mixed with only the finest labels.
Since it began in 1984 on a rainy Sunday morning where well-dressed guests were splattered with mud and expensive cars got stuck, the steeplechase has overcome unplanned setbacks. At one early race, a horse took a bad fall and had to be destroyed. Sponsors also had to face Sunday sermons from the First Baptist Church of Columbus in which the minister questioned horse racing and how it encouraged wagering.
Despite its early critics, the event has always been generous to the local arts, donating more than $4 million. This year is no exception. Six non-profits in the area will benefit from the 2018 event: Columbus Museum, Columbus Symphony Orchestra, Historic Columbus Foundation, Ida Cason Callaway Foundation, Springer Opera House and the RiverCenter for the Performing Arts.
A hound dog that wanted to be in movies
Among the most memorable moments was a "horse opera" created nearly 30 years ago by video storyteller Craig Miller. A native of Columbus, he's the talented owner of Craig Miller Productions, a full-service film production company based in Atlanta. He's also chairman of the Georgia Film, Music and Digital Entertainment Advisory Commission.
In 1988, the Steeplechase and Miller merged their talents to produce a classic TV spot that promoted the infield. The 30-second commercial featured four local personalities and a lazy old hound dog that insisted on being in every frame.
It was shot at an old horse farm on Macon Road. I was one of the performers along with former Ledger-Enquirer colleague Tim Chitwood, Country's Barbecue founder Jim Morpeth and Columbus Symphony Conductor George Del Gobbo. (He's the one with the baton.) In that rustic setting we were suited up in rented tuxedos.
Miller hired two composers known only as Danny and Mike to write an original piece of music that sounded as if it came right out of a Gilbert and Sullivan opera. Miller was relentless. Because we were using film instead of video, we had to shoot that one little scene so many times that decades later the lip-synching performers can still hear that melody in their dreams.
"It's that time of year, the Steeplechase is here … so pack up your cheese and wine, and everything that's fine … you'll find it all at Callaway on a lovely autumn day."
And like that old song says, on the third of November, "you'll find it all at Callaway on a lovely autumn day."