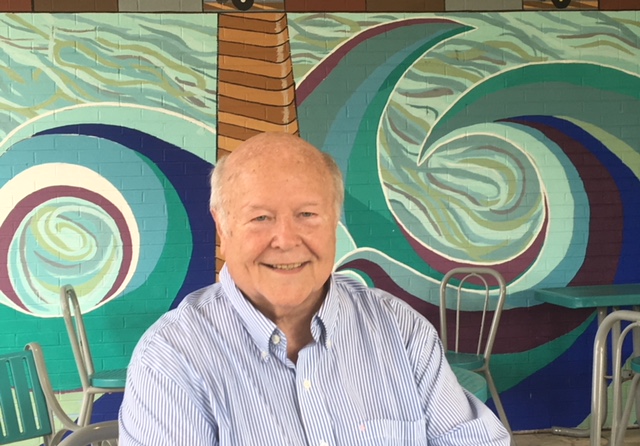 Lights were dimming. The overture was playing. But before even one bright shining moment hit the stage, an usher seated a man and woman in the aisle seats next to ours. It was Captain Courageous and a female who wasn't Hanoi Jane.

Richard Harris was playing the role of King Arthur that Sunday afternoon, just as he did in the 1967 Hollywood production. The magic of Excalibur was all over us. We weren't in Atlanta anymore. We were in Camelot.
Even in the dark, I recognized that distinctive profile when he was seated. So as the first act ended and the lights came back up, I knew that the noticeable sobbing from my right was coming from Ted Turner. The Mouth of the South was weeping, tears pouring down his cheeks. I tried not to look. But before I could turn away, he smiled.
I thought of those warm teary eyes when I watched "CBS Sunday Morning" this week. Looking at him on the TV screen, Turner's eyes seemed hollow, unable to conjure up those wicked glances he used to fire like an automatic weapon. Feelings like those he showed in that crowded Atlanta theater 35 or 40 years ago could not be found.
On Sunday morning, Ted Koppel, the former host of ABC-TV's Nightline, was interviewing the former billboard salesman. The two of them put on cowboy hats, rode horses and then relaxed in lawn chairs as they watched for wolves outside one of Ted Turner's ranches in Montana where he raises massive herds of buffalo.
Koppel and Turner referred to themselves as two old geezers — and they are. But during their rambling conversation, the brash media mogul casually told his friend about receiving a diagnosis of Lewy Body Dementia.
It's hard to imagine Turner fumbling a word or a step. His dreams have always come true. It's more than just the money. It's his rambunctious style, his forcefulness and his inability to accept anything but yes.
Around here, we've known Ted Turner for a long time … as the captain of a yacht in the America's Cup races … as founder of the SuperStation, a cable TV outlet that replayed old standards like "I Love Lucy" and "The Andy Griffith Show" … as the owner of a big league baseball team who signed a free agent pitcher and made him wear Channel 17 on the back of his Atlanta Braves jersey … as the former spouse of Jane Fonda, a woman who was more controversial than even her husband. 
We were introduced to Ted Turner when he bought WTBS in 1970. The station was a floundering local cable outlet in Atlanta. Things were so bad off financially that he once hosted a telethon where he performed like Jerry Lewis on a Labor Day weekend.
Taking advantage of some budding technology, Turner was able to put Channel 17 on the air all over the country serving up 24 hours of Lucy and Andy, fitting them in between an archives of old black and white films from Hollywood.
Federal Communications Commission regulations said WTBS had to air a regular newscast so Turner wanted to broadcast an unconventional news show at 3 o'clock in the morning. He turned to Bill Tush, a station employee that he didn't know well but had seen around the building.
If you're old enough to remember, you know that the daily newscast in the wee hours on Channel 17 was truly one of television's greatest moments. It wasn't Walter Cronkite. But it was a whole lot more entertaining, for the venerable CBS anchor never had co-anchors like Rex the Wonder Dog or the Unknown Newsman.
The show was so far outside the lines that it made Saturday Night Live look like 60 Minutes. Tush and his bushy mustache was irreverent and insane and the nation loved him. Some of the talent that he discovered in Atlanta went on to perform and produce SNL.
He bought the Atlanta Braves and later the Atlanta Hawks — just because he could. He hung out in the owners box at the baseball stadium and sometimes took off his shirt to get some sun while he was cheering his baseball team.
When the 1977 Major League baseball season began, America's Team was tanking, starting off with a 8-21 record after dropping a doubleheader on May 10th in Pittsburgh. Worse than that, the Braves had lost 16 miserable games in a row.
Without warning, Turner showed up in Pittsburgh and told manager Dave Bristol that he could take the next 10 days off. The owner wanted to get close to the action and figure out what was wrong.
Who would Terrible Ted get to manage the team while the real skipper was away?
Himself of course!
As the owner, he figured he didn't have to clear his decisions with anyone. He just had someone measure him for a uniform, planted a big chaw of chewing tobacco in his cheek and walked into the visitor's clubhouse at Three Rivers Stadium.
"If I was smart enough to save $11 million and buy this team, then I should be smart enough to manage," he explained.
Phil Niekro, a future member of the Major League Baseball Hall of Fame, was scheduled to pitch that night and when he saw the owner in uniform, the veteran knuckleballer walked up and asked him a whimsical question.
"Ted. what spot you got me hitting tonight?"
"Hell, I don't know," Turner said. "You want to lead off?"
Niekro batted ninth and the Braves lost 2-1.
Ted Turner might have had the Magic Touch in business but Baseball Commissioner Bowie Kuhn and National League President Chub Feeney had the Magic Thumb between the lines. After one game, the two executives booted Turner out of his own dugout, citing an obscure rule that said anyone who owned even a share of stock in a team couldn't manage it.
He wanted to end that losing streak. But he didn't. By the time Bristol came back, Coach Vern Benson had broken the streak. For the season, Bristol was 60-100 and his third base coach was 1-0. Turner can point to his own name in the official baseball record books. His lifetime record as a manager is 0-1.
In the unreal world of pro rasslin, the 14th of July 1984 is known as Black Saturday. If you were a fan of the American Dream Dusty Rhodes, the Nature Boy Ric Flair and the Brisco Brothers, Jack and Jerry, you probably recall that is the day that Vincent Kennedy McMahon Jr. body-slammed Ted Turner and his SuperStation to the mat.
Georgia Championship Wrestling had been a linchpin of Saturday programming since Turner signed on WTBS in 1972. But to everyone's surprise, when the show came on the air on that week, longtime Atlanta broadcaster Freddie Miller introduced McMahon, the second-generation owner of the World Wrestling Federation. McMahon had pulled a clever business maneuver that gave him control of the airways and it wasn't fake.
There was no Mr. Wrestling II or Wildfire Tommy Rich from Turner's camp. Instead it was the Iron Sheik and George the Animal Steele and other cartoon-like figures from McMahon's world.
Confused fans of WCW knew the difference and within a matter of weeks, ratings were on the skids and Turner was able to wrestle back control of the longtime local franchise.
The struggle between Ted and Vince went on like that for more than a decade. It was mainly business, played out with animosity between two outrageous billionaires.
Friction culminated in 2001, when Turner's Monday Night Nitro went head-to-head against McMahon's Monday Night Raw. The weekly shows were in a open bidding war for talent. One week a wrestler would be working in New York. By the next Monday night he was in Atlanta working for Turner. The battle moved from the boardroom to the arena. In wrestling jargon, you could call it a Loser-Leave-Town match.
McMahon, who grew up in the wrestling business, figured out under-the-table ways to needle Turner, who was reared in a very different universe. The final straw were a series of creative videos featuring a character that Vince dubbed Billionaire Ted.
Sarcastic skits were produced and audiences loved them. Viewers on Raw looked forward to a fictionalized look into the backroom of Nitro. At the head of the table was Billionaire Ted. Around the room was Nacho Man, a whacked-out version of Macho Man Randy Savage, and The Huckster a scrawny takeoff of Hollywood Hulk Hogan, taking digs at the former muscle man's reported use of steroids.
https://www.youtube.com/watch?v=fHIOn5HZpPo
McMahon got his revenge. Ted won the rating wars but Vince and what became the WWE prevailed at the bank. Turner's organization made huge promises they couldn't afford during several hiring binges and was having trouble making its payroll.
The McMahons ended up owning both WCW and WFE, and without any true competition fans began to lose interest in the product and when the rasslin business was rebranded as sports entertainment the old spark was lost.
Billionaire Ted is no longer seen on Monday night Raw. That's a shame really, for that character and his fictional colleagues was significantly more entertaining than John Cena or what's left of Nature Boy Ric Flair.
Ted Turner is no longer the brash baseball owner who tangled with the commissioner or made former Los Angeles Dodger pitcher Andy Messersmith wear Channel 17 on his back when he signed with the Braves.
Nor is he the dreamer who put CNN on the air around the world as an unprecedented 24-hour news channel or the entertaining risk taker who believed Andy, Barney and Goober were enough to build a TV station around.
Age (he's 79) and an aggressive disease of the brain known as Lewy Body Dementia is taking its toll on a colorful businessman who in his prime knew only one speed. Talking to Koppel on Sunday, Turner could not remember the word dementia — which was horribly ironic.
Lewy body dementia (LBD) is a disease associated with abnormal deposits of a protein called alpha-synuclein in the brain. These deposits, called Lewy bodies, affect chemicals in the brain whose changes, in turn, can lead to problems with thinking, movement, behavior, and mood. LBD is one of the most common causes of dementia.

Even if you have never been fond of Robert Edward Turner III, if you have the chance watch what will probably be his last extensive broadcast interview. Spending around 15 minutes with Koppel, he gives viewers an up-close look at a complex person who makes money and enemies equally well and a man whose father committed suicide when his son was only 24. He is determined to save the American Bison and yet bison burgers are a popular feature at Ted's Montana Grill.
In the past Ted Turner has openly talked of being manic-depressive. Now he believes Lewy Body Dementia might have been the reason behind his sometime quirky actions. But the past doesn't matter. It's the decline of the present that makes you sad.
Quitters never win, Ted Turner once said — and with his current diagnosis that simple advice now applies more than ever.