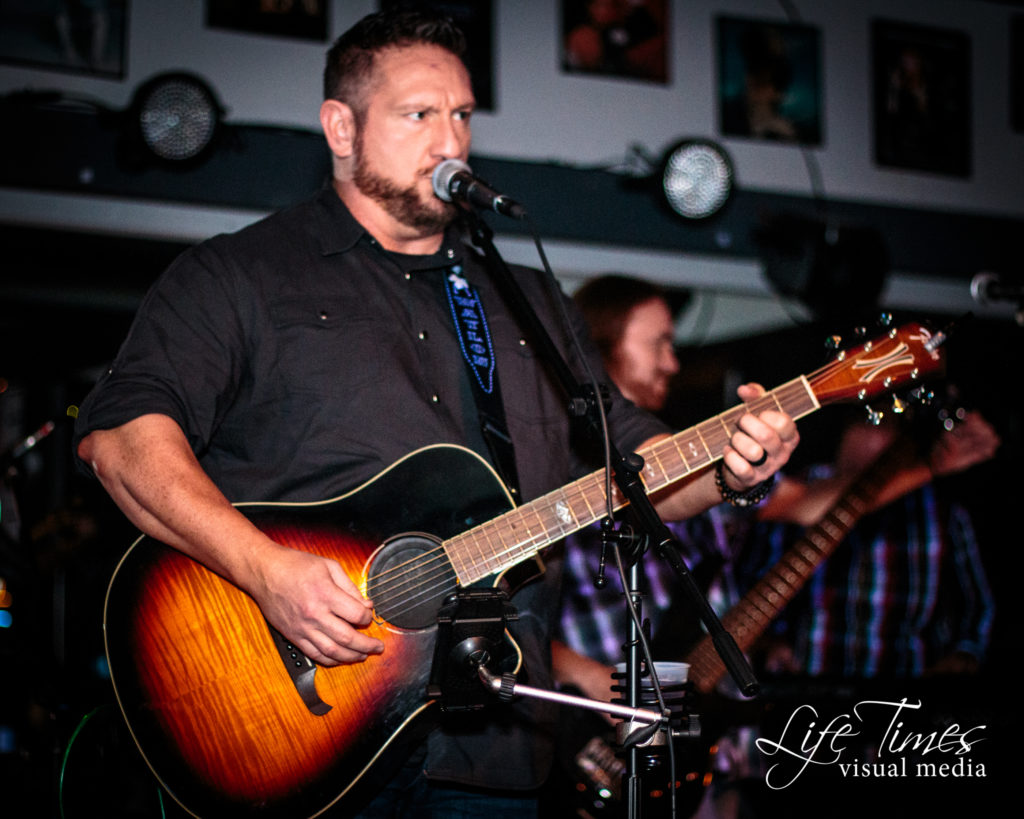 (The following article is an opinion piece by Kim Baxley Wilson. It represents the views of the author and not necessarily those of All On Georgia.)
I love music. I love live music. More importantly … I love live LOCAL music.

In Columbus and Phenix City, we have such a wide variety of musicians and venues that everybody has access to quality entertainment. That's why I decided to go see a couple of my favorite bands on a recent Saturday night. I posted my plans on social media. A few other musicians chimed in with details of their shows as well, which turned the evening into a journey of epic proportions.
And so begins my tale…
6:20 p.m. — Leaving the house and Money, by Pink Floyd is on the radio. Perfect way to start this amazing night! I'm planning to take Victor Feliciano, owner of Vicinity Tours, LLC, on a whirlwind tour to hear some of my favorite local musicians.
Five bands … five venues … four hours. We can do this!
I met Victor through the Power Hour group that Greg Wilson leads each Tuesday at Iron Bank. We took his "Not For Everyone" tour last fall. It's a fascinating ride through Phenix City and Columbus, stopping to talk about some of the more gruesome crimes that have been committed in our area.
I've lived here my entire life and I learned things that I didn't know. (That was hard for me to admit!!)
6:35 p.m. — I pull up to The Tavern at Main Street and there is a commercial for Vicinity Tours on Lite 107. Perfect! I explain the plan to Victor and he agrees to let me be his guide for the evening!
We meet with members of Sleazy Monkey and explain to them that we will be back, but that we have some work to do!!
7:00 p.m. —Victor and I head out to Legends while listening to Get Lucky by Daft Punk. (This soundtrack is rocking so far!) If I'm going to hear him though, I have to turn down the radio.
Kim: So tell me about you! Where are you from? Where sis  you go to high school? All the details, please!
Victor: Well, I have been in Columbus for about 40 years and I went to Carver High School. I've moved away a couple of times but I always come back because Columbus is where I belong. I went to Florida for college and lived there for five years, but it was never home for me.
7:14 p.m. —We arrive at Legends.
Column and photography by Kim Baxley Wilson
We are meeting with the members of Groove Monkey to interview them for a future article for All On Georgia. When we arrive, Shawn Altman is setting up the soundboard for the show. I order my dinner (grilled cheese and fries) as Britt Mitchell arrives. Britt manages the band and has all the answers I'm going to need because she is completely on top of her game.
It takes a while to get everyone in and set up and fed. The wings are a hit and the hand-cut fries are universally loved! We talk about their musical influences and how long they've been playing their instruments. One of the members wins the "Most Interesting Day Job" with stories from his career in mortuary sciences. (You'll have to check back for the interview with Groove Monkey to find out who it is!) Victor realizes that the lead singer. Lonnie Smith is a childhood friend that he hasn't seen in years. They spend some time catching up and talking about their families and friends. It's a nice surprise for both of them!
We stick around and get pictures of the band on stage during sound check. They play pretty much everything from country to blues to rock to soul…something for everyone! We would love to stick around but we have to hit the road for our next stop on the tour!
8:50 p.m. — Victor and I leave Legends to head over the bridge to Locals in Phenix City. We turn up the radio for a few minutes to listen to "A Day in the Life" by the Beatles, but then it's time to get back to our conversation.
Kim: So is Vicinity Tours your first venture into entrepreneurship?
Victor: It's my first "real" attempt. I mean, I've had other ideas and plans, but this is the first time I've made it this far. I've always known I wanted to own my own business.
Kim: What did you study in college?
Victor: I went to college for Christian Education, (laughs) does that surprise you?
Kim: No! I mean… that's totally cool! Did you want to be a minister?
Victor: I did, and I was, in some capacity, for several years, even before heading to school. But then I've used that education for other things. I was the first permanent director of Valley Interfaith Promise. I was with them for seven years.
Kim: So tell me what you are most proud of in your career so far.
Victor: While I was with VIP I started a website called HelpColumbus.com. A lot of local organizations still use it for referrals for resources in our area. We get about 60,000 clicks per year. It needs updating so if you know anyone who wants to volunteer to help make phone calls and verify links, let me know. But that is the thing I'm most proud of.
Kim: That's awesome!! I'm sure we'll be able to find someone to help get that updated!
Victor: I also helped to start the VIP Bed Race and I was really excited to see that they just held their tenth annual race. I'm glad it has continued. It was based on the race that Columbus College used to do.
Kim: I remember that! You really do have a knack for remembering the interesting details about the history of our area!
9:15 p.m. — Whoops!! It turns out that we didn't need to cross the bridge BUT we got to hear a little from Josh Purgason at Locals in Phenix City! Very smooth coffee house feel to his solo acoustic act. I'm definitely going to add him to the list of people I'll seek out when I want to chill and enjoy a quiet evening out!
A quick text to the people I thought we were here to see confirms that they are playing in Columbus. Lesson: Always double check where you're going!
Kim: So tell me about your favorite tour.
Victor: Can I say that they're all my favorites? They really are! Each tour is just a little different. It all depends on the personalities of the people on the tour. They might be interested in architecture so we'll take a different route just to point out some of the things that they won't easily find on their own. Or they might be more interested in history. I pay attention to what they're interested in and try to make sure I give them more of what they want. If you do the same tour a second time, I'd guide you on a new route.
9:30 — We rolled into Outskirts to sample the Matt Hurst Band and see my buddy, Ben Cross. Ben is one of those musicians who goes out of his way to be supportive of other bands, so when he made a comment on my Facebook post about my plans for the evening, I knew we had to stop in and see them.
We were not disappointed.
There was only one table left up front, so I snuck up with the camera and got a few action shots of the band. Between songs, Matt offers me the opportunity to explain the "Magical Musical Tour" that I was taking Victor on, and promises to look for this article on All On Georgia.
As they start the next song, we duck out and get in the car for the very short trip down Veteran's Parkway to our next destination.
Kim: Where is your favorite place in our area?
Victor: That's a HARD question!
Kim: (Laughs) I want you to think about it! We can come back to it later.
COMING TOMORROW: In Part 2 of Kim's magical music tour, she leads the group to the Wild Wing Cafe in Columbus to sample a 10 Cent Cigar where she gets an update from Victor Felicano about his experiences as a local nightlife guide.