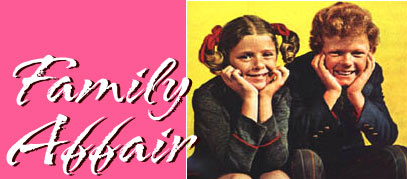 (The following article is an opinion piece by Steve Beverly. It represents the views of the author and not necessarily those of AllOnGeorgia.)

Over the weekend, one of classic television's most beloved performers would have turned 60. Note how I said would have turned. She failed to reach a third of that age.
I had been a rookie reporter for barely two months at WRBL in Columbus in 1976. I did the five-minute local cut-ins during the CBS Morning News. Ripping wire copy, I saw something that stunned me. Anissa Jones, the former child star of CBS' "Family Affair" from 1966-71, was found dead of a drug overdose in San Diego.
She was 18 years old.
She was only eight years old when she was signed for the role of the pig-tailed Buffy — the first of the three siblings who showed up at her Uncle Bill's doorstep on a September evening.
I knew Anissa had been hardly seen on network television after "Family Affair" left CBS in 1971. Yet, I wondered what would lead someone who was one of the nation's favorite TV children down a path of destruction.
Twelve years ago, I met and became friends with Anissa's older television sister Kathy Garver, who played Cissy Davis. Since then, Kathy has written a book, "X Child Stars," a whatever-happened-to encyclopedia of former children and teens who spent an unnatural part of their lives in front of TV cameras.
"I stayed in touch with her after the series was over. Not all the time, but frequently enough that she knew I was there for her," Kathy told me. "I knew Anissa had a difficult time adjusting to life after these series."
Anissa was tired of being Buffy at the age of 13 when "Family Affair" ended but nothing was there to fill the gap, Kathy explained No producers or networks were calling her. "I went to her 18th birthday party. She and her mom had moved to San Diego," Kathy said. "She was really glad to see me and her mom immediately wanted to talk to me."
Kathy knew from Mrs. Jones' facial expression that something was not right.
"She said, 'Kathy, I really wish you could spend some time with Anissa. I'm afraid she's in with the wrong crowd and she's making bad decisions," Kathy said. "'I'm sure she's into drugs but she won't listen to me.' "
Whether the psychological deficit of five years minus a national spotlight or peer pressure as she transitioned to a teen, Anissa Jones was in serious trouble.
"Several weeks later, I heard from her mom again," Kathy said. "She was asking again if I could come down to be with Anissa. Unfortunately, I couldn't because I had to leave for Washington, D.C. I was doing "The Sound of Music" on stage for eight weeks."
While she was performing in the nation's capital, Kathy was called to the telephone. She received the news on Aug. 28, 1976. Her younger TV sister, Anissa Jones, was dead. "Here was the hard part to swallow," Kathy said. "Anissa died of the largest drug overdose ever measured to that time in the city of San Diego."
In researching her book and recalling the adjustments many child stars and teens faced as they transitioned into adulthood, Kathy found a recurring thread.
"The ones who handled life without television well had a normal home life away from their shows," she said. "Their parents were real parents who kept them grounded."
That was not the case with a significant number of other former child performers.
"Some of them — and Anissa was an example of this — just could not adapt to a world away from the studio," Kathy said. "Others had to deal with parents who had used the child's salary as the primary support for the family. When a series was over, the parents had to face reality and often blamed it on the child."
Kathy has been a major supporter of former 'Donna Reed Show' star Paul Petersen's non-profit organization: A Minor Consideration. As we have detailed before, Petersen's group lobbies for higher percentages of child performers' salaries to be set aside in trust and offers psychological and financial counseling for young actors.
Anissa Jones was the darling of adult viewers and many of their young daughters as Buffy on "Family Affair." Her TV relationship with Mrs. Beasley resulted in huge sales of those dolls in merchandising. She turned 13 just as the series ended.
Huge ratings for NBC's new "Flip Wilson Show" in the opposite time slot brought a halt to "Family Affair." We will never know if the producers would have allowed Buffy to scuttle the pigtails and begin a transition to teen life. TV lives are suspended in time except for reunions.
Had she lived, Anissa would have turned 60 on Sunday. She is now on that sad roster of child stars who came to premature ends.
"I often wonder what life would have been like for Anissa if she hadn't taken the turns she did," Kathy said. "I still miss her."
Steve Beverly is a former anchor-reporter at WRBL and WTVM. He is now professor of broadcast journalism at Union University in Jackson, Tenn., a TV historian and a retired TV college sportscaster. E-mail Steve at: sbeverly@uu.edu. Follow him on Twitter at @MrTVClassics.