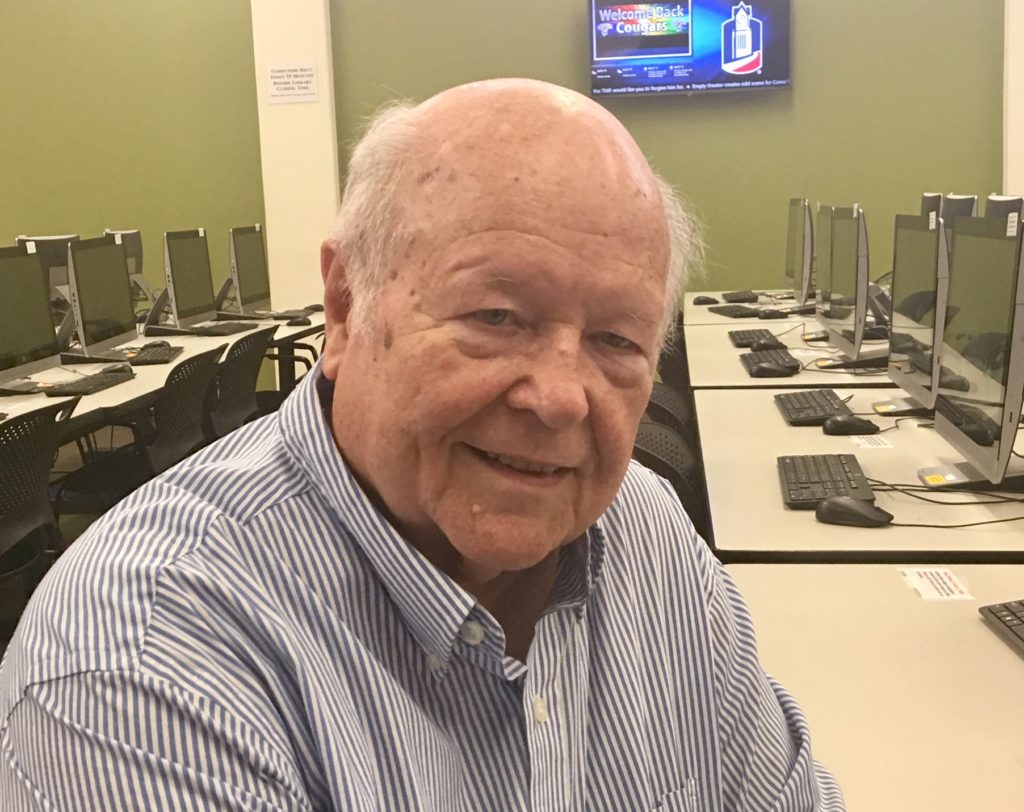 Prayers were going up all over Columbus Thursday night like steam from a gurgling pot of chili. Word was spreading that Lieutenant Stevens, the Master Chef of Wynnton Road, might have had a stroke. He was in ICU and he was in Guarded Condition.
Terry Hurley, the longtime owner of Dinglewood Pharmacy, went on social media to deliver that distressing news just as he did a couple of weeks ago when he invited friends and customers to come by and celebrate Lieutenant's 87th birthday and the drug store's 100th anniversary.
This time the news was sad. Hurley said Lieutenant was in ICU, had been given a "clot buster," and seemed improved. The longtime pharmacist promised to keep everyone informed, but until news was better, "prayers please!"
Throughout the evening, people responded, showing the power of the scrambled dog and the unspoken value of friendship.
Outsiders and newcomers don't understand, but there is magic behind that soda fountain at Dinglewood. It's in the chili Lieutenant has been serving for nearly 60 years and in the smile of a soft-spoken man who makes friends as easily as he does his favorite dish on the menu.
The week after Dinglewood's 100th anniversary celebration, I slid on to a vacant stool and ordered my usual: a scrambled dog — two of those cheap red wienies, chopped … crackers on the side … no pickles … and some chopped up onions, please.
Food was hot. Service was quick. Only something was missing.
Terry wasn't filling prescriptions that day. (He's had health issues of his own.) Lieutenant retired (though he sometimes makes cameo appearances.  His grumpy sidekick Johnny was gone. So was my buddy Ernestine who before she prepared my food would ask me if scrambled dogs were on my diet. On this particular day, I didn't know the name of anyone behind the counter.
Old friends were absent, and I was sad.
Then came Thursday night and that unwelcome word — stroke.
People tuned into Facebook read that and started to remember that drug store in the shadow of the Aflac tower and especially the people who worked there. Tender responses flowed freely. Some messages came from out of town from people who remembered younger days when they cut class at Columbus High just for a scrambled dog and a talk with Lieutenant. Many referred to him as a legend.
Then came comments and prayers
"Nobody's like Lieutenant. He raised generations of scrambled dog lovers. Sending prayers from Texas. One day about 25 years ago, I was in a waiting room in Dallas. There on the table was a Southern Living Magazine. As I flipped through it, there was Lieutenant with that infamous smile and Dinglewood sign with pots over flowing with chili." — Pam Cohn Leon
"Dear Lord, I lift up a man I've loved, admired and respected for over half a century. Terry Hurley postred that there is every indication that Lieutenant Stevens has suffered a stroke. Place your mighty healing hand upon this wonderful man. I know that many saints will be praying in agreement. I love you sir!!" — Mark Hogencamp
A few days ago, I received an email from someone I didn't know. She asked about Firm Roberts Café, an eating establishment from way back. I used to eat at his place on Cusetta Road and along the way I discovered that he was the true creator of the Scrambled Dog. After Firm Roberts came Sport Brown at Dinglewood in its original location on Wynnton Road. Lieutenant went to work for him while he was in high school.
Some people will argue with you about that version of history. They totally discount the roles of Firm Roberts or Sport Brown. To them that simple item served in a banana split bowl belongs to Lieutenant — the man not the rank.
Generations of locals remember sitting at that counter watching him stir — and stir some more — that big old pot of chili that legend says was never washed. Those folks may enjoy an epic dish at a fancy place downtown or a porterhouse from a pricey steak house. And if it's a Tuesday night, hungry male diners go to Country's Barbecue and flirt with the Chicken Lady.
But there are days that you just have to have a Dinglewood dog, covered with that familiar chili. You can't explain why, but you know it's true. It's more than a lunch. It's more than a recipe for chili that is a secret as private as the formula for Coca-Cola. Scrambled Dogs are part of a city's culture and a rite of passage for children growing up here. It's part of who we are.
That's why we want Lieutenant to recover and that's why all those prayers keep going up. People are down on their knees for you, Old Friend.