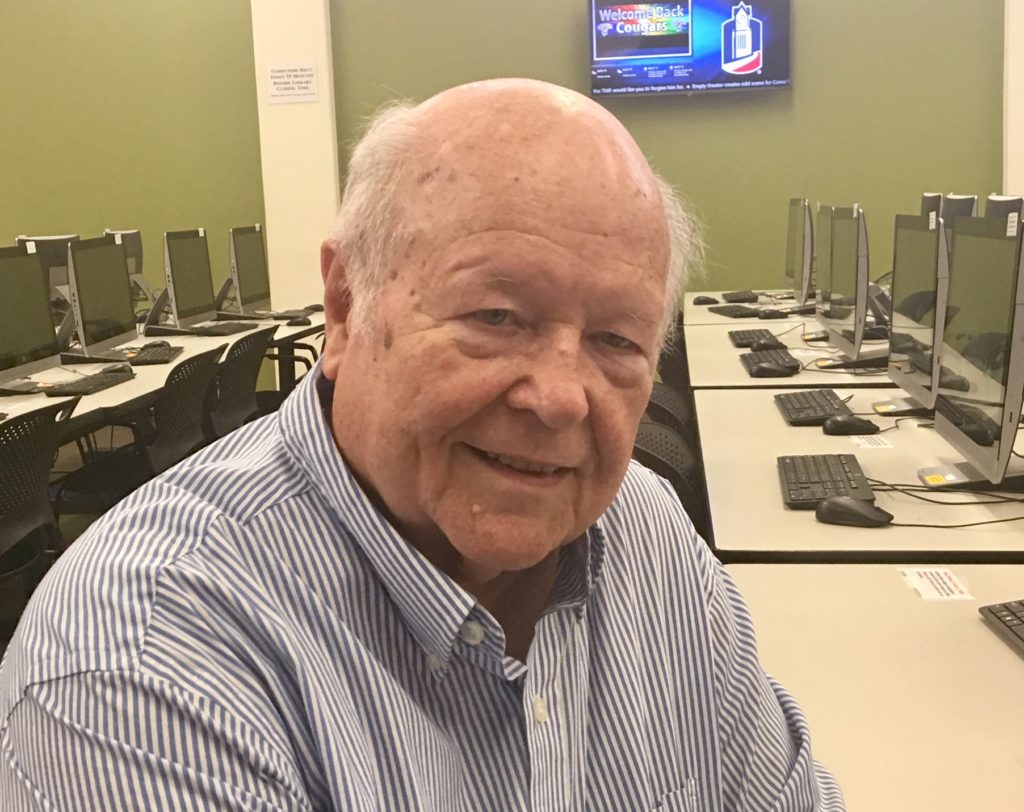 Joe Posey died almost a month ago and when I heard about his passing it made me sad and it made me remember that proud old Jordan High graduate's connection to an event that the world stops to commemorate today.
He wasn't at Pearl Harbor in 1941. He was a high school senior and he was close to home. After church that Sunday Dec. 7th, Joe took his Daddy's car for a ride in the country. He was listening to the Columbia Symphony on WRBL, the city's oldest radio station, and you can imagine what he heard.
My friend Joe told me what happened that weekend in an interview for the main story for a special section in the Columbus Ledger-Enquirer that was published on the 50th anniversary of Pearl Harbor. It was called Three Days That Changed Columbus — and that was not hyperbole.
Searching Microfilm of the newspapers from that weekend in 1941, my colleague Mick Walsh and I pieced together a narrative of what went on in Columbus that eventful weekend.
I also found references to what Joe had done in in a copy of the Jordan High yearbook from the school library. I went to see Joe at the original Wynnton Hardware, which he and his lovely wife Evelyn owned from 1963 to 1998.
He was a living encyclopedia of the past. His recall and colorful language were downright amazing. Joe and others like him helped Mick and I assemble a special section of a Sunday newspaper that we will never forget.
That's what I thought of when I learned that Joe Posey had passed away on Nov. 12th. His obituary was a beautiful account of a life well lived for 96 years. I read about the love story of Joe and Evelyn. They were married 69 years at the time of his passing. I found out that he had a twin brother and that they attended Wynnton Elementary School and Jordan High. I also learned the story behind why he used to sell pecans at the hardware store.
But the obituary said nothing about 1941, so on this Pearl Harbor Day I will retell that chapter of his life and the memories of the city that he called home. Here are the highlights of three days that really did change a community that will always be an Army Town.
The weekend began slowly on Saturday with 18 shopping days left until Christmas.
Sidewalks downtown were bustling. It was soldier payday so men in uniform were part of the human traffic jam. Those young men were part of daily life around Columbus. Some of them lived in garage apartments in Wynnton and Lakebottom and danced with local girls at parties at the USO. They sat at the soda fountain at Dinglewood Pharmacy, went to football games at Memorial Stadium and prayed at churches all over town.
And everyone knew in their hearts that these young fellows from all over the country would soon be going to war. Only on that weekend in December, no one could have known how soon that journey would begin.
Sunday morning came and Happy Hank went to work at WRBL.
####
Henry East — his radio name was Happy Hank — was manning the radio signal. It was usually a slow, sleepy assignment, but around 1:30 p.m. local time bells on the wire machines began to clang. Important news about to be transmitted so Happy Hank walked over to see what was going on.
The old radio announcer told me happened in an interview many years ago.
"The Columbia Symphony was on CBS. I began to hear the bells ringing on the news machines so I went over and looked at the story rolling off. All it said was 'Pearl Harbor bombed,'"
Happy Hank knew what to do.
"I didn't lose any time. I broke into the symphony broadcast and read that bulletin on the air. Right after that, the network broke in for the first time with the details."
News spread fast.
Brigadier General Omar Bradley was puttering around the grounds of Riverside, the historic mansion that was — and is — the home to Fort Benning's commanding generals. He and his wife Mary were pruning flowers when a colleague stopped and delivered the news about Pearl Harbor. Bradley went inside then went right to work — and he wouldn't stop working until 1945.
PFC Samuel Tackitt of the 2nd Armored Division was walking a battery street on post when he heard the report. He quickly huddled around a radio, knowing that plans for a Christmas leave were vanishing.
Captain James Garvin was at a theater in downtown Columbus with his wife and little girl when the manager abruptly turned off the projector and stepped out on the stage. "He announced the attack and I was shocked," the recent graduate of Fort Benning's paratrooper school recalled. "The theater was filled with soldiers so we left for post expecting orders of some kind."
W.C. Tucker, the editor of the morning Enquirer, was on post that Sunday for a funeral of a 21-year-old mess sergeant who had been killed in a wreck with a rural school bus. Back home, he checked in with the newsroom and got the news about Pearl Harbor. He rushed to the paper and within hours two extra editions of the paper were on the street, one selling for a dime and the other for a nickel. The headline on the second was just one word: WAR.
No other words were needed.
When young Joe Posey heard that bulletin on the radio, he turned around and headed back home. He was a high school senior. He was president of his class and captain of his ROTC unit. But he wanted to be at home with his family.
"I was nervous and scared," he admitted decades later.
But like most Americans, he wanted to do his duty and help defend his country, which was exactly what the old fellows at the Charles L. Harrison post of the American Legion in Columbus were talking about.
At school on Monday, Joe went into action. He started a patriotic campaign for classmates to buy government saving stamps that would help support the war effort. Within an hour, Jordan High was 100 percent — the first school in the country to do so.
Joe's fund-raising campaign made headlines here and elsewhere. It made him feel good inside. It also made him proud. He remembered those emotions when he graduated from high school in the spring of 1942. He joined the United States Navy. And, like so many others in his generation, he went to war. He was a Gunner's Mate and he would be attached to the Marines on Guam as a SeaBee.
His service began as he listened to the news about Pearl Harbor on that car radio long ago.
####
Newspapers traditionally marked that historic event with warm articles about a day that a U.S. President said would live in infamy. At the Ledger-Enquirer, we got to know the survivors who lived around Columbus for we would call them every December with questions about their past.
As Dec. 7 drew closer, World War II veterans would call the newsroom and remind, announcing special events to celebrate the sacrifices so many had made. There would be speakers, lots of flags and lots of aging fellows representing various veterans groups.
I remember them well. It was a memorable moment when a bugler played Taps, for tears would always flow. I thought of that when I watched a video of an in rickety Sen. Bob Dole rise out of his wheeled chair and raise a trembling hand to his forehead so he could salute the remains of President George H.W. Bush.
Once that list of local Pearl Harbor survivors was long. The list included impressive fellows like Morris Dillard, Okay Parker, Fred Malner and Robert Sellers. That list is much shorter today, just as it across the country.
When I wrote a lengthy story about Sgt. Charles McGaha, a recipient of the Congressional Medal of Honor who was murdered in the office of his tax company in 1984, I found out he had been stationed at Schofield Barracks at Pearl Harbor in 1941. He never talked about that duty station for like so many others he never about war or that important medal around his neck.
I called Sgt. Robert Sellers on 9/11. On that afternoon I realized that the events at the Trade Center in New York City would become a new generation's Pearl Harbor. I wondered if Sgt. Sellers — that was the way his name was still listed in the Columbus phone book — might agree.
"I was at Pearl Harbor. I saw it all," he told me.
He also talked about 9/11.
"I wish I could go," he said. "I'm just too old."
That anniversary is here again. It has been 77 years since Pearl Harbor and FDR's speech.
Those men that we reporters used to call on the phone every year are almost gone, as are hundreds of thousands of others from a generation that newsman Tom Brokaw called our Greatest Generation. On Nov. 22 of this year, Seaman 1st Class Ray Sanchez passed away in California. Like Sgt. Sellers, he was there.
And at the age of 106, he was the oldest living survivor of that cowardly attack.
Joe Posey and his classmates at Jordan High weren't at Pearl Harbor but they still wanted to be part of an event that spiraled the nation into war. It would be several months before he was old enough to enlist but his determination to serve began at the moment he heard Happy Hank's voice on the car radio.
And as we remember these events, we know that those three days really did change Columbus. And  they also changed our world.